The first half of November features a Total Lunar Eclipse in Taurus. This Eclipse incorporates a potent T-Square that includes the Lunar Nodes and the mighty Saturn-Uranus square. We also have another T-Square, as well as a Kite strongly flavored by Scorpio and Pluto!
This forecast covers this half-month's most important astrological events. Also check out my award-winning This Week in Astrology audio podcast and YouTube video forecasts!
Click astrology graphics to see larger images. Some resource links may occur more than once. This is because many people link to a specific day's forecast from social media, and might not see an important resource link elsewhere on this page.
As of November 1 …
52 Amazon Reviews — all 5-Star!
#1 Amazon Bestseller
It may sound too good to be true. But in this breakthrough book, you'll learn how fast and easy it can be to: 
Experience spiritual awakening within seconds – just by requesting it from your higher self.
Quickly and permanently heal a serious challenge – even one that's caused you years of physical, emotional or mental suffering – by delegating the work to your inner healer.
Call in any kind of energy you want – anytime you want it.
Heal and bless others – simply by calling it in and being a "hollow reed."
Thrive in a "new normal" of harmonious living, enhanced intuition, joyous fulfillment of your responsibilities … and bliss!
You can do all this and more with the Instant Divine Assistance (IDA) Invocations. This book gives you everything you need to master them. Plus you get free guided recordings and other valuable online support that will speed up your personal evolution.
For 11+ years, the IDA Invocations have dramatically improved thousands of people's lives. Isn't it time you also experienced how quick and easy spiritual awakening, healing and so much more can be?
Ebook — only $2.99, and included with Kindle Unlimited.
Paperback — only $12.99
11/3 (Thu)
Potent T-Square Begins
A potent 7-point T-Square begins today, peaks on 11/8 and ends on 11/12. It includes the Sun, Mercury, Venus, Saturn, Uranus, and the Lunar Nodes.
This T-Square is included in my 11/8 lunar eclipse interpretation. Please read that to learn all about this extraordinary aspect pattern!
The Sun, Mercury, and Venus also make individual T-Squares with Saturn, Uranus, and the Lunar Nodes. So, you may feel some effects of this T-Square as early as 10/30, and as late as 11/15.
11/5 (Sat)
Ceres-Mars-Neptune T-Square Begins
A month-long T-Square with Mars, Ceres, and Neptune begins today, peaks on 11/23 and ends on 12/6. This hard aspect pattern is especially helpful for shadow work and abundance!
Ceres holds the archetypal theme of shadow work, and is auspiciously situated in Virgo, the sign of healing. As the grain goddess, Ceres also represents harvest and abundance.
Mars can fire up both these themes, while his placement in Gemini can help you focus your thoughts either way. Neptune in Pisces can assist your visualization on these matters, and flow helpful divine energy your way!
The #1 Astrology Software for Windows — at an Unbeatable Price!
SOLAR FIRE 9 is the world's leading astrology software for Windows. Earlier versions brought an unprecedented level of ease to casting and working with astrological charts. The current version adds many more calculations, extra convenience features, more interpretive text, and exciting new graphic displays.
SOLAR FIRE 9 contains something for everyone!
For advanced astrologers and professionals, it has a great variety of high-precision astrological calculations and an exceptional degree of user-customization.
For novices, its innovative point-and-click chart interpretations provide an enjoyable way to learn. Many easily explored options will encourage you to experiment with new techniques.
No one sells Solar Fire for less than AstroShaman.
Click here to learn how Solar Fire can supercharge your astrology!
11/8 (Tue)
Total Lunar Eclipse
A Total Lunar Eclipse lines up at 6:02 a.m. EST (16°0′ Taurus). 
Full Moon
A Lunar Eclipse is a super-powerful Full Moon. Any Taurus Full Moon is good for release or adjustment in the areas of money, possessions, and security. And don't forget the five senses, nature immersion, persistence, and "just being." 
Are you persevering where appropriate, and letting go when something is done? Are you getting your security only from the material world, or from a more fundamental spiritual bedrock? Are you engaging in endless activity, or taking time to sit in silence?
Eclipse
Astronomy
According to NASA, "Totality ― the stage of the Eclipse where the Moon is entirely in Earth's shadow ― will be visible across North and Central America and in Ecuador, Colombia, and western portions of Venezuela and Peru. In Puerto Rico, the Moon sets just after totality begins. The Eclipse is also visible in Asia, Australia, and New Zealand. Viewers in Alaska and Hawaii will have the opportunity to see every stage of the Eclipse."
Astrology
The effects of an ordinary Full Moon last two weeks. Eclipse effects last at least six months, so you have plenty of time to work the upside of this potent lunation!
Aspects
T-Square
This Eclipse's eight-point T-Square is a powerful aspect pattern. It includes the Moon, Sun, Mercury, Venus, Saturn, Uranus, and the Lunar Nodes!
Saturn-Uranus Square
Most importantly, this T-Square tightly aligns the luminaries with the Saturn-Uranus square. This square has been the most important aspect of 2021 and 2022, and has been the main astrological energy driving the massive changes we've seen during these two years. 
The most important thing to know about the Saturn-Uranus square is that it can radically disrupt the status quo, for better or worse. The world-shaking downstream effects of COVID, Russia's invasion of Ukraine, the overturning of Roe v Wade, and the endless torrent of destabilizing misinformation on social media are just a few examples.
But you can consciously harness this square to radically transform your life for the better. What structures (Saturn) in your life are ripe for release or reinvention (Uranus)? Partner with the awesome power of this square to fast-track those changes!
For a deep dive interpretation of the Saturn-Uranus square, click here.
The Lunar Nodes
The Sun and Moon are closely conjunct the Lunar Nodes, giving this Eclipse additional power. Better yet, the Moon is conjunct the North Node, also known as the "destiny point." This is a clear message to make any releases or adjustments that better align you with your life purpose.
Mercury and Venus
Mercury, in Scorpio, tightly opposes the Moon. This suggests that you deeply investigate your beliefs. 
We live in a time when social media is overrun with falsehoods, and even the most fundamental facts can be hotly contested. Question any source that tries to inflame your primitive emotions, or seduces you into an us-versus-them mindset.  
Increasingly, I find that my own intuitive guidance is the only source I can trust with confidence. For a simple technique that can help you quickly attain embodied awakening – which makes intuition much easier to access – check out Instant Divine Assistance: Your Free Guide to Fast and Easy Awakening and Healing.
Venus, also in Scorpio, opposes the Full Moon as well. Are there any relationships that it would serve your highest good to release, adjust, or heal? Are there any changes that would help you to make in your creativity or finances?
On the high side, Venus in Scorpio can take a relationship to the depths of honesty and intimacy. She can help you work together to heal your wounds and traumas. And, if you have an erotic relationship, she can help you blend souls to experience the unrivaled ecstasy of sacred sexual connection. 
Uranus and Saturn Revisited
Uranus, tightly conjunct the Moon, can help all this happen quickly and dynamically. He can also flash down intuitive hits to guide you.
Saturn will slow you down with challenge when something requires your attention. He'll also give you persistence when you embody his higher qualities. These include maturity, responsibility, good time management, and the ability to "plan the work and work the plan."
Ceres Trine
This Lunar Eclipse has one aspect not included in the T Square: a tight Ceres trine. Ceres is the grain goddess, so this easy-flowing aspect can help you enjoy harvest and abundance. 
Ceres also represents shadow work, which this trine can make easier – especially if you use a fast and effective trauma healing technique like my free Healing Invocation. (This lunation's Scorpio planets and points – the Sun, Mercury, Venus and the South Node – echo Ceres' themes of abundance and psychological healing.)
T-Square Peaks
The Sun-Mercury-Venus-Saturn-Uranus-Lunar Nodes T-Square that started on 11/3 peaks today (11/8) and ends on 11/12. It's interpreted in the Lunar Eclipse interpretation above. 
Awaken, Heal and Thrive!
Kick your personal evolution into high gear! Awakening Plus offers you online spiritual and shamanic experiences … 500+ consciousness-shifting recordings … and life-transforming courses. This extraordinary membership also gives you community connection and personal support.
Ready to awaken, heal and thrive like never before? Click to learn more!
11/11 (Fri)
Kite Begins
A week-long Kite begins today, peaks on 11/15 and ends on 11/18. It includes seven planets and points: the Sun, Mercury, Venus, Pallas Athena, Jupiter, Neptune, and Pluto!
With three personal planets in Scorpio and Pluto at the tip, this harmonious aspect pattern is ideal for any Scorpio or Pluto theme. Here's a slightly condensed recap of those themes from my October 16-31 forecast:
Transformation is a central Scorpio theme. Death and rebirth processes, especially those that are emotional or shamanic, are highlighted. 
Wealth is also a Scorpio theme. This could be lots of money, or anything that you value. Anything that makes your life better, tangible or intangible, could count as wealth.
Another Scorpio theme is power. This comes in two basic flavors. "Power over" is all about domination, control and manipulation. "Shared power" is exercised by those who have found their power internally, and want to help others find theirs as well.
Sex, another Scorpio theme, also has two basic levels. The first is simple lust, the raw physical desire for sexual pleasure and orgasm. The second is sacred or Tantric sex. This operates at a much higher level of ecstasy, made possible by the conscious blending of your light bodies.
Scorpio also rules the occult. Occult simply means "hidden", and in metaphysical terms refers to what's beyond the five senses. It need not be dark or creepy. Occult practices include astrology, tarot, energy healing, mediumship, and psychic abilities.
The possibilities offered by Mercury and Venus are the same ones I described in my Lunar Eclipse forecast above. The Jupiter-Neptune conjunction amplifies opportunities for spiritual awakening, inspired creativity, and going through your day in flow state. Finally, Pallas Athena invites you to step into your feminine assertiveness,  act strategically, and work harmoniously with others so everyone gets their needs met. 
This kite  combines three separate Kites: the Sun, Mercury, and Venus combine with Pallas Athena, Jupiter, Neptune, and Pluto. These individual Kites start as early as 11/7 and run as late as 11/24, so you may feel some of these aspect patterns' effects within this larger time frame.
11/15 (Wed)
Kite Peaks
The Sun-Mercury-Venus-Pallas Athena-Jupiter-Neptune-Pluto Kite that started on 11/11 peaks today (11/15) and ends on 11/18.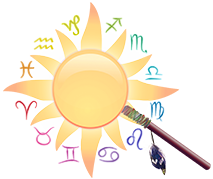 Deepen Your
Insight, Healing & Awakening
Your astrology chart reveals powerful insights into your relationships, career, soul purpose, and much more. Getting a yearly Astrology+ update can show you what's important now!
I also offer Shamanic Healing / IFS, one-of-a-kind Life Coaching, and more. All my services are equally effective in person or long distance.
Catch the first 5 episodes of my new podcast!
Learn fast and easy tools for awakening, healing, and more, gain wisdom from enlightening guests, and enjoy mind-bending ayahuasca stories. New episode every Tuesday.
---
Whatever your Sun Sign, my forecasts can help you make the best use of the current astrological energies.
All dates and times are in the U.S. eastern time zone. Events are most powerful on the dates listed, but their influence will be active for at least a week before and after.
Everyone is affected by these global transits. However, you'll be most powerfully impacted when moving planets activate sensitive points in your natal chart. Discover how these transits will personally affect you by booking a session with me.
Learn more about my Astrology+ sessions.
Recent Forecasts
Check back around the 1st and 16th for updated forecasts.