Jupiter turning direct and a New Moon in Sagittarius highlight the second half of November. You can also get the word out with a Grand Cross and experience sudden abundance energized by a Hard Rectangle!
This forecast covers this half-month's most important astrological events. Also check out my award-winning This Week in Astrology audio podcast and YouTube video forecasts!
Click astrology graphics to see larger images. Some resource links may occur more than once. This is because many people link to a specific day's forecast from social media, and might not see an important resource link elsewhere on this page.
As of November 16 …
---
I'll present my annual astrology forecast lecture live on Zoom on Friday, November 18, 7 pm US Eastern Time (EST). "2023: The Year of Pluto" is presented by the Asheville Friends of Astrology (AFOA).
I'll discuss Pluto's momentous entry into Aquarius, his square to Jupiter and the lunar nodes, and the decade-defining Mini Grand Trine that "the Wealthy One" is forming with Uranus and Neptune. Will this harmonious aspect pattern help usher in a new era of love and light?
The US Pluto return is another 2023 highlight. I'll dive into the potentials and perils of this four-year process, which is already transforming the country.
We also have important sign changes in 2023. Saturn enters Pisces, Jupiter moves into Taurus, and the lunar nodes shift into Aries and Libra. I'll also discuss the coming year's Jupiter-Chiron conjunction and an intense Mars-Jupiter-Pluto-Lunar Nodes Grand Cross.
Join us to learn about the coming year's cosmic weather. Discover how you can partner with the planets to create the best possible life for you and those you love!
Click here to learn more and register!
---
50+ Amazon Reviews — all 5-Star!
#1 Amazon Bestseller
It may sound too good to be true. But in this breakthrough book, you'll learn how fast and easy it can be to: 
Experience spiritual awakening within seconds – just by requesting it from your higher self.
Quickly and permanently heal a serious challenge – even one that's caused you years of physical, emotional or mental suffering – by delegating the work to your inner healer.
Call in any kind of energy you want – anytime you want it.
Heal and bless others – simply by calling it in and being a "hollow reed."
Thrive in a "new normal" of harmonious living, enhanced intuition, joyous fulfillment of your responsibilities … and bliss!
You can do all this and more with the Instant Divine Assistance (IDA) Invocations. This book gives you everything you need to master them. Plus you get free guided recordings and other valuable online support that will speed up your personal evolution.
For 11+ years, the IDA Invocations have dramatically improved thousands of people's lives. Isn't it time you also experienced how quick and easy spiritual awakening, healing and so much more can be?
Ebook — only $2.99, and included with Kindle Unlimited.
Paperback — only $12.99
11/16 (Wed)
Learning, teaching, writing, and communicating are harmoniously supported by a Mercury-Jupiter trine (28°53′ Scorpio-Pisces).
11/19 (Sat)
You can more easily take action to realize your dreams with Mars square Neptune (22°42′ Gemini-Pisces). However, consider a reality check to make sure you're not acting in a harmful way based on deluded beliefs. This hard aspect can also energize sacred sex and spirituality.
11/22 (Tue)
The Sun enters Sagittarius at 3:20 am EST. Sagittarian energies will be easier to work with for the next month. To learn more about them, see my 11/23 interpretation of the New Moon in Sagittarius.
---
Make that amazing life you've been dreaming about real!
My unique combination of modalities, refined through more than 10,000 AstroShaman client sessions, can help you thrive in all areas of your life. And my unusual approach could help you do this faster than you might have thought possible.
11/23 (Wed)
This astrologically potent day includes a New Moon, Jupiter turning direct, and a peaking T-Square!
New Moon in Sagittarius
A New Moon lines up at 5:57 pm EST (1°37′ Sagittarius). Any Sagittarius New Moon is great for new beginnings in many life-affirming areas. You can dive more deeply into higher education, formal or self-guided, as a student. You can also bless others as a professor, philosopher, guru, or other wisdom-giver.
Sagittarius rules foreign travel. This could mean a physical excursion. But with today's technologies, other countries and cultures can easily come to you! Anything foreign to you, even from within your own country or culture, could fall within this idea.
Do you crave a deeper understanding of life? Sagittarius rules religion, philosophy and life's meaning.
Are you living life as a quest or adventure? Sagittarius would love it if you did. And are you experiencing enough celebration, euphoria and enthusiasm? These are Sagittarius' most joyful expressions!
Endlessly expansive Sagittarius is the sign most likely to overdo things, so be careful not to put too many irons in the fire. Sagittarius can also believe it has the One True Way, even when it doesn't, so don't succumb to "street corner preacher syndrome."
Aspects
This New Moon's only tight aspect is a Vesta square. This invites you to examine the energy and resources you're selflessly giving to higher causes.
The square is a hard aspect, so watch for signs of friction. Are you supporting the right causes? Are there challenges you need to work through, either inside yourself or between you and a cause you're supporting? If all is well between you and your cause, this square can energize you to step up your enthusiasm or involvement.
The Sun and Moon also make loose conjunctions to Sagittarian Venus and Mercury. This can specifically support the expansion of your communication with others. It also supports creative writing, which is timely as we near the end of National Novel Writing Month.
More broadly, the Venus conjunction supports connecting with friends, expressing your creativity, and making money.
The Mercury conjunction can energize any kind of learning, writing, or communication. With Mercury in Sagittarius, publication is also supported. This could be written words, audio, video, or anything else that transmits your message.
Awaken, Heal and Thrive!
Kick your personal evolution into high gear! Awakening Plus offers you online spiritual and shamanic experiences … 500+ consciousness-shifting recordings … and life-transforming courses. This extraordinary membership also gives you community connection and personal support.
Ready to awaken, heal and thrive like never before? Click to learn more!
Jupiter Direct
Talk about positive reinforcement: Jupiter turns direct exactly five minutes after the Sagittarius New Moon! (28°47′ Pisces, 6:02 pm EST.)
These two events complement each other because Jupiter carries the same astrological energy as Sagittarius. So all the keywords I just used to describe Sagittarius also apply to Jupiter. The Jovian giant turning direct makes it even easier for you to move ahead and positively partner with these archetypal energies!
Mars-Ceres-Neptune T-Square Peaks
The T-Square with Mars, Ceres, and Neptune that started on 11/5 peaks today (11/23) and ends on 12/6. This hard aspect pattern is especially helpful for shadow work and abundance!
Ceres holds the archetypal theme of shadow work, and is auspiciously situated in Virgo, the sign of healing. As the grain goddess, Ceres also represents harvest and abundance.
Mars can fire up both these themes, while his placement in Gemini can help you focus your thoughts either way. Neptune in Pisces can assist your visualization on these matters, and flow helpful divine energy your way!
11/25 (Fri)
Get the Word Out with this Grand Cross
Getting your message out – to one person or many – is empowered with a Grand Cross that starts today (11/25), peaks on 12/1, and ends on 12/4. It includes Mercury, Venus, Mars, Ceres, and Neptune.
The messaging juju is provided by Mars' placement in Gemini and the presence of Mercury. The Sagittarian energy of broadcasting and publishing is juiced up by the presence of Mercury and Venus in the Sign of the Archer.
The initiating energy of Mars can help you get this rolling. Neptune can provide divine inspiration and the ability to work in flow state, while Ceres can help you harvest an abundant outcome!
If you're in learning mode, this Grand Cross can also help you soak up new information. A secondary use of this Grand Cross: focus on the Venusian themes of relating, creating, and finance.
This Grand Cross adds Mercury and Venus to the pre-existing T-Square with Mars, Ceres, and Neptune. This T-Square continues to function independently with its original interpretation.
The #1 Astrology Software for Windows — at an Unbeatable Price!
SOLAR FIRE 9 is the world's leading astrology software for Windows. Earlier versions brought an unprecedented level of ease to casting and working with astrological charts. The current version adds many more calculations, extra convenience features, more interpretive text, and exciting new graphic displays.
SOLAR FIRE 9 contains something for everyone!
For advanced astrologers and professionals, it has a great variety of high-precision astrological calculations and an exceptional degree of user-customization.
For novices, its innovative point-and-click chart interpretations provide an enjoyable way to learn. Many easily explored options will encourage you to experiment with new techniques.
No one sells Solar Fire for less than AstroShaman.
Click here to learn how Solar Fire can supercharge your astrology!
11/26 (Sat)
Sudden Abundance Energized By Hard Rectangle
"Sudden abundance" is one potent possibility of a month-long Hard Rectangle that starts today (11/26), peaks on 12/7 and ends on 12/26. It includes Ceres, Jupiter, Uranus, and the Lunar Nodes. Abundance is energized by expansive Jupiter in boundless Pisces. Suddenness? Uranus!
An abundance of what? With the Lunar Nodes in the mix, an abundance of whatever aligns you with your life purpose. This might be something obviously desirable, or some challenge you must master to take the next step in your personal evolution. Ceres could add prosperity into the mix, or could bring up a specific trauma that's ripe for healing.
With Uranus conjunct the North Node "destiny point," consider whether you've fully accepted what's unique and different about you, and whether you're sharing that with the larger world as appropriate. Uranus also invites you to trust your intuitive hits, and serve others using your special gifts and talents that you most love to use. The more you do all this, the more you'll activate Jupiter's propensity for luck and good fortune!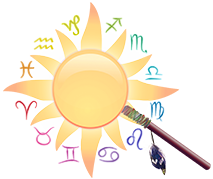 Deepen Your
Insight, Healing & Awakening
Your astrology chart reveals powerful insights into your relationships, career, soul purpose, and much more. Getting a yearly Astrology+ update can show you what's important now!
I also offer Shamanic Healing / IFS, one-of-a-kind Life Coaching, and more. All my services are equally effective in person or long distance.
11/28 (Mon)
You can enjoy greater endurance with Mars trine Saturn (19°42′ Gemini-Aquarius). This applies across the board, but – with both planets in air signs – can help you even more in your mental pursuits. With this mix of planets and signs, be sure to balance planning and improvisation.
Enlightening New Episodes Every Tuesday!
Learn fast and easy tools for awakening, healing, and more, gain wisdom from enlightening guests, and enjoy mind-bending ayahuasca stories. New episode every Tuesday.
Whatever your Sun Sign, my forecasts can help you make the best use of the current astrological energies.
All dates and times are in the U.S. eastern time zone. Events are most powerful on the dates listed, but their influence will be active for at least a week before and after.
Everyone is affected by these global transits. However, you'll be most powerfully impacted when moving planets activate sensitive points in your natal chart. Discover how these transits will personally affect you by booking a session with me.
Learn more about my Astrology+ sessions.
Recent Forecasts
Check back around the 1st and 16th for updated forecasts.