The highly anticipated Great American Solar Eclipse is the undisputed highlight for the second half of August. We also have Saturn turning direct, a harmonious Jupiter-Saturn sextile, the Sun entering Virgo … and a boatload of aspect patterns!
Click astrology graphics to see larger images.
8/16 (Wed)
T-square Begins: Venus-Jupiter-Uranus
Relationships can shift quickly and unexpectedly under a Venus-Jupiter-Uranus T-square. If a weak point in a relationship creates challenge, ask your inner wisdom for an intuitive flash to guide you.
What's the biggest room in the world? Room for improvement! This goes for even the most wonderful relationships. Under this T-square, listen for that still small voice to tell you how that awesome relationship can become even more amazing!
This T-square also supports creative and financial breakthroughs. With Venus in Cancer, you can also take family relationships to the next level. This Venus-Jupiter-Uranus T-square starts today (8/16), peaks on 8/21 and ends on 8/26.
---
On its own, a Mars-Pluto quincunx (17°17′ Leo-Capricorn) can empower leadership, sacred sexuality, and your ability to support a worthy cause with abundant energy! But this intense aspect could also support aggression, violence, and the public display of other animalistic tendencies. Rather than indulge this darker side, refocus this energy on the life-affirming qualities listed first.
This Mars-Pluto quincunx is part of a Mars-Neptune-Pluto Yod that wraps up on 8/17.
8/17 (Thu)
Unto itself, a Venus-Jupiter square (19°26′ Cancer-Libra) can amplify whatever's going on in your relationships, creativity and finances … whether you judge it good or bad.
This square is part of two aspect patterns: a Venus-Jupiter-Pluto T-square through 8/23 , and the Venus-Jupiter-Uranus T-square that started yesterday. Please see those interpretations to understand this square in its larger context.
8/18 (Fri)
Adjustment is the keyword in your relationships, creativity and finances as Venus quincunxes Saturn (21°13′ Cancer-Sagittarius). Saturn writes the reality checks, so look for upgrade potential if challenge arises in any of these areas.
8/19 (Sat)
No major astrology events.
8/20 (Sun)
How fully are you able to step into the role of the leader or the performer in the spotlight? Do you want to embody either of these Leo archetypes, but feel restricted? A Sun-Chiron quincunx 27°49′ Leo-Pisces) can help you heal the shadow material that's inhibiting you. You may find my free Healing Invocation helpful in doing this important inner work.
---
Your physical vitality and libido can get a boost from a Mars-Jupiter sextile (20°0′ Leo-Libra). With Mars in Leo, this aspect can also support your leadership skills and performance pizzazz!
8/21 (Mon)
Great American Solar Eclipse!
In all my years as an astrologer, I've never seen an eclipse generate as much excitement as the "Great American Solar Eclipse" happening today (8/21) at 2:30 PM EDT (28°52′ Leo). It will be the first eclipse visible across the continental United States in 99 years … and will be seen as a total eclipse only in the United States! (More on why that's significant in a moment.)
Regulus and the 2 Faces of Leo
But this eclipse is special for many more reasons. It will make a tight conjunction to Regulus, the "heart of the lion" … the brightest star in Leo. This offers an opportunity to move more deeply into your own divine heart of unconditional love.
Leo can operate at two basic levels. The less evolved Leo feels a gaping void inside. In a futile attempt to fill it, it endlessly draws attention to itself. If positive attention isn't available, negative attention will do. In its extreme form, this is the classic photobombing narcissist, making everything about themselves and always wanting the last word.
The more evolved Leo still wants the spotlight, but for the opposite reason. It's spiritually awake enough to know that it has all the energy it could ever need within itself. It wants your attention so that it can bless you with the overflow … just as the Sun, Leo's ruling planet, endlessly radiates the heat and light that make physical life possible to everything around it. The more awakened you are, the more unconditional love will naturally radiate from you. The eclipse's conjunction to this fixed star encourages you to make this a "Regulus" occurrence!
Leo New Moon #2
This eclipse will be the second Leo New Moon in a row (the first was on July 23). This puts double emphasis on Leo's diverse themes. Most prominent are the archetypes of the sovereign leader and the performer in the spotlight. Leo also stands for children and your inner child … as well as speculation, risk-taking, and enjoying some rest and relaxation.
USA Focus
This eclipse's laser-sharp focus on the United States means that the USA will feel the eclipse effects with special power. This theme is reemphasized by the fact this this eclipse opposes the Moon in the USA Sibley chart (7/4/1776, 5:10 PM, Philadelphia, PA).
This eclipse also strongly impacts President Trump's chart (6/14/46, 10:54 AM, Queens, New York). It tightly conjoins his Ascendant and Mars (ancient ruler of his Nadir), opposes his Descendant, and squares his Midheaven and Nadir! Unless Trump handles this intense influx of energy more skillfully than I expect, his "loose cannon" behavior will become even more erratic.
More on the eclipse after this …
Aspects
For this to qualify as a solar eclipse, the Sun and Moon have to conjoin a lunar node. The luminaries are 5° away from the Leo North Node, close enough for this to be a total eclipse in many areas. The North Node, or "destiny point," asks if you're in alignment with your life purpose … especially in regard to the Leo themes above.
Grand Trine #1
This eclipse forms a powerful Grand Trine with Mars, Saturn and Uranus. Its optimal use involves working from the outermost planet inward.
Uranus is the most powerful member of this Grand Trine, both because it's the outermost planet and because it makes a nearly exact trine to the luminaries. Uranus has three high-side expressions that I strongly recommend here:
be your authentic human self (fly your freak flag),
follow your intuitive flashes, and
serve others using your special talents that you most love to use.
Intuitive information is the most accurate guidance available, since it comes directly from your higher self. Saturn's optimal role is to serve Uranus by organizing those intuitive flashes into a workable plan. Saturn can also keep you on track with his life-affirming qualities. These include discipline, maturity, and good time management.
Once Uranus and Mars have the action plan in place, Mars can take it on the road. Mars is the warrior, pioneer, entrepreneur and "just do it" guy. Placed in fiery Leo and energized by all these other planets, he's ready to burst out of the gate to help bring your solar eclipse affirmations into physical reality!
Grand Trine #2
This eclipse's second Grand Trine focuses on Uranus, Juno and the luminaries. Juno is the asteroid goddess of committed partnership, so this Grand Trine supports taking your bonded relationships – romantic or platonic – to the next level. With Uranus in the picture, this can be more about catching intuitive flashes than rational thought.
Both these Grand Trines will flow a certain amount of these energies to you for free. But you'll get the maximum benefit when you "mine the trine," adding your own effort and intention into the mix.
Chiron Quincunx
This solar eclipse only has one aspect that's not part of an aspect pattern: a quincunx from Chiron. This tight aspect of adjustment can stir up unhealed wounds or traumas from both this life and past lives. For a simple and effective tool that has helped many people work through this shadow material, check out my free Healing Invocation. This quincunx can also support you if you choose to serve others as a mentor, healer, shaman or awakener.
Sabian Symbol
This solar eclipse's Sabian Symbol is, "A mermaid emerges from the ocean waves ready for rebirth in human form." To me, the mermaid represents your more pristine spiritual essence, which was fully submerged in the euphoric ocean of divine consciousness before you were born. Now it's ready to become a human, which requires individuation and, frequently, forgetfulness of its true identity as a being of light.
This image invites you to remember back to that time before birth, when you still knew the you that was more consciously connected to the ecstatic depths of divine awareness. And it's an invitation to stay aware of it now … to walk between the worlds in both the mermaid-like beauty of divine essence and the unique individual perception of a human being.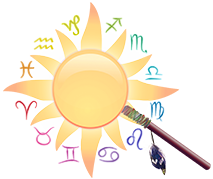 Deepen Your
Insight, Healing & Awakening
Your astrology chart reveals powerful insights into your relationships, career, soul purpose, and much more. Getting a yearly Astrology+ update can show you what's important now!
I also offer Shamanic Healing / IFS, one-of-a-kind Life Coaching, and more. All my services are equally effective in person or long distance.
T-square peaks: Venus-Jupiter-Uranus
The Venus-Jupiter-Uranus T-square that started on 8/16 peaks today (8/21) and ends on 8/26.
---
You can "fly your freak flag" more comfortably as the Sun trines Uranus (28°23′ Leo-Aries). This aspect can also help you more easily catch your intuitive flashes, and serve others using your special gifts that you most love to use.
---
On its own, a Pluto-Ceres opposition (17°11′ Capricorn-Cancer) can boost prosperity or stimulate shadow work. To understand this aspect in its larger context, check out the aspect pattern it's part of through 9/2: a Ceres-Pallas-Vesta-Neptune-Pluto Envelope.
8/22 (Tue)
The Sun enters Virgo at 6:20 PM EDT. For the next month, new beginnings in service, healing others, and your personal health are supported. This is also a great time to implement new or refined systems, procedures and other detail-oriented matters.
One of Virgo's dark sides is serving others in a way that makes you unhappy and energetically drained. Optimal Virgo service leaves you feeling wonderful and eager to do it again. Opt for the latter whenever possible!
---
You may feel a bit like the Energizer Bunny as Mars trines Saturn (21°11′ Leo-Sagittarius). This aspect is excellent for long-lasting energy and abundant productivity in your endeavors. With Mars in Leo, this trine is also great for business presentations.
8/23 (Wed)
T-square Peaks: Vesta-Saturn-Neptune
Perhaps you've imagined how you could help others by making a positive contribution to the world. But have you actually called in that reality from the universe? As I wrote on 8/11, your opportunity has arrived in the form of a Vesta-Saturn-Neptune T-square. It started on 8/11, peaks today (8/23) and ends on 9/3.
Law of Attraction potential radiates from this T-square! Neptune supports imagination and visualization, while Saturn embodies crystallization into the physical world. Service to a higher cause is represented by Vesta.
---
As a standalone aspect, a Pluto-Vesta trine (17°9′ Capricorn-Virgo) can empower your service to a higher cause and your practice of sex magic. To understand this aspect in its larger context, check out the aspect pattern it's part of through 9/2: a Ceres-Pallas-Vesta-Neptune-Pluto Envelope.
8/24 (Thu)
2 T-squares Begin: Vesta-Saturn-Chiron, Ceres-Jupiter-Uranus
T-square Begins: Vesta-Saturn-Chiron
Two unrelated T-squares kick off today. We'll first look at the one of shorter duration, Vesta-Saturn-Chiron. Saturn and Chiron are square all year, so we'll focus on Vesta for our primary themes.
Vesta represents honing yourself into a finely tuned instrument of service, then using those abilities in service to a greater good. This higher cause doesn't benefit you directly, except for the satisfaction of helping to make the world a better place. Vesta's placement in Virgo doubles down on the service theme.
Saturn and Chiron's hard aspects to Vesta may stir up any old wounds or limitations that stand in the way of this higher service. Effective shadow work tools such as my free Healing Invocation can help you clear or transmute any calcified energies that stand in your way. These two planets also invite you to assume the role of the wise elder (Saturn), and the healer, mentor, shaman or awakener (Chiron).
Vesta can also represent sex magic. This straightforward practice simply involves holding the image of what you want to manifest as you move through arousal and orgasm. Your desired outcome need not have anything to do with sex, and it can benefit you and/or others.
This Vesta-Saturn-Chiron T-square begins today (8/24), peaks on 9/7 and ends on 9/21.
I'll interpret the other T-square after this …
The #1 Astrology Software for Windows — at an Unbeatable Price!
SOLAR FIRE 9 is the world's leading astrology software for Windows. Earlier versions brought an unprecedented level of ease to casting and working with astrological charts. The current version adds many more calculations, extra convenience features, more interpretive text, and exciting new graphic displays.
SOLAR FIRE 9 contains something for everyone!
For advanced astrologers and professionals, it has a great variety of high-precision astrological calculations and an exceptional degree of user-customization.
For novices, its innovative point-and-click chart interpretations provide an enjoyable way to learn. Many easily explored options will encourage you to experiment with new techniques.
No one sells Solar Fire for less than AstroShaman.
Click here to learn how Solar Fire can supercharge your astrology!
T-square Begins: Ceres-Jupiter-Uranus
Are you ready for a sudden turn in your financial fortunes? That possibility is supported by a T-square featuring Ceres, Jupiter and Uranus. It begins today (8/24), peaks on 9/12 and ends on 10/14.
Please note that I didn't say whether this turn would be toward feast or famine. This T-square encompasses both possibilities, so I strongly recommend using an effective Law of Attraction system to call in the maximum abundance that serves your highest good. Since Uranus is the intuitive flash guy, pay close attention to your inner wisdom as you plan and implement your prosperity strategy.
Ceres, the grain goddess, can represent harvest and prosperity. Jupiter represents expansion and good luck. And Uranus can bring big change fast!
Psychologically, Ceres can also represent sorrow and loss. So this T-square can also catalyze old emotional wounds for healing.
---
Creative mentoring and relationship healing are smoothly supported by a Venus-Chiron trine (27°41′ Cancer-Pisces). With Venus in Cancer, harmonizing challenging family relationships is especially supported.
---
Getting into the flow of your inner warrior goddess is strongly and smoothly supported with Neptune sextile Pallas Athena (13°10′ Pisces-Taurus). To understand this aspect in its larger context, check out the aspect pattern it's part of through 9/2: a Ceres-Pallas-Vesta-Neptune-Pluto Envelope.
---
On its own, a Venus-Uranus square (28°20′ Cancer-Aries) can spark a quantum leap in your relationships, creativity and finances. To understand this aspect in its larger context, check out the Venus-Jupiter-Uranus T-square it's part of through 8/26.
8/25 (Fri)
Saturn Turns Direct
Saturn, which turned retrograde on 4/6 at 27°47′ Sagittarius, turns direct today (8/25) at 21°10′ Sagittarius. Saturn's retrograde has been a great time to contemplate how you're doing in the following areas: maturity, accomplishment, time management, planning and implementation. And is it time for you to be stepping more fully into the role of the wise elder?
Now that Saturn's direct, it's a great time to take any of these to the next level!
8/26 (Sat)
Venus transits Leo today through 9/19. This is great for glamour, fashion, and effusive expressions of appreciation to your beloved. It's also great for getting your creative expressions out into the public eye.
---
Learning and communication are supercharged by a Sun-Mercury conjunction (3°47′ Virgo).
8/27 (Sun)
Jupiter Sextile Saturn
Your balance point can be easier to find as Jupiter sextiles Saturn (21°11′ Libra-Sagittarius). Jupiter's love of expansion and Saturn's tendency to contract tend toward equilibrium under this dynamic, harmonious aspect.
This aspect also opens the door for easier cooperation with others. This is largely because Jupiter and Saturn are in mutual reception. Saturn is in Sagittarius, a sign that Jupiter rules. Jupiter is in Libra, the sign of Saturn's exaltation.
Because Jupiter and Saturn are fairly slow planets, you have plenty of time to enjoy this sextile's benefits. Its effects will last through 10/16.
8/28 (Mon)
No major astrology events.
8/29 (Tue)
No major astrology events.
8/30 (Wed)
Kite Begins: Sun-Pallas-Neptune-Pluto
Strategic, intuitively guided service is smoothly supported by a Kite featuring the Sun, Pallas, Neptune and Pluto. Divine energy and information flows from Piscean Neptune to the opposing Sun, which is optimized for service in Virgo. The Sun also receives trines from master planner Pallas Athena and empowerment specialist Pluto.
You can also give or receive healing, and get a lot of great organizing done, with the support of this Kite's smooth, easy-flowing energy. This Kite begins today (8/30), peaks on 9/7 and ends on 9/15.
8/31 (Thu)
Today's Saturn-Vesta square (21°12′ Sagittarius-Virgo) is best understood in the context of the Vesta-Saturn-Chiron T-square it's part of through 9/21.
---
Retrograde Mercury backs into Leo today (8/31), turns direct on 9/5, and reenters Virgo on 9/9. As the winged messenger revisits Leo, reflect on how you're leading or strutting your stuff. What changes would make your life more wonderful in these areas? How about in terms of children, your inner child, appropriate risk-taking or chill-out time?
Void-of-Course Moons
It's best to avoid starting important new projects or making major purchases during void-of-course Moons. "Business as usual" is the optimal strategy. Void-of-course Moons occur when the Moon has made her last major Ptolemaic aspect, but has not yet moved into her next sign.
8/17, 9:38 AM – 12:13 PM, Cancer
8/19, 11:17 AM – 1:55 PM, Leo
8/21, 2:30 PM – 4:25 PM, Virgo
8/23, 4:02 PM – 9:05 PM, Libra
8/26, 1:39 AM – 4:53 AM, Scorpio
8/28, 5:38 AM – 3:48 PM, Sagittarius
8/31, 12:42 AM – 4:18 AM, Capricorn

Whatever your Sun Sign, my forecasts can help you make the best use of the current astrological energies.
All dates and times are in the U.S. eastern time zone. Events are most powerful on the dates listed, but their influence will be active for at least a week before and after.
Everyone is affected by these global transits. However, you'll be most powerfully impacted when moving planets activate sensitive points in your natal chart. Discover how these transits will personally affect you by booking a session with me.
Learn more about my Astrology+ sessions.
Recent Forecasts
Check back around the 1st and 16th for updated forecasts.