Why is the August Virgo New Moon "deeply personal"? Because it forms a Grand Stellium with all five personal planets! This gives the second half of August a Vibrantly Virgo Vibe, perfect for serving others, health, and detail work.
Not only that, all these Virgo personal planets help create powerful T-squares and Mystic Rectangles at the end of the month. These aspect patterns are great for spiritual awakening, inspired creativity, Law of Attraction manifestation and much more!
Click astrology graphics to see larger images. Some resource links occur more than once. This is because many people link to a specific day's forecast from social media, and might not see that link elsewhere on this page.
8/16 (Fri)
Original thinking is strongly supported by a Mercury-Uranus square (6°36′ Leo-Taurus). Intuitive flashes can also pop in more strongly and frequently. With Mercury in Leo, this supercharged mental energy can give special support to leadership and creative expression.
8/17 (Sat)
Do you feel like you could go forever, or do you keep hitting roadblocks? Either outcome is possible with a Mars-Saturn sesquare (29°41′ Leo-Capricorn). With Mars in Leo, this effect could especially affect your artistic inventiveness and leadership.
Energizer Bunny endurance can be a signal that your activity aligns with your soul purpose. Obstacles could indicate the opposite. But be sure to check with your inner guidance: very few things of significance are achieved without difficulty!
The next three days are deliberately blank, since there are no major astrology events on 8/18, 8/19 or 8/20.
8/21 (Wed)
Mercury makes two aspects today: a Mercury-Jupiter trine (14°39 Leo-Sagittarius) and a Mercury-Saturn quincunx (14°31′ Leo-Capricorn). Jupiter and Saturn are complementary opposites – Jupiter expands, Saturn contracts.
This gives you the best of both worlds. The Jupiter trine amplifies your ability to learn and communicate. Saturn restricts your mind from running off on endless tangents. He makes focus, discipline and organization available to your mental process.
With Mercury in Leo, focusing your attention on leadership and creativity is strongly supported!
8/22 (Thu)
You can dream big with Mercury quincunx Neptune (17°48′ Leo-Pisces). However, this aspect could also lead to mental confusion, a wandering mind, or idle fantasizing. If so, refocus your mind on leadership, creativity and its public expression … or whatever you need to be thinking about!
8/23 (Fri)
The Sun enters Virgo at 6:02 AM. For the next month, service, health and attention to detail will be amplified. Be careful not to overthink things or become hypercritical. Strive to serve in ways that use your natural talents, and fill you with joy!
8/24 (Sat)
How often do you hear people say, "It doesn't get any better than this?" Virgo has a different motto: "It always gets better than this!"
Thanks to a Venus-Mars conjunction in Virgo (4°7′ Virgo), you can focus this passion for endless improvement on your relationships. Do you need to address serious issues? If so, maximize your chances for a positive outcome by using a tool like the 4-Step Nonviolent Communication Process.
Is a relationship going great? Even so, with this aspect's help, I bet you two could brainstorm ways to make it even better!
This Virgo Venus-Mars conjunction is also fantastic for fine-tuning your creative projects. Have you already created a first draft or rough sketch? It's a wonderful time heed the spirit of this advice: "Great writing isn't written. It's rewritten!"
Make that amazing life you've been dreaming about real!
My unique combination of modalities, refined through more than 10,000 AstroShaman client sessions, can help you thrive in all areas of your life. And my unusual approach could help you do this faster than you might have thought possible.
8/25 (Sun)
Venus and Mars were conjunct yesterday, and today they aspect the same planet. First up is a Venus-Chiron quincunx (5°1′ Virgo-Aries), followed by a Mars-Chiron quincunx (5°0′ Virgo-Aries). These aspects of adjustment support healing and mentoring in your relationships and artistic projects.
8/26-28 (Mon-Wed)
Venus and Mars are at it again 8/26 through 8/28. This time they're aspecting two of astrology's most powerful planets: Pluto and Uranus!
Pluto and Uranus are 105° apart right now, and aren't making a significant aspect to each other. But Venus and Mars are making 135° sesquares to Pluto and 120° trines to Uranus. This catalyzes the primary Uranus-Pluto effect: revolutionary transformation.
This can stir things up in many areas, starting with relationship, creativity and money. You could also experience big change fast in your leadership, assertiveness and sexuality.
The more you initiate change in these areas, or respond mindfully to catalyst, the better your outcomes will be!
Here are the coordinates of these four aspects:
8/26: Venus-Pluto sesquare (5°58′ Virgo-20°58′ Capricorn), Venus-Uranus trine (6°31′ Virgo-Taurus)
8/27: Mars-Pluto sesquare (5°56′ Virgo-20°56′ Capricorn)
8/28: Mars-Uranus trine (6°30′ Virgo-Taurus)
8/27 (Tue)
T-square Begins: Venus-Jupiter-Neptune
Inspired creativity on steroids! That's one way you can milk the most from a Venus-Jupiter-Neptune T-square that starts today, peaks on 9/3 and ends on 9/11. Painting, music, acting, writing – however your Muse lights you up, this T-square can support anything from the initial rough draft to the final refinement of your masterpiece.
You can also take this T-square into more spiritual territory. It's happy to amplify the relationship between you and your spiritual bodies. (Here's a free, quick and easy way to integrate your human self and your higher self.)
8/28 (Wed)
Mystic Rectangle Begins: Venus-Saturn-Neptune-Lunar Nodes
Yesterday Venus started a T-square with Jupiter and Neptune. Today she combines that challenging aspect pattern with a harmonious Mystic Rectangle. Its members are Venus, Saturn, Neptune and the lunar nodes.
Venus and Neptune are in both aspect patterns, so both support inspired creativity and embodied awakening. The T-square is more intense, starts earlier and finishes later. The Mystic Rectangle flows more smoothly, and empowers Law of Attraction manifestation – especially if what you're calling forth aligns with your soul purpose.
These two aspect patterns can complement and empower each other. As a result, the Mystic Rectangle provides an extraordinary window of opportunity for artistic expression and deeper spiritual awakening! It starts today (8/28), peaks on 9/2 and ends on 9/7.
P.S. The Virgoan Sun adds energy to this aspect pattern 8/31 through 9/7.
8/29 (Thu)
There's something special about you, isn't there? Something you do better than most folks, or at least differently. Whatever that unique quality is, it's a great time to shine it – and refine it! – as the Sun trines Uranus (6°28′ Virgo-Taurus).
This smooth aspect can also help you catch intuitive flashes more easily. With the Sun in Virgo, you could feel the urge to override these hits of divine inspiration with your intellect. Instead, use that Virgo energy to refine and implement them!
8/30 (Fri)
Virgo New Moon
Virgo often works behind the scenes, and doesn't usually draw attention to itself. But today's Virgo New Moon deserves fanfares and fireworks. Why? Because it boasts an extraordinary alignment: all five personal planets conjunct in Virgo. Holy moly!
This is heady stuff … but let's take a calming breath and start with the basics. Any Virgo New Moon is great for new beginnings or fresh energy in health, service and detail work. Check if you're being too analytical, or if you're demanding unrealistic levels of perfection from yourself or others.
Aspects
The headline aspect of this New Moon is a six-planet Virgo Grand Stellium! (A Grand Stellium is five or more planets in the same sign or house.) As mentioned above, this Grand Stellium includes all five personal planets: Sun, Moon, Mercury, Venus and Mars. The asteroid goddess Juno is the cherry on top. For starters, this gives massive reinforcement to everything I said above about Virgo.
Second, every aspect involving Venus and Mars between 8/24 and 8/28 colors this New Moon. (The only exception is the expired Venus-Chiron quincunx.) Read those forecasts if you want to dive deep and learn some helpful tools and techniques. If those forecasts are still fresh in your mind,  the following two-paragraph summary might be enough:
A Venus-Mars conjunction lets you apply Virgo's passion for endless improvement to your relationships. It's also fantastic for fine-tuning your creative projects.
Venus and Mars trine Uranus, and Mars sesquares Pluto. This can stir up revolutionary transformation in your relationships, creativity and money. You could also experience big change fast in your leadership, assertiveness and sexuality.
Mercury, powerful because it co-rules Virgo, gives you more ability to see fine distinctions. With Mercury tightly conjunct Juno, the goddess of committed partnership, this new Moon could help you gain a more detailed understanding of your key relationships. This Mercury-Juno conjunction could also represent you and a partner serving others.
Other Aspects
All of the aspect interpretations above are based on the Virgo Grand Stellium. Now let's look at the other three planets that color this New Moon.
Uranus trines all six Virgo planets. This encourages you to organize your life so that your authentic self shines more brightly. Florescent pink hair? No problem! This trine also lets you receive your intuitive flashes more easily … and serve others with your special talents you most love using.
Ceres also connects with all the Virgo planets, but with squares. These could stir up some shadow work, since Ceres represents loss and sorrow. But Ceres also represents harvest and abundance. The more effectively you do your shadow work (try my free Healing Invocation), the more easily abundance can flow in!
Finally, Chiron quincunxes all the Virgo planets except Venus. Like Ceres, Chiron can also stir up a lot of shadow work. But, being a co-ruler of Virgo, Chiron supports healing and mentoring … especially if you make the right adjustments.
How could you put all these New Moon aspects into one concise interpretation? Let's give it a shot: "Inspired (Uranus) refinement (Virgo) of your relationships (Venus and Mars), expression (Mercury) and creativity (Venus). This includes the healing (Chiron) of old wounds (Ceres)."
Sabian Symbol
There are 360 Sabian Symbols – one for each degree of the zodiac. This New Moon features the shortest Sabian Symbol of them all:
"A harem."
Don't let the picture mislead you — this word may mean more than you think! I was certainly surprised when I looked it up on dictionary.com. Here are their first two meanings of "harem":
1. the part of a Muslim palace or house reserved for the residence of women.
2. the women in a Muslim household, including the mother, sisters, wives, concubines, daughters, entertainers, and servants.
So a harem isn't just the concubines.
What do all these women have in common? In their native culture, they might be considered inferior to the men, and be allowed less freedom and equality.
This ties into a shadow side of Virgo: playing small because of low self-esteem. Do you serve others not because it's joyful, but from a sense of duty and obligation?
Virgo is one of my strongest astrological energies. Before I finally wised up, I sometimes put my own desires on the back burner in a futile attempt to please a romantic partner.
Virgo serves best when it's happiest. Why martyr yourself? Why not make everyone a winner … by choosing service that aligns with your needs and desires?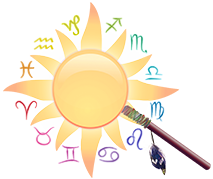 Deepen Your
Insight, Healing & Awakening
Your astrology chart reveals powerful insights into your relationships, career, soul purpose, and much more. Getting a yearly Astrology+ update can show you what's important now!
I also offer Shamanic Healing / IFS, one-of-a-kind Life Coaching, and more. All my services are equally effective in person or long distance.
T-square Begins: Mars-Jupiter-Neptune
Mars, Jupiter and Neptune team up to form a T-square today. It lasts more than three weeks, starting today (8/30), peaking on 9/12 and ending on 9/22. Mars is in Virgo, Jupiter's in Sagittarius, and Neptune is in Pisces.
Here are three life-affirming ways you could use this powerful aspect pattern:
The enthusiastic merging of intellect and intuition to energize life-enhancing learning or teaching
Adventurous service to others, inspired by intuition and refined by intellect
Serving in a foreign environment for a compassionate cause
This T-square can also go into darker territory: impulsively indulging in excessive substance abuse, escapism, aimlessness or martyrdom.
Have any of these tempted or captured you? If so, put your attention on any of the three prior interpretations to give this challenging energy something better to do. If your own willpower isn't enough to extract you, don't hesitate to seek help from others.
8/31 (Sat)
Mystic Rectangle Begins: Mars-Saturn-Neptune-Lunar Nodes
A three-week Mystic Rectangle begins today (8/31), then matches the timing of the T-square that started yesterday by peaking on 9/12 and ending on 9/22. This Mystic Rectangle includes Mars, Saturn, Neptune and the lunar nodes.
This flowing, harmonious aspect pattern supports energized and carefully crafted Law of Attraction work that aligns with your soul purpose. It can also fire up compassionate, energetic, soul-aligned service to others, empowered by embodied awakening.
P.S. The Virgo Sun adds vitality to this aspect pattern 8/31 through 9/16.
The #1 Astrology Software for Windows — at an Unbeatable Price!
SOLAR FIRE 9 is the world's leading astrology software for Windows. Earlier versions brought an unprecedented level of ease to casting and working with astrological charts. The current version adds many more calculations, extra convenience features, more interpretive text, and exciting new graphic displays.
SOLAR FIRE 9 contains something for everyone!
For advanced astrologers and professionals, it has a great variety of high-precision astrological calculations and an exceptional degree of user-customization.
For novices, its innovative point-and-click chart interpretations provide an enjoyable way to learn. Many easily explored options will encourage you to experiment with new techniques.
No one sells Solar Fire for less than AstroShaman.
Click here to learn how Solar Fire can supercharge your astrology!
Whatever your Sun Sign, my forecasts can help you make the best use of the current astrological energies.
All dates and times are in the U.S. eastern time zone. Events are most powerful on the dates listed, but their influence will be active for at least a week before and after.
Everyone is affected by these global transits. However, you'll be most powerfully impacted when moving planets activate sensitive points in your natal chart. Discover how these transits will personally affect you by booking a session with me.
Learn more about my Astrology+ sessions.
Recent Forecasts
Check back around the 1st and 16th for updated forecasts.