A Pisces New Moon cuddles up with Venus and Neptune to create extraordinary opportunities for spiritual awakening, inspired creativity, and ecstatic blending with those you love! The first half of March also features a "Finger of God" optimized for service to a higher cause.
This forecast covers this half-month's most important astrological events. For bonus events, check out my award-winning This Week in Astrology audio podcast and YouTube video forecasts — updated weekly!
Click astrology graphics to see larger images. Some resource links may occur more than once. This is because many people link to a specific day's forecast from social media, and might not see an important resource link elsewhere on this page.
Awaken, Heal and Thrive!
Kick your personal evolution into high gear! Awakening Plus offers you online spiritual and shamanic experiences … 500+ consciousness-shifting recordings … and life-transforming courses. This extraordinary membership also gives you community connection and personal support.
Ready to awaken, heal and thrive like never before? Click to learn more!
3/4 (Tue)
Neptune Square Juno
A committed partnership doesn't have to be romantic. An enduring relational container could be business-related, or involve a good friend or creative collaborator.
A Neptune-Juno square (20°23′ Pisces-Sagittarius) can powerfully affect all the committed partnerships in your life. If it serves highest good for one to wrap up, you may lose interest or find it dissolving on its own.
Be careful that a committed partner isn't pulling the wool over your eyes. Neptune's darker possibilities include deception, gaslighting, and the withholding of important information. On the other hand, if your soul purpose would be served by a high-vibration relationship staying the course, you could easily experience easy energetic blending and blissful flow states.
Neptune supports life-affirming experiences such as spiritual awakening and inspired creativity. If these themes are strong elements of a committed partnership, they could get a wonderful boost!
3/10 (Wed)
New "Finger of God"
Would you like to serve a worthy cause with your mentoring and healing abilities? You have a month to do this, with practical genius and inspired structure, thanks to a "Finger of God." This aspect pattern, also called a Yod, features Vesta, Saturn and Chiron. It starts today (3/10), peaks on 3/23 and ends on 4/10.
---
The #1 Astrology Software for Windows — at an Unbeatable Price!
SOLAR FIRE 9 is the world's leading astrology software for Windows. Earlier versions brought an unprecedented level of ease to casting and working with astrological charts. The current version adds many more calculations, extra convenience features, more interpretive text, and exciting new graphic displays.
SOLAR FIRE 9 contains something for everyone!
For advanced astrologers and professionals, it has a great variety of high-precision astrological calculations and an exceptional degree of user-customization.
For novices, its innovative point-and-click chart interpretations provide an enjoyable way to learn. Many easily explored options will encourage you to experiment with new techniques.
No one sells Solar Fire for less than AstroShaman.
Click here to learn how Solar Fire can supercharge your astrology!
3/13 (Sat)
Pisces New Moon
March's New Moon lines up at 5:21 am EST (23°3′ Pisces). Any Pisces New Moon is great for new beginnings or fresh energy in spiritual awakening and inspired creativity. It also supports functioning in flow state and working with dreams.
The more you focus on these life-affirming aspects of Pisces, the less you'll be tempted toward the dark side of the Sign of the Fishes. This nebulous territory includes substance abuse, addiction, and excessive escapism. It could also involve aimless drifting or engaging in a victim/perpetrator relationship dynamic.
Conjunctions
Venus and Neptune, which conjoin later today at 20°45′ Pisces, are closely conjunct the Sun and Moon. Neptune has the same keywords as Pisces, and simply doubles down on the Piscean meanings above.
Venus, in this Pisces-Neptune milieu, can send you fresh artistic ideas. She can help you connect more consciously with your higher self, or make it easier to perceive divine essence in everyone and everything around you.
Don't let this Venusian setup lull you into gullibility. When Venus connects with Neptune or Pisces, it can be easier to enjoy ecstatic energetic blending with others. But unscrupulous people can also use this porousness to deceive or gaslight you. Pay close attention to the energetic vibration of the people you're dealing with.
Other Aspects
The Sun and Moon sesquare Saturn. This could slow down the accomplishment of your New Moon goals, but can also Empower your Law of Attraction abilities. Pisces empowers visualization, while Saturn can help you crystallize your imagination into physical reality. In addition, the luminaries' sextile to Pluto can add wealth and power to your new endeavors!
This Pisces New Moon squares Juno, the asteroid goddess of committed partnership. Whether this committed partnership is romantic or platonic, this square could catalyze challenge. If so, the best technique I know for working through relationship challenge is Nonviolent Communication. To further increase harmony, in your relationship and within yourself, use my free Healing Invocation to make your personal shadow work quicker and easier.
Sabian Symbol
This New Moon's Sabian Symbol is, "A tiny island seems lost in the broad ocean, but its happy inhabitants have created a great world all their own."
This image reminds me of the many people I know already living Aquarian Age lifestyles. They're doing their best to live sustainable lifestyles and embody peace, love and harmony in all their actions. The more of these "tiny islands" we create, the quicker this harmonious energy will spread to the continents!
Make that amazing life you've been dreaming about real!
My unique combination of modalities, refined through more than 10,000 AstroShaman client sessions, can help you thrive in all areas of your life. And my unusual approach could help you do this faster than you might have thought possible.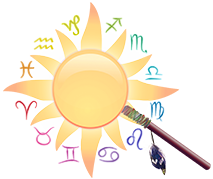 Deepen Your
Insight, Healing & Awakening
Your astrology chart reveals powerful insights into your relationships, career, soul purpose, and much more. Getting a yearly Astrology+ update can show you what's important now!
I also offer Shamanic Healing / IFS, one-of-a-kind Life Coaching, and more. All my services are equally effective in person or long distance.
Whatever your Sun Sign, my forecasts can help you make the best use of the current astrological energies.
All dates and times are in the U.S. eastern time zone. Events are most powerful on the dates listed, but their influence will be active for at least a week before and after.
Everyone is affected by these global transits. However, you'll be most powerfully impacted when moving planets activate sensitive points in your natal chart. Discover how these transits will personally affect you by booking a session with me.
Learn more about my Astrology+ sessions.
Recent Forecasts
Check back around the 1st and 16th for updated forecasts.