One of 2022's most important aspects – Jupiter sextile Uranus – highlights February. Not only that, Jupiter and Pluto are semi-square – a minor aspect with major impact!
The sky is also busy with an Aquarius New Moon, a Leo Full Moon, and Mercury turning direct. We also have the Sun entering Pisces, plus a peaking Cradle that supports both shadow work and abundance! 
Starting this month, I'm shifting from half-month to full-month forecasts. This will help open up the time I need to publish my invocation book and launch my new Awakening Plus podcast. And you'll be able to see further into the future, so you can plan your life better!
This forecast covers this month's most important astrological events. Also check out my award-winning This Week in Astrology audio podcast and YouTube video forecasts!
Click astrology graphics to see larger images. Some resource links may occur more than once. This is because many people link to a specific day's forecast from social media, and might not see an important resource link elsewhere on this page.
2/1 (Tue)
Aquarius New Moon
February kicks off, appropriately enough, with a New Moon … in the first hour of the first day of the month! More specifically, it lines up at 12:46 am EST at 12°19′ Aquarius.
Any Aquarius New Moon is great for new beginnings or fresh effort in the following three areas:
Internally embrace what's unique and special about you, then share it with the world as appropriate.
Trust your intuitive hits, and act on them as much as possible.
Serve others using your special gifts and talents that you most love to use!
The luminaries tightly square Uranus. Aquarius and Uranus have the same meaning, so this doubles down on the Aquarian message above.
Saturn
The luminaries are closely conjunct Saturn. Saturn is the ancient ruler of Aquarius, but his meaning is quite different! He could throw up detours or roadblocks, which could delay or block your New Moon goals.
Are such obstacles telling you to find another route to the existing goal, modify it, or abandon it completely? Often you can make a compelling case for any of these options.
Thankfully, my intuitive hits are always trustworthy. Since these are associated with the 11th astrological archetype – which includes Aquarius and Uranus – this New Moon should be sending down lots of these "text messages from God"!
I recommend that you set your course based on this inner guidance. You can identify a genuine intuitive hit by its know-it-in-your-bones, gut-feeling, full-body "Yes!" Any doubt that follows doesn't negate the absolute certainty you felt when the intuitive lightning struck.
Many people fear Saturn, earning him scary nicknames like the "stern taskmaster". My astrology mentor Kelly Lee Phipps loved to say that Saturn "writes the reality checks".
However, in my natal chart, Saturn is one of my favorite planets. The more I've integrated him, the more he's blessed me with his substantial gifts. These include discipline, maturity, and good time management.
Saturn can also help you become your own authority, and "plan the work and work the plan". How many of these life-affirming Saturn qualities can you embody more fully as he conjoins this New Moon?
Saturn and Uranus are still engaged in their Saturn-Uranus square. This is the most powerful aspect of both 2021 and 2022! This New Moon also stimulates the power of this square.
Minor Aspects
This New Moon is also semi-sextile a tight Venus-Vesta conjunction. So a secondary theme to contemplate is what new energy should flow into your relationships, creativity and finances (Venus), as well as your service to a higher cause (Vesta). With both Venus and Vesta in Capricorn, what practical steps can you take in these directions?
The luminaries are also semi-square Pallas Athena. Is there a battle you're fighting, or a worthy cause you're striving for, that needs fresh energy? Is head-on conflict necessary, or can you achieve your goals through strategy, diplomacy or negotiation?
Awaken, Heal, and Thrive!
Kick your personal evolution into high gear! Awakening Plus offers you online spiritual and shamanic experiences … 500+ consciousness-shifting recordings … and life-transforming courses. This extraordinary membership also gives you community connection and personal support.
Ready to awaken, heal, and thrive like never before? Click to learn more!
2/3 (Thu)
Mercury Direct
Mercury turns direct at 11:13 pm EST (24°22′ Capricorn). The winged messenger turned retrograde about 3 weeks ago, on 1/14 (10°20′ Aquarius).
Have you been reflecting on any of the Mercury retrograde themes I suggested in my 1/14 forecast? I didn't expect you to memorize these, so here's a reminder of the most important ideas you can now shift from reflection to action!
Aquarius and Capricorn
Retrograde Mercury spent its first 12 days, through 1/25, backpedaling through Aquarius. This was a great time to contemplate how well you're embracing what's unique about yourself, and sharing it with the world as appropriate. Are you taking action on your intuitive hits? And are you serving others using your special gifts and talents that you most love to use?
Mercury completed its retrograde with 9 days in Capricorn, 1/26 through 2/3. This period was ideal for pondering how happy you are with your current level of maturity, responsibility and efficiency. Are you taking care of business, both personally and professionally? Are you using time well? Are you planning the work and working the plan?
Did you delay major new beginnings while Mercury was retrograde? If so, you can now proceed with major purchases or contract signings.
2/7 (Mon)
Cradle Peaks
Abundance and shadow work are supported by a Cradle. It started on 1/15, peaks today (2/7) and ends on 3/1. This harmonious aspect pattern includes Ceres, Pallas Athena, Pluto, and the lunar nodes.
What are the common threads connecting the themes of abundance and shadow work? For starters, Pluto and Ceres, a powerful outer planet and an asteroid goddess, each embody both themes.
Pluto is lord of the underworld, where we bury our repressed psychological pain. Ceres, a/k/a Demeter, plays a central role in a famous myth along with her beautiful daughter Persephone and Pluto.
In this myth, Persephone is abducted by Pluto, who drags her down to the underworld to be his wife and queen. Ceres mourns the loss of her daughter inconsolably, which relates to the theme of shadow work.
Ceres is the grain goddess, who brings forth harvest, abundance and manifestation. And Pluto is the lord of wealth and power. His domain is underground, where many things of great value are found. These include minerals, gems, precious metals, natural gas and oil.
So Ceres and Pluto both carry the themes of abundance and shadow work. These themes relate when you realize that shadow work opens the door to increased wealth.
How does this work?. We all have a constant flow of energy coming down from our divine source. When we do effective shadow work, by facing and skillfully healing old traumas, we clear the gunk out of the pipeline. More divine energy flows through. And among the energies coming down from your divine source is abundance!
What about the other planets in the Cradle? Pallas Athena invites you to do shadow work skillfully and strategically. The lunar nodes are the Axis of Destiny. They encourage you to do all this in a way that aligns with your life purpose.
Would you like a fast, easy, effective technique to help you clear old traumas once and for all? I've received hundreds of thank-you emails from people who have used my Healing Invocation. It's been helping people for 11 years, and is included in my Free Invocation Masterclass.
2/16 (Wed)
Leo Full Moon
A Full Moon illuminates the sky at 11:57 am EST (27°59′ Leo). Any Leo Full Moon is great for release or adjustment in your roles as a leader or entertainer. In addition, what changes would serve highest good in how you relate with kids, or your inner child? And are you taking enough time for rest, relaxation and recreation?
Aspects
The luminaries form a tight Grand Cross with the lunar nodes. This raises the stakes on all the Leo themes above. It's no longer just a matter of releases or adjustments that create marginal improvements. Now the question is: can you make changes that align you with your life purpose?
Ceres and Pluto, the stars of the Cradle I just interpreted, are also featured in this Full Moon. Ceres, conjunct the North Node, is part of the Grand Cross. And Pluto makes a tight quincunx with the Moon.
So don't be surprised if some shadow work comes up as you work with the energies of this Full Moon. And the abundance that comes as a reward – which can be anything of value, tangible or intangible – might relate to one or more of the Leo themes we've included here.
The #1 Astrology Software for Windows — at an Unbeatable Price!
SOLAR FIRE 9 is the world's leading astrology software for Windows. Earlier versions brought an unprecedented level of ease to casting and working with astrological charts. The current version adds many more calculations, extra convenience features, more interpretive text, and exciting new graphic displays.
SOLAR FIRE 9 contains something for everyone!
For advanced astrologers and professionals, it has a great variety of high-precision astrological calculations and an exceptional degree of user-customization.
For novices, its innovative point-and-click chart interpretations provide an enjoyable way to learn. Many easily explored options will encourage you to experiment with new techniques.
No one sells Solar Fire for less than AstroShaman.
Click here to learn how Solar Fire can supercharge your astrology!
2/17 (Thu)
Jupiter Sextile Uranus
There are so many wonderful ways to benefit from today's Jupiter-Uranus sextile (11°13′ Pisces-Taurus)!
This auspicious aspect is exact at 7:13 pm EST. But you have plenty of time to work with it. It came into orb on 1/13, makes its only exact alignment today (2/17), and stays energetically connected through 3/29.
The energy of this Jupiter-Uranus sextile is similar to our recent Jupiter-Uranus quintiles. These were in orb 3/30 thru 8/8 in 2021, and then again 12/3/21 thru 1/12/22.
In addition, since Uranus carries the same archetypal energy as Aquarius, this sextile feels similar to when Jupiter was in Aquarius. Jupiter was in Aquarius for most of 2021, except mid-May thru late July and December 29-31.
So the energy of the sextile isn't completely new. But I bet there are new ways you can benefit from it! Here are some of the wonderful ways you can choose to experience this lively and harmonious aspect:
Breakthroughs in understanding the meaning of life
Innovative religious practices
Breaking out of your ruts to live life as an adventurous quest
Learning new and unusual things that add significant meaning to your life
More openness to foreign teachings and influences
More international travel
Sharing your innovative insights with others (Jupiter is the guru, professor, philosopher and wisdom giver)
Breaking through to more joy, exuberance, euphoria and celebration
More wisdom gained thru intuitive hits
Expanding into your authentic self (human and divine)
More expansion into serving your kindred spirits with your special gifts and talents that you most love to use
Because Jupiter's in Pisces, this sextile also empowers …
Spiritual breakthroughs
Breaking out of limiting spiritual concepts into greater firsthand awareness of your divinity
Expanded creative inspiration
Expanded divine inspiration
More flow state in your daily life
Personal breakthroughs in dreams, including conscious dreaming and dream interpretation
Make that amazing life you've been dreaming about real!
My unique combination of modalities, refined through more than 10,000 AstroShaman client sessions, can help you thrive in all areas of your life. And my unusual approach could help you do this faster than you might have thought possible.
2/18 (Fri)
The Sun enters Pisces at 11:43 am EST. For the next month, it will be easier to access spiritual awakening and inspired creativity. You can also operate in flow state more consistently, and work more easily with dreams and other inner states.
---
2/23 (Wed)
Jupiter Semi-square Pluto
Jupiter's most prominent aspect through the end of March, as interpreted above, is a Jupiter-Uranus sextile. But a Jupiter-Pluto semi-square (12°38′ Pisces- 27°38′ Capricorn) also merits attention.
Yes, a semi-square is only a minor hard aspect. But when it connects such potent planets – and lasts for more than five weeks (2/5 thru 3/14) – there's plenty of positive potential to be manifested!
For example, expansive Jupiter can amplify Pluto's wealth and power. And Pluto can supercharge Jupiter's natural inclination toward luck and celebration. With Jupiter in Pisces, this semi-square can also juice up spiritual awakening, inspired creativity and operating in flow state.
Be careful with Jupiter's lower expressions. Don't get stuck in "street corner preacher syndrome", fanatically believing that you possess the "one true way". And don't dissipate your energy by trying to do too many things at once.
And watch out for potential downsides with Jupiter's placement in Pisces. The sign of the fishes can spiral down into addiction or excessive escapism. It can also get lost in aimless drifting, or play the role of a martyr in a relationship.
As with all transits, you can influence the outcome with your focus. I suggest that you keep your attention on the life-affirming possibilities of this semi-square. And remember that Pluto's simulation of Jupiter can further empower all the awesome possibilities of that Jupiter-Uranus sextile!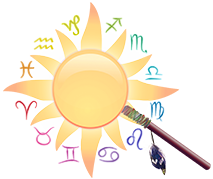 Deepen Your
Insight, Healing & Awakening
Your astrology chart reveals powerful insights into your relationships, career, soul purpose, and much more. Getting a yearly Astrology+ update can show you what's important now!
I also offer Shamanic Healing / IFS, one-of-a-kind Life Coaching, and more. All my services are equally effective in person or long distance.
2/24 (Thu)
Two personal planets connect with their higher-octave outer planets today. Neptune is the higher octave of Venus, while Uranus is the higher octave of Mercury.
A Venus-Neptune sextile (22°14′ Capricorn-Pisces) harmoniously stimulates inspired creativity. It can also help you relate more easily with your inner divinity, and perceive the divine in everything around you.
A Mercury-Uranus square (11°25′ Aquarius-Taurus) can help you get more intuitive hits. Plus, Mercury's in Aquarius, which has the same archetypal energy as Uranus.
I've had hundreds of clients confirm that they get their best outcomes when they follow their inner guidance. See if the same is true for you!
Whatever your Sun Sign, my forecasts can help you make the best use of the current astrological energies.
All dates and times are in the U.S. eastern time zone. Events are most powerful on the dates listed, but their influence will be active for at least a week before and after.
Everyone is affected by these global transits. However, you'll be most powerfully impacted when moving planets activate sensitive points in your natal chart. Discover how these transits will personally affect you by booking a session with me.
Learn more about my Astrology+ sessions.
Recent Forecasts
Check back around the 1st and 16th for updated forecasts.