A Lunar Eclipse in Gemini, its aspects flung hither and yon, highlights the second half of November. Neptune turns direct and the Sun enters Sagittarius.
We also have 2 aspect patterns: a Hard Rectangle wants to upgrade your relationships, and a 4-month Grand Cross stimulates compassion and service to a higher cause.
This forecast covers this half-month's most important astrological events. For bonus events, check out my award-winning This Week in Astrology audio podcast and YouTube video forecasts — updated weekly!
Click astrology graphics to see larger images. Some resource links may occur more than once. This is because many people link to a specific day's forecast from social media, and might not see an important resource link elsewhere on this page.
11/19 (Thu)
Four-Month Grand Cross Radiates Service and Compassion
Grand Crosses usually breed challenge. But the one starting today has huge potential for soul-aligned compassion, unconditional love, and service to a higher cause!
This aspect pattern also holds this opportunity open for a long time – 4 months! It includes Vesta, Neptune and the lunar nodes. It start today (11/19), peaks twice on 12/25 and 2/15 due to Vesta stationing retrograde, and ends on 3/18.
Vesta represents support for a higher cause that doesn't directly benefit you. Neptune radiates unconditional love and compassion.
The lunar nodes represent life purpose. Plus, they're in the Axis of Communication: North Node in Gemini, South Node in Sagittarius. This suggests that part of your service to this cause might include spreading the word about it. Learning more about it is also supported.
11/21 (Sat)
Sun Enters Sagittarius
The Sun enters Sagittarius at 3:40 PM EST. Sagittarius is ruled by Jupiter, the largest gas giant in our solar system. So it's not surprising that Sagittarius has more meanings than any other sign!
Sagittarian energies that you can more easily partner with over the next month include:
questing and adventuring
the wisdom giver (professor, philosopher, guru)
the advanced student
religion, philosophy, and the meaning of life
luck
foreign countries
long-distance travel
people and influences from other cultures
joy, euphoria and exuberance!
The #1 Astrology Software for Windows — at an Unbeatable Price!
SOLAR FIRE 9 is the world's leading astrology software for Windows. Earlier versions brought an unprecedented level of ease to casting and working with astrological charts. The current version adds many more calculations, extra convenience features, more interpretive text, and exciting new graphic displays.
SOLAR FIRE 9 contains something for everyone!
For advanced astrologers and professionals, it has a great variety of high-precision astrological calculations and an exceptional degree of user-customization.
For novices, its innovative point-and-click chart interpretations provide an enjoyable way to learn. Many easily explored options will encourage you to experiment with new techniques.
No one sells Solar Fire for less than AstroShaman.
Click here to learn how Solar Fire can supercharge your astrology!
Hard Rectangle Catalyzes Relationship Shift
Is there some change that would help an important relationship better align with your life purpose – perhaps even a dramatic change? It could happen – voluntarily or involuntarily – under the influence of a Venus-Uranus-Lunar Nodes Hard Rectangle. It starts today (11/21), peaks on 11/26 and ends on 11/29.
Venus represents relationships. Her placement in Scorpio can influence you to dive deep into the hidden underpinnings of relationship dynamics.
What unhealed emotional wounds are driving dysfunctional behavior? (My Healing Invocation might help.) Where is there opportunity to connect more deeply and authentically? If the relationship is romantic, how about some sexual experimentation, or jumping to a new level of soul-blended lovemaking?
Uranus represents unconventional thinking, paradigm shift and intuitive hits. If a relationship doesn't align with your soul purpose (the lunar nodes), Uranus might just throw an unexpected lightning bolt to shake things up. If he does, watch for intuitive hits on how to make your connection even more wonderful!
This Hard Rectangle can also pop down fresh creative inspiration, as well as new insights on how to deal with your finances.
11/26 (Thu)
Hard Rectangle Peaks
The Venus-Uranus-Lunar Nodes Hard Rectangle that started on 11/21 today (11/26) and ends on 11/29.
11/28 (Sat)
Neptune Stations Direct
Neptune stations direct today at 18°9′ Pisces. The Mystic Planet turned retrograde on 6/23 at 20°57′ Pisces.
Personal planet retrogrades, such as the recent retrogrades of Mercury and Mars, are quicker and impact us in more obvious ways. In contrast, the retrogrades of outer planets like Neptune last about five months. Their direction doesn't have a significant impact on their effects as transiting planets.
But their themes are worthy of reflection, especially when they change directions. Here are the Neptunian themes that I suggested for your contemplation on 6/23:
How are you doing with your spiritual awakening practices? Are you expressing your inspired creativity? Are you doing dream work, or operating consistently "in the zone"?
How about Neptune's low side? Are you having any issues with substance abuse? Are you getting so lost in escapist activities that you're neglecting important matters in the physical world? Are you drifting aimlessly, or playing the victim in a relationship?
Focusing on Neptune's high side can weaken the lure of its low side. If this strategy isn't sufficient, especially in areas such as substance abuse, be sure to seek professional help.
Have you gained insights in any of these areas? If so, Neptune's direct station is a great time to start acting on them!
Impact on Your Natal Chart
Planets are most powerful when they change directions, and Neptune stations direct near 18° Pisces. This means that any sensitive points in your natal chart between 15° and 21° of a mutable sign (Gemini, Virgo, Sagittarius and Pisces) will be strongly affected by this Neptune station.
30 Days for $1: Risk-Free Trial Membership
Awakening Plus, my online spiritual support membership, will empower your journey of spiritual awakening with live spiritual and shamanic experiences … 350+ consciousness-shifting recordings … and life-transforming courses. You can also enjoy community connection and pair up with an accountability partner to stay on track!
You get all this and much more. Accelerate your healing, spiritual awakening and divine service with your "30 Days for $1" Risk-Free Trial Membership!
---
Would you like to establish deeper honesty, authenticity and vulnerability (Pluto) in a committed partnership (Juno)? A Pluto-Juno sextile (23°12′ Capricorn-Scorpio) makes this easier.
This harmonious and energizing aspect is in orb 11/3 through 12/24. This sextile also supports harmonious business dealings, since Pluto represents wealth and power.
11/30 (Mon)
Gemini Lunar Eclipse
A Lunar Eclipse lines up at 4:30 AM EST (8°38′ Gemini). While visible in the Americas, Australia and other areas, this penumbral eclipse will only darken the Moon slightly.
As a Gemini Full Moon, this lunation is great for release and adjustment in how you communicate and think. The first two questions from The Work of Byron Katie come to mind:
Is it true?
Can you absolutely know that it's true?
Aspects
This eclipse's aspects are all over the place, and are mostly challenging.
Pluto Sesquare
The most powerful aspect is a sesquare between the Moon and Pluto. (Jupiter, conjunct Pluto and more loosely sesquare the Moon, amplifies the following effects.)
One of Pluto's jobs is to destroy what doesn't serve you. With the Moon in Gemini, he'll take special aim at any delusions or misconceptions you're holding.
During my 60 years, I've had a number of bedrock beliefs that I was 100% sure were right – until they were proved wrong! As a result, I've learned not to believe anything I think. Any beliefs I hold are only conditional, and open to immediate change if disproved.
This approach would be too radical for many. If your fundamental identity is based on your thoughts, such an approach could feel too threatening.
But once you awaken to your divine self, you experience that your true identity transcends ideation entirely. Then holding lightly to beliefs becomes much easier!
Other Aspects
The luminaries square Vesta, the asteroid goddess of service to a higher cause. If you're involved in such an endeavor, note any challenges that arise. Is it time to put your attention elsewhere? Or is your optimal path to stay the course and work through the issues?
The luminaries, Venus and Uranus form a funky little aspect pattern, bordered by 2 quincunxes and 2 semi-sextiles. This calls for paradigm shifts that could affect your relationships, creativity, and/or finances. Follow your intuitive flashes!
Finally, there's a Moon-Chiron sextile. This is the only soft aspect made by the Moon. It creates a harmonious, energized opportunity for healing and mentoring. This could come in handy, considering this eclipse's other aspects!
Sabian Symbol
This Lunar Eclipse's Sabian Symbol is, "A medieval archer stands with the ease of one wholly sure of himself, bow in hand, his quiver filled with arrows."
Are you like this archer: confident, well equipped, and ready for whatever may come? If so, congratulations — you're ready for these crazy changing times!
If not, what preparation or resources do you need? Are you proactively getting what you need? If not, what will it take to get you in gear?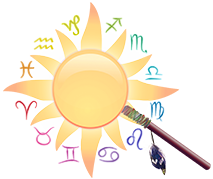 Deepen Your
Insight, Healing & Awakening
Your astrology chart reveals powerful insights into your relationships, career, soul purpose and much more. Getting a yearly Astrology+ update can show you what's important now!
I also offer Shamanic Healing / IFS, one-of-a-kind Life Coaching, and more. All my services are equally effective in person or long distance.
Whatever your Sun Sign, my forecasts can help you make the best use of the current astrological energies.
All dates and times are in the U.S. eastern time zone. Events are most powerful on the dates listed, but their influence will be active for at least a week before and after.
Everyone is affected by these global transits. However, you'll be most powerfully impacted when moving planets activate sensitive points in your natal chart. Discover how these transits will personally affect you by booking a session with me.
Learn more about my Astrology+ sessions.
Recent Forecasts
Check back around the 1st and 16th for updated forecasts.