One of 2020's most important aspects – and one of its most harmonious – returns for its second appearance during the second half of July. Spiritual awakening and inspired creativity are only the start of the wonderful possibilities of this Jupiter-Neptune sextile!
We also have a Cancer New Moon, whose aspects include every member of the world-shaking Jupiter-Saturn-Pluto Triple Conjunction. We also have the Sun entering Leo, a Pluto-Vesta opposition, and more!
This forecast covers this half-month's most important astrological events. For bonus events, check out my award-winning This Week in Astrology audio podcast and YouTube video forecasts — updated weekly!
Click astrology graphics to see larger images. Some resource links may occur more than once. This is because many people link to a specific day's forecast from social media, and might not see an important resource link elsewhere on this page.
7/20 (Mon)
Cancer New Moon
July's New Moon lines up at 1:33 PM EDT (28°26′ Cancer). Any Cancer New Moon is good for new beginnings in the areas of home, family, security, emotions and shadow work.
Aspects
This lunation's important aspects include 4 oppositions and 1 conjunction. The tightest aspect is a nearly exact opposition to Saturn.
Saturn
If you're like most people, you haven't attained mastery over all of the Cancer themes mentioned above. Therefore, it's the job of Saturn – the Stern Taskmaster – to bring challenge in those Cancerian areas that will best catalyze your soul growth.
Most of us will experience challenging emotions during this waxing Moon phase. If so, I recommend my free Healing Invocation. This simple shadow work tool delegates your healing to your higher self. It has helped thousands clear challenging emotions quickly and permanently.
What about the Cancerian themes that you have mastered? You can step forward as one of Saturn's most wonderful archetypes – the Wise Elder – and assist others in these areas. Saturn can also help you maintain strong productivity around any Cancerian theme.
Pluto
This New Moon's second most powerful aspect is an opposition from Pluto. As lord of the underworld, Pluto can bring up old psychological wounds from the unconscious. This naturally resonates with Cancer's shadow work theme. Pluto can also dramatically empower any emotional state, from challenging to euphoric!
Pluto can also aid and abet profound transformation. Are you ready to do serious personal growth work? If so, you could make your current state of being look like a caterpillar … compared to the gorgeous butterfly that can emerge from your transformational chrysalis!
To learn more about working with the Plutonian energies of this lunation, check out my 2 "Pluto Prescription" videos.
Jupiter
On one level, Jupiter simply magnifies all of the effects I've already described. But Jupiter can also bring hope, joy and optimism. As the "Great Benefic" of ancient astrology, Jupiter can also bring luck and good fortune. Jupiter is a planet with many meanings, who could also support you stepping forth as some sort of professor, philosopher or guru.
Asteroid Goddesses
The final two noteworthy aspects for this Cancer New Moon are asteroid goddesses. Both have wide orbs, so their effects will be subtle.
With Vesta conjunct the luminaries, putting new energy into a worthy cause that doesn't directly benefit you is supported. With Pallas Athena opposing the Sun and Moon, use strategy, negotiation and diplomacy to move your goals forward. Even though Pallas is a warrior goddess, use force only as a last resort.
Awaken, Heal and Thrive!
Kick your personal evolution into high gear! Awakening Plus offers you online spiritual and shamanic experiences … 450+ consciousness-shifting recordings … and life-transforming courses. This extraordinary membership also gives you community connection and personal support.
Ready to awaken, heal and thrive like never before? Click to learn more!
Committed Partnership Grand Cross Begins
There's enhanced intensity around committed partnerships due to a Grand Cross that starts today (7/20), peaks on 7/28 and ends on 8/2. This challenging aspect pattern includes Mercury, Mars, Juno and Pallas Athena.
This Grand Cross makes it more likely that you'll experience challenge in one or more of your committed partnerships. Juno represents committed partnerships, and her opposition to Mars in Aries could indicate attack. With Mercury in the mix, verbal aggression is likely.
If you get involved in such an altercation, Pallas Athena suggests that you proceed with diplomacy, tact and sound strategy. With Mercury in Cancer, you can more easily speak from your heart and understand the other person's emotions.
Tame Mars by being assertive with your peacemaking. And know that a harmonious resolution is possible with Juno in Libra, the sign of harmony and balance.
It will come as no surprise to my regular readers that I recommend Nonviolent Communication as an excellent way to resolve relationship challenges.
The #1 Astrology Software for Windows — at an Unbeatable Price!
SOLAR FIRE 9 is the world's leading astrology software for Windows. Earlier versions brought an unprecedented level of ease to casting and working with astrological charts. The current version adds many more calculations, extra convenience features, more interpretive text, and exciting new graphic displays.
SOLAR FIRE 9 contains something for everyone!
For advanced astrologers and professionals, it has a great variety of high-precision astrological calculations and an exceptional degree of user-customization.
For novices, its innovative point-and-click chart interpretations provide an enjoyable way to learn. Many easily explored options will encourage you to experiment with new techniques.
No one sells Solar Fire for less than AstroShaman.
Click here to learn how Solar Fire can supercharge your astrology!
7/22 (Wed)
The Sun enters Leo at 4:37 AM EDT. For the next month you can enjoy extra support for being "the sovereign on the throne" or "the performer in the spotlight". This sunny sign also supports interacting with children or your inner child, having fun, and chilling out.
7/27 (Mon)
Jupiter Sextile Neptune
One of 2020's most important aspects – an uplifting Jupiter-Neptune sextile – happens three times this year. The first exact lineup was on 2/20. The second is today (7/27), with Jupiter at 20°39′ Capricorn and Neptune at 20°39′ Pisces. And the third will be on 10/12. This sextile is in orb (close enough to have an impact) most of the year, 1/9 thru 11/30.
My colleague Renn Butler describes the potentials of Jupiter-Neptune aspects in his extraordinary book The Archetypal Universe: Astrological Patterns in Human Culture, Thought, Emotion and Dreams. With his permission (thank you Renn!) … and because he breaks down the archetypal possibilities so expertly … I give you some of his Jupiter-Neptune descriptions from The Archetypal Universe. (Those with good memories may recall this content from my 2/20 forecast.)
Flowing
feelings of faith and wonder
grand ideals and vision
heightened intuition
exalted dreams
expansive inner life
outpourings of creative expression
dream-come-true optimism
a feeling of being buoyed or lifted from within
blissful states of cosmic unity
reconnection with divine consciousness
tolerance and forgiveness
altruism and generosity
broad-ranging kindness and compassion
transcendence of factionalism
human compassion transcending creed or affiliation
authentic spiritual institutions
the humanitarian safety net
all-encompassing shifts of vision
the re-visioning and re-enchantment of a culture
consciousness expanding everywhere
sacred wonders and pilgrimages
mystical or spiritual education
Shadow Qualities
Since Jupiter and Neptune are making a harmonious sextile, flowing outcomes are more likely than challenging ones. However, I've seen repeatedly that hard aspects can bring positive experiences, and soft aspects can sometimes bring challenge. So be careful to avoid these Jupiter-Neptune pitfalls:
Overoptimism, rose-colored glasses
spaced-out, impractical idealism
new age naïveté and gullibility
blurred distinctions and belief in anything
overextension
excessive generosity
unwise financial speculation
illusions of easy material return
mirages of a glorious prosperity
fool's gold
self-indulgence and laziness combined with high expectations
excessive ritual trappings and ceremony in religion
spiritual materialism
wholesale illusions and projections
esoteric pretensions
psychic inflation and grandiosity
Keep your focus on the "Flowing" items above so that this Jupiter-Neptune sextile can help make your life more magical … all the way thru November!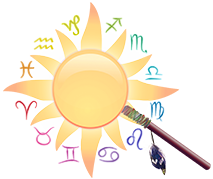 Deepen Your
Insight, Healing & Awakening
Your astrology chart reveals powerful insights into your relationships, career, soul purpose and much more. Getting a yearly Astrology+ update can show you what's important now!
I also offer Shamanic Healing / IFS, one-of-a-kind Life Coaching, and more. All my services are equally effective in person or long distance.
Is there a worthy cause that you're passionate about – and that you don't personally benefit from? You have extra power to support it as Pluto opposes Vesta (23° 27′ Capricorn-Cancer).
This is also a great time to act as a change agent. You can either help bring about the result that the cause advocates, or help catalyze helpful change within the organization itself.
7/28 (Tue)
Grand Cross Peaks
The Mercury-Mars-Juno-Pallas Athena Grand Cross that started on 7/20 peaks today (7/28) and ends on 8/2.
7/30 (Thu) & 7/31 (Fri)
Mercury receives aspects from three slower planets in two days. The first two are on 7/30: a Mercury-Jupiter opposition (20°18′ Cancer-Capricorn) and a Mercury-Neptune trine (20°35′ Cancer-Pisces). The third aspect is on 7/31: a Mercury-Uranus quintile (22°36′ Cancer-10°36′ Taurus).
These aspects combine to give a powerful boost to learning and communication! Jupiter's opposition amplifies these core expressions of Mercury, and also brings the energies of the professor, philosopher and guru.
Neptune's trine gives an easy flow of divine inspiration, as well as the ability to operate in flow state. Finally, the Uranus quintile adds genius, helping you think outside the box to access brilliant new ideas.
To maximize this opportunity, ask your higher self for the specific information you want … then leave enough quiet space to hear its reply!
Make that amazing life you've been dreaming about real!
My unique combination of modalities, refined through more than 10,000 AstroShaman client sessions, can help you thrive in all areas of your life. And my unusual approach could help you do this faster than you might have thought possible.
Whatever your Sun Sign, my forecasts can help you make the best use of the current astrological energies.
All dates and times are in the U.S. eastern time zone. Events are most powerful on the dates listed, but their influence will be active for at least a week before and after.
Everyone is affected by these global transits. However, you'll be most powerfully impacted when moving planets activate sensitive points in your natal chart. Discover how these transits will personally affect you by booking a session with me.
Learn more about my Astrology+ sessions.
Recent Forecasts
Check back around the 1st and 16th for updated forecasts.