Relationship healing is a major astrological opportunity during the second half of October. It's highlighted by our two main events: a Taurus Full Moon and a rare Mirror Image Double Yod. We also have a powerful Pluto-Ceres square and much more!
Click astrology graphics to see larger images.
Some resource links occur more than once. This is because many people link to a specific day's forecast from social media, and might not see an important resource link elsewhere on this page.
10/17 (Wed)
Yod Begins: Sun-Juno-Chiron
What adjustments are you and your partner willing to make to heal an important committed partnership? If you're both willing, a Sun-Juno-Chiron Yod is supporting you. It starts today (10/17), peaks on 10/22 and ends on 10/27. (The 4-step Nonviolent Communication Process is a great tool for working through interpersonal challenges.)
This aspect also supports you if you're providing healing or mentoring in this context.
---
Relationship healing is also supported by a Pluto-Ceres square (18°49′ Capricorn-Libra). This hard aspect, in orb through 11/9, is also great for all kinds of shadow work, as well as wealth enhancement.
10/19 (Fri)
How would you feel if you got angry and sprayed someone with verbal machine gun fire – only to discover that your rage was based on false information? This would be a low side potential of today's two Mercury aspects: a Mercury-Neptune trine (14°3′ Scorpio-Pisces) and a Mercury-Mars square (14°30′ Scorpio-Aquarius).
Call in this scenario instead: your mind receives a constant flow of accurate divine information, and you take immediate action on your insights.
10/20 (Sat)
Creative juju and relationship transformation are both magically energized by a Venus-Pluto quintile (6°50′ Scorpio-18°50′ Capricorn). This fairy dust aspect also supports financial inspiration.
10/22 (Mon)
Yod Peaks: Sun-Juno-Chiron
The Sun-Juno-Chiron Yod that began on 10/17 peaks today (10/22) and ends on 10/27. Today's Sun-Chiron quincunx (28°52′ Libra-Pisces) is part of this Yod.
---
It's a great day for a mental deep dive with Mercury sextile Pluto (18°52′ Scorpio-Capricorn). This aspect can also help you communicate persuasively.
10/23 (Tue)
The Sun enters Scorpio today at 7:22 AM EDT. For the next month, you can more easily embrace transformation and do effective shadow work. Be mindful about how you merge your resources and energy with others, both personally and professionally.
Other themes that can come to prominence with the Sun in Scorpio include sacred sexuality and occult practices, as well as taxes, insurance and inheritances. Look at what wealth means to you (it isn't just money), and observe whether your use of power is more about dominance or sharing.
The #1 Astrology Software for Windows — at an Unbeatable Price!
SOLAR FIRE 9 is the world's leading astrology software for Windows. Earlier versions brought an unprecedented level of ease to casting and working with astrological charts. The current version adds many more calculations, extra convenience features, more interpretive text, and exciting new graphic displays.
SOLAR FIRE 9 contains something for everyone!
For advanced astrologers and professionals, it has a great variety of high-precision astrological calculations and an exceptional degree of user-customization.
For novices, its innovative point-and-click chart interpretations provide an enjoyable way to learn. Many easily explored options will encourage you to experiment with new techniques.
No one sells Solar Fire for less than AstroShaman.
Click here to learn how Solar Fire can supercharge your astrology!
Are you putting on a false face when you interact with others, or letting your true self shine forth no matter what? With the Sun opposing Uranus (0°33′ Scorpio-Taurus), it's a great time to be mindful of this. This aspect also supports following your gut feelings and serving others using the special talents you most love to use.
10/24 (Wed)
Taurus Full Moon

October's Full Moon aligns today (10/24) at 12:45 PM EDT (1°13′ Taurus). Any Taurus Full Moon is a great time to release or adjust matters relating to money, possessions and self-esteem. Changes in how you work with sensuality, nature time, and "just being" are also supported.
Aspects
This Full Moon's aspects are dominated by a powerful Grand Cross. Uranus is tightly conjunct the Moon, and Venus makes a strong opposition. And the luminaries (Sun and Moon) make an extremely tight square to the lunar nodes.
The tight Uranus-Moon conjunction encourages you to follow your intuitive flashes as you work with this Full Moon's themes. Feel free to act quickly, even radically, if doing so serves highest good. Don't let discouragement or disapproval from others stop you if you're following your True North.
This Full Moon also encourages you to evaluate your important relationships. Is a given relationship keeping you stuck in the mud, or cheerleading your personal evolution?
When challenge arises, are both of you willing to take full responsibility for your own emotions? And are you each willing to do the challenging individual shadow work needed to heal your old emotional wounds … which will inevitably be triggered by any meaningful personal connection? (My Healing Invocation can help with your individual shadow work, while the 4-part Nonviolent Communication Process can help you and your partner work through your issues together.)
If you're artistically inclined, this Full Moon's Venus-Uranus opposition can electrify you with new creative inspiration. This setup also encourages responsible, outside-the-box thinking that could put your finances on a new and better course.
This Grand Cross is completed by the lunar nodes, which square everything else. This raises matters to an entirely new level, asking if everything discussed so far aligns with your life purpose. If not, can you transform it so it is … or release it if it isn't?
The South Node is in Aquarius, and the North Node is in Leo. This suggests taking your special gifts – the things you're especially good at and love to do – and sharing them with the world. Ideally, you wouldn't do this just to inflate your ego with applause and acclaim. You would do it because people have to be aware of you, or the service you're offering, to benefit from it.
Individual Aspects
A trine from Saturn supports this Full Moon's endeavors with maturity, endurance, and good time management. And semi-sextiles from Chiron and Juno reiterate the theme of relationship healing, specifically in the realm of committed partnership.
Sabian Symbol
This Full Moon's Sabian Symbol is, "An electrical storm illuminates the heavens and the forests." In the context of this Full Moon, the "electrical storm" could reference Uranus, the planet associated with electricity and lightning. This could describe the charged energy you may feel from others when you shake up the status quo by coming into alignment with your inner guidance.
Spiritually, "forests" could refer to the mystical Tree of Life which bridges heaven and earth. The "electrical storm" could correspond with kundalini, the electric current that rises from the base of the spine to the top of the head during spiritual awakening. Add in Uranus (awakening) in Taurus (grounded), and this Sabian symbol could be a powerful metaphor for embodied awakening. (This free, simple Embodied Awakening Invocation has helped thousands of people attain this exquisite state quickly and easily.)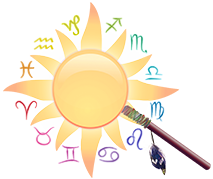 Deepen Your
Insight, Healing & Awakening
Your astrology chart reveals powerful insights into your relationships, career, soul purpose and much more. Getting a yearly Astrology+ update can show you what's important now!
I also offer Shamanic Healing / IFS, one-of-a-kind Life Coaching, and more. All my services are equally effective in person or long distance.
Relationship transformation receives dynamic but stable support thanks to a Venus-Saturn sextile (4°21′ Scorpio-Capricorn). This aspect also supports the thoughtfully considered transformation of your finances and creative expression.
10/25 (Thu)
Double Peak Yod Begins: Venus-Juno-Chiron
Healing in committed partnerships is powerfully supported – for over a month! – by a Venus-Juno-Chiron Yod. This "Finger of God" aspect pattern begins today (10/25), peaks twice – on 11/3 on 11/23 – and ends on 11/28. The unusually long duration and double peak are due to retrograde Venus stationing direct during the Yod.
For most people, this Yod will be most useful in the context of romantic partnership. But healing within creative partnerships is also strongly supported. This Yod also gives energy to mentoring, especially in the arts.
This Yod is an integral part of the Mirror Image Double Yod that begins on 10/29. But since this Venus-Juno-Chiron Yod lasts two weeks longer than that more complex aspect pattern, it felt important to give it its own interpretation here.
10/26 (Fri)
Positive transformation in relationships, creativity and finance are energized by a Sun-Venus conjunction (3°6′ Scorpio). This conjunction can also ignite a passionate love of the creative process. But be wary of others using their beauty, charm or sexuality to take advantage of you.
It's a great time to give practical, selfless support to a worthy cause with Neptune sextile Vesta (13° 55′ Pisces-Capricorn).
Your ability to take immediate action on your intuitive flashes is magically accentuated by a Mars-Uranus quintile (18°25′ Aquarius-0°25′ Taurus). Inspiration may be especially strong in the areas of leadership, sexuality and athletics.
10/27 (Sat)
Steady, long-lasting energy – especially in areas such as personal transformation work, occult practices, and wealth building – is radiated by a Sun-Saturn sextile (4°37′ Scorpio-Capricorn).
10/28 (Sun)
T-square: Mars-Juno-Jupiter
Committed partnership is powerfully energized by a Mars-Juno-Jupiter T-square. It begins today (10/28), peaks on 11/13 and ends on 11/22.
This hard aspect pattern can powerfully stir up any unresolved issues in the relationship. But it will only do so because it's eager to shower you with its life-affirming gifts. These include abundant joy, celebration and enthusiasm.
If a committed partnership is sexual, this is a great time to explore new ways of pleasuring each other. If you're willing to do a little shadow work on the front end, this T-square can catapult your relationship to a whole new level of wonderful!
10/29 (Mon)
Mirror Image Double Yod Begins
One of 2018's most unusual (and visually striking) aspect patterns begins today: a Mirror Image Double Yod containing seven planets. The only personal planet is Venus. There are three asteroid goddesses – Ceres, Juno and Pallas – and three slower planets – Jupiter, Chiron and Uranus. It starts today (10/29), peaks on 11/6 and ends on 11/14.
Such a heavily populated aspect pattern has many possible interpretations, but relationship is front and center.
As it turns out, the Venus-Juno-Chiron Double-Peak Yod that I interpreted on 10/25, which is part of this Double Yod, strongly colors the interpretation of this larger aspect pattern. Healing in committed partnerships, be they romantic or creative, is also a central theme here. But with Ceres now conjunct Venus, there's a new invitation: to observe how your relationships affect your self-esteem and finances.
The other Yod in this pattern contains Pallas, Jupiter and Uranus. This contributes a whole new set of themes, including assertiveness, strategy and passion. It adds sizzling electricity and the possibility of sudden breakthroughs.
Putting it all together, the healing of committed partnerships can become energized and inspired. If everyone involved gives it their best effort, this could happen with surprising speed. (I recommend the 4-Part Nonviolent Communication Process for the interpersonal work, and my free Healing Invocation for the shadow work each partner will need to do within themselves.)
Make that amazing life you've been dreaming about real!
My unique combination of modalities, refined through more than 10,000 AstroShaman client sessions, can help you thrive in all areas of your life. And my unusual approach could help you do this faster than you might have thought possible.
Mercury makes two aspects today. A Mercury-Jupiter conjunction (27°49′ Scorpio) can help your mind range broad and deep. Just be careful to avoid intellectual power trips or self-righteously imposing your opinions on others. A Mercury-Chiron trine (28°36′ Scorpio-Pisces) supports a mental focus on healing, transformation and mentoring.
10/30 (Tue)
You can be blessed with fresh inspiration regarding personal transformation, healing or sacred sex with the Sun quintile Pluto (6°58′ Scorpio-18°58′ Capricorn). You could also receive new insights regarding occult practices, shared resources, or wealth enhancement.
10/31 (Wed)
Powerful breakthroughs in relationship, creativity and finance are empowered by a Venus-Uranus opposition (0°15′ Scorpio-Taurus).
---
"The mind of the genius" is a legitimate interpretation of a Mercury-Uranus quincunx (0°15′ Sagittarius-Taurus). Today, we think of a genius as a super-intelligent person. But in ancient times, a genius was thought to be an inspiring spirit who gifted a person with a brilliant idea.
So having "the mind of the genius" has less to do with your native intelligence, and more to do with how receptive you are to divine inspiration. If you're interested, practicing my Embodied Awakening Invocation can help you stay more consistently open to the unending genius of your higher self.
Whatever your Sun Sign, my forecasts can help you make the best use of the current astrological energies.
All dates and times are in the U.S. eastern time zone. Events are most powerful on the dates listed, but their influence will be active for at least a week before and after.
Everyone is affected by these global transits. However, you'll be most powerfully impacted when moving planets activate sensitive points in your natal chart. Discover how these transits will personally affect you by booking a session with me.
Learn more about my Astrology+ sessions.
Recent Forecasts
Check back around the 1st and 16th for updated forecasts.