The first half of September features a Virgo New Moon tightly trine Uranus. We also have aspect patterns energizing relationships, healing and abundance!
This forecast covers this half-month's most important astrological events. Also check out my award-winning This Week in Astrology audio podcast and YouTube video forecasts!
Click astrology graphics to see larger images. Some resource links may occur more than once. This is because many people link to a specific day's forecast from social media, and might not see an important resource link elsewhere on this page.
9/1 (Wed)
Envelope Supports Harmonious Relationship Healing
Harmonious relationship healing is supported by an Envelope that starts today (9/1), peaks on 9/6 and ends on 9/13. It includes Mercury, Ceres, Juno, Saturn and Chiron.
Juno, the planet of committed partnership, contributes the theme of relationship healing. Healing is covered by wounded healer Chiron and by Ceres, whose meanings include shadow work. Libran Mercury focuses the mind on relationships, while Aquarian Saturn invites an innovative new structure for your upgraded relationship.
The harmony comes from the Envelope aspect pattern, whose flowing aspects outnumber its challenging aspects 8 to 2! An Envelope can also be thought of as a Grand Trine with two Kite points.
Abundance and Relationship Shadow Work Catalyzed by Thor's Hammer
Abundance and relationship shadow work are catalyzed by a Thor's Hammer that starts today (9/1), peaks on 9/5 and ends on 9/10. It includes Venus, Ceres and Pluto.
Abundance is a theme shared by all three planets! Venus represents money, Pluto stands for wealth, and grain goddess Ceres contributes a bountiful harvest. The hard and semi-hard aspects that bound this Thor's Hammer can bring challenge, but can also be energizing for those with sufficient motivation.
How can these same planets also represent relationship shadow work? Libran Venus represents relationships, while Pluto and Ceres share the shadow work theme. Shadow work means facing your unhealed wounds and traumas head-on with effective healing modalities.
As always, I recommend Nonviolent Communication as a great way for couples to work through their challenges. To support the all-important self-healing work that accompanies this process, I recommend the Healing Invocation in my Free Invocation Masterclass.
Awaken, Heal and Thrive!
Kick your personal evolution into high gear! Awakening Plus offers you online spiritual and shamanic experiences … 500+ consciousness-shifting recordings … and life-transforming courses. This extraordinary membership also gives you community connection and personal support.
Ready to awaken, heal and thrive like never before? Click to learn more!
9/2 (Thu)
Finger Of God Points To Healing Opportunities
A "Finger of God", or Yod, offers significant healing opportunities. It started on 8/30, peaks today (9/2) and ends on 9/5.
The Virgo Sun is at the tip of this narrow triangle, with Saturn and Chiron on the back end. I once again recommend my Healing Invocation, included in my Free Invocation Masterclass, as a quick and effective way to work with your shadow material.
---
You can more deeply integrate sex and spirituality as Virgoan Mars opposes Neptune (22°6′ Virgo-Pisces). This aspect is also great for taking finely calibrated action inspired by your intuitive guidance. Athletes will find it easier to perform with greater precision "in the zone".
9/5 (Sun)
Thor's Hammer Peaks
The Venus-Ceres-Pluto Thor's Hammer that started on 9/1 peaks today (9/5) and ends on 9/10.
9/6 (Mon)
You can take powerful, assertive and harmonious action as Mars trines Pluto (24°31′ Virgo-Capricorn). With Mars in Virgo, serving others or doing health-promoting activities receive special support.
---
Your relationships can enjoy abundant harmony and joy as Libran Venus trines Jupiter. This easy, flowing aspect can also support artistic creativity and financial well-being.
---
Virgo New Moon Tightly Trine Uranus
A New Moon aligns on 9/6 at 8:52 p.m. EDT (14°38′ Virgo). Any Virgo New Moon is great for new beginnings or fresh energy in several areas.
Service is a central Virgo theme. As much as possible, can you serve in ways that make you feel great? Serving under the weight of obligation, entrapment or drudgery can suck you dry. But service that genuinely excites you feels awesome, during and after!
Virgo is also the sign of health. Are you taking care of yours? If so called, are you supporting the health of others in ways that serve everyone's highest good?
Virgo also includes systems, procedures and methods of organization. Do you have a place for everything, and everything in its place? I've saved so much time (and avoided so much frustration!) since I started using the free Trello app to catch all my ideas in one place online, guided by David Allen's wonderful Getting Things Done system.
This New Moon forecast continues below.
Make that amazing life you've been dreaming about real!
My unique combination of modalities, refined through more than 10,000 AstroShaman client sessions, can help you thrive in all areas of your life. And my unusual approach could help you do this faster than you might have thought possible.
Aspects
This New Moon's strongest aspect is a super-tight trine with Uranus, exact within 1/60th of a degree! The highest meaning of Uranus is service that makes use of your most awesome gifts and talents. This takes Virgo's service theme to a whole new level!
Uranus also asks you to accept yourself exactly as you are, however bizarre that may be. After that, show your unique self to the world to the greatest extent that serves highest good.
Uranus also encourages you to trust and act on your intuitive hits. This is a great idea, since these come from your most reliable source of information: your higher self!
The trine that connects Uranus to the luminaries is a flowing, harmonious aspect. So some of what I've described here can happen easily and naturally. But "mine the trine" for maximum benefit!
Neptune makes a loose opposition to the Sun and Moon. This lends support for spiritual practices and inspired creativity. You can more easily live each day in flow state, and might even want to do work with dream interpretation or conscious dreaming.
The Sun and Moon also make hard aspects to 3 asteroid goddesses. A Juno square could provide "challenge for growth" to steer a committed partnership in the direction that serves highest good. An opposition with Pallas Athena encourages you to be as assertive as necessary, using appropriate negotiation, diplomacy and strategy.
Finally, a square with Ceres could stir up abundance possibilities or catalyze shadow work. My Healing Invocation, included in my Free Invocation Masterclass, could help you process any challenging emotions with surprising ease and speed!
---
Envelope Peaks
The Mercury-Ceres-Juno-Saturn-Chiron Envelope that started on 9/1 peaks today (9/6) and ends on 9/13.
The #1 Astrology Software for Windows — at an Unbeatable Price!
SOLAR FIRE 9 is the world's leading astrology software for Windows. Earlier versions brought an unprecedented level of ease to casting and working with astrological charts. The current version adds many more calculations, extra convenience features, more interpretive text, and exciting new graphic displays.
SOLAR FIRE 9 contains something for everyone!
For advanced astrologers and professionals, it has a great variety of high-precision astrological calculations and an exceptional degree of user-customization.
For novices, its innovative point-and-click chart interpretations provide an enjoyable way to learn. Many easily explored options will encourage you to experiment with new techniques.
No one sells Solar Fire for less than AstroShaman.
Click here to learn how Solar Fire can supercharge your astrology!
9/9 (Thu)
The goddess of selfless service to a higher cause aspects two slower planets today. A Pluto-Vesta square (24°29′ Capricorn-Libra) is followed by a Jupiter-Vesta trine (24°36′ Aquarius-Libra).
What higher cause are you serving? The Pluto square could inspire transformation in how you give this service. Alternatively, both aspects could supercharge the service you're already giving. If you're not already giving some of your time and energy to a worthy cause, this would be a great time to start!
9/14 (Tue)
Venus-Saturn-Uranus T-square Starts
A Venus-Saturn-Uranus T-square starts today (9/14), peaks on 9/20 and ends on 9/25.
For starters, Venus simply adds energy to 2021's most important aspect: the Saturn-Uranus square.
But if we think of Saturn and Uranus affecting Venus, this T-square can dramatically affect all three of her core meanings: relationship, creativity and money. If anything in these areas isn't optimal, its foundational structure can get shaken up. Let this chaos infusion alert you to areas that need your attention, then decide whether you'd be wiser to repair or release.
But if anything in these three areas is working well, it can go to the next level of wonderful! With Saturn and Uranus working together, structures can shift quickly, even radically. This may happen on its own, or you might need to lend a hand.
With Venus in Scorpio, a good relationship could go to a new level of honesty and intimacy. Creativity could be cathartic and uninhibited. A financial opportunity could increase your wealth and power. Choose one or more!
---
Take immediate action on your intuitive hits as Mars makes a sesquiquadrate to Uranus. This will help you sidestep some of the volatility you might otherwise experience under this intense aspect.
---
Spiritual awakening practices, inspired creativity and functioning in flow state are all energized by a Sun-Neptune opposition (21°47′ Virgo-Pisces). This is also a great time to craft and refine your creative works in progress!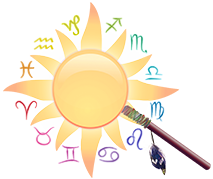 Deepen Your
Insight, Healing & Awakening
Your astrology chart reveals powerful insights into your relationships, career, soul purpose, and much more. Getting a yearly Astrology+ update can show you what's important now!
I also offer Shamanic Healing / IFS, one-of-a-kind Life Coaching, and more. All my services are equally effective in person or long distance.
Whatever your Sun Sign, my forecasts can help you make the best use of the current astrological energies.
All dates and times are in the U.S. eastern time zone. Events are most powerful on the dates listed, but their influence will be active for at least a week before and after.
Everyone is affected by these global transits. However, you'll be most powerfully impacted when moving planets activate sensitive points in your natal chart. Discover how these transits will personally affect you by booking a session with me.
Learn more about my Astrology+ sessions.
Recent Forecasts
Check back around the 1st and 16th for updated forecasts.