A powerful Aquarius lunar eclipse highlights the first half of August. We also have Mercury turning retrograde, a potent Jupiter-Pluto square, and a cornucopia of high-octane aspect patterns loaded with opportunities!
Click astrology graphics to see larger images.
8/1 (Tue)
No major astrology events.
8/2 (Wed)
No major astrology events.
8/3 (Thu)
Envelope Begins: Mercury-Venus-Ceres-Pallas-Vesta-Neptune-Pluto
A five-planet Envelope that started on 7/28 is augmented by two new members today. The original aspect pattern included Ceres, Pallas, Vesta, Neptune and Pluto. Mercury and Venus join the party today.
This Envelope – which some would call a Double Kite – starts today (8/3), peaks on 8/13 and ends on 8/20. The asteroid goddesses involved – Ceres, Pallas and Vesta – are connected by sextiles, as are Mercury and Venus. The two slowest planets, Neptune and Pluto, energize them with a combination of soft and hard aspects.
The simplest way to work with this Envelope is to practice shifting from the attributes of one asteroid goddess to another. You can also integrate two or more at once. Here are the qualities of the asteroid goddesses involved:
Ceres: abundance, sorrow, release and return, mother-daughter relationships
Pallas: feminine assertiveness, strategy, practical creativity
Vesta: honing your skills, selfless service to a higher cause, and sex magic
Neptune can help you move beyond mental concepts and imagery and consciously merge with the goddess archetype involved. Pluto can empower this process, while helping you release any aspect of yourself that's not in harmony with your embodiment process.
Virgoan Mercury increases your ability to work with all these energies more consciously and analytically, as well as explain them to others if you're so inclined. Venus makes it easier to integrate these goddess energies more harmoniously. And her placement in Cancer lets you integrate these energies in a heart-centered, soul-deep way that's simply beyond the mind's abilities.
30 Days for $1: Risk-Free Trial Membership
Awakening Plus, my online spiritual support membership, will empower your journey of spiritual awakening with live spiritual and shamanic experiences … 375+ consciousness-shifting recordings … and life-transforming courses. You can also enjoy community connection and pair up with an accountability partner to stay on track!
You get all this and much more. Accelerate your healing, spiritual awakening and divine service with your "30 Days for $1" Risk-Free Trial Membership!
Uranus retrograde
Uranus turns retrograde today (8/3) at 28°31′ Aries. He'll turn direct again in five months on 1/2/18 at 24°34′ Aries. As Uranus turns backwards, reflect on how well you're embodying his life-affirming qualities:
are you embodying your authentic human self and showing it to the world?
are you following your intuitive flashes?
are you serving others in a way that makes optimal use of your talents, and fills you with joy?
Uranus' more challenging effects can involve your nervous system. This can manifest as agitation, irritability, and nervousness, as well as chaos and craziness in your life. Focusing on Uranus' high-side opportunities will give him something better to do!
As a transiting planet, Uranus can electrify and give a sizzling quantum leap to whatever's in harmony with your soul purpose. Anything that isn't can be destabilized or thrown into chaos, so that you'll be motivated to adjust or release it.
Planets are most powerful when they change directions. Uranus will most strongly affect your natal points in these degree ranges as he stations:
25° to 29° cardinal (Aries, Cancer, Libra and Capricorn)
0° to 2° fixed (Taurus, Leo, Scorpio and Aquarius)
8/4 (Fri)
Jupiter Square Pluto
A Jupiter-Pluto square (17°31′ Libra-Capricorn) can help you increase your abundance, empower your relationships, energize your political involvement and much more. This aspect came into orb back on 10/2/16. It has had three exact hits – 11/24/16, 3/30/17 and its final one today on 8/4. It will finally fade out on 9/25.
This square can also fuel your forays into higher education, philosophy, religion, foreign travel and imparting life-affirming wisdom to others. Additionally, it can support shadow work and any flavor of personal transformation you're called to do.
---
Yod Begins: Sun-Neptune-Pluto
You have a wonderful one-week opportunity to step more powerfully into leadership or strut your stuff in the spotlight, thanks to a Sun-Neptune-Pluto Yod. This "Finger of God" starts today (8/4), peaks on 8/7 and ends on 8/10.
The Sun shines brightest when dignified in its own sign of Leo. Pluto sends the Sun power, charisma and sex appeal. And Neptune can add a steady flow of divine energy and inspiration to support your extroverted activities.
8/5 (Sat)
On its own, a Sun-Neptune quincunx (13°38′ Leo-Pisces) is custom-built for bringing your inspired creativity to the masses. This aspect is also part of two Yods: Sun-Jupiter-Neptune and Sun-Neptune-Pluto, both in effect through 8/10. Please click through to those interpretations to understand this aspect in its larger contexts.
8/6 (Sun)
T-square Begins: Venus-Jupiter-Pluto
Be mindful of your relationship dynamics while a Venus-Jupiter-Pluto T-square is in effect. It starts today (8/6), peaks on 8/15 and ends on 8/23.
Any disharmonious elements in your relationships can be brought to the surface by this challenging aspect pattern. Doing your best to stay in a heart-centered space of unconditional love (Venus in Cancer) can go a long way toward resolving any conflicts. As usual, I recommend the book Nonviolent Communication by Marshall Rosenberg to enhance your communication skills. This T-square can also amplify your creative juju and open new financial opportunities.
8/7 (Mon)
Aquarius Lunar Eclipse
A lunar eclipse lines up at 2:11 PM EDT (15°25′ Aquarius). This is like a Full Moon on steroids, with effects lasting 6 to 12 months!
As with any Aquarius Full Moon, consider how high you're "flying your freak flag" and showing the world your authentic human self. Are you following those text messages from God that we call intuitive flashes or gut feelings? And are you experiencing the unrivaled joy of serving others in alignment with your special talents that you most love to use? Make appropriate releases or adjustments.
Aspects
The Moon forms a T-square with the Sun, Mars and Pallas Athena. Mars can aggressively pursue whatever it desires, using as much raw force as necessary. Pallas Athena also embodies assertiveness comfortably, but prefers strategy and negotiation. Whatever you're choosing to adjust or release under this lunar eclipse, this T-square gives you plenty of power to do it!
The Moon receives other powerful aspects as well. A trine from Jupiter can smoothly amplify the power of whatever you're choosing to do, and can also bless you with joy and optimism. A semi-sextile from Pluto can amplify both your power and your ability to create transformation.
The Moon also receives two more aspects under this eclipse. A Chiron semi-square can catalyze the healing of old psychological wounds, and can empower your abilities as a mentor or healer. And a Neptune semi-sextile can enhance your creative inspiration and divine consciousness.
Sabian Symbol
The Sabian Symbol for this lunar eclipse is, "A big businessman at his desk." This image certainly resonates with the aspects the Moon is receiving from Mars and Pallas Athena, which support competitive spirit, strategy and negotiation.
Whatever the "business" of your life, is it embodying the Aquarian ideals of service to the collective? The old paradigm of enriching yourself to the detriment of others is tottering on its last legs. Do your lifestyle and livelihood have you giving back at least as much as you take? Would the seventh generation from now thank you for the impact you're making during your time here on earth?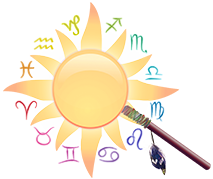 Deepen Your
Insight, Healing & Awakening
Your astrology chart reveals powerful insights into your relationships, career, soul purpose and much more. Getting a yearly Astrology+ update can show you what's important now!
I also offer Shamanic Healing / IFS, one-of-a-kind Life Coaching, and more. All my services are equally effective in person or long distance.
Yod peaks: Sun-Neptune-Pluto
The Sun-Neptune-Pluto Yod that started at 8/4 peaks today (8/7) and ends on 8/10.
8/8 (Tue)
Yod Begins: Mars-Neptune-Pluto
It's time to just do it as a Mars-Neptune-Pluto Yod begins. Leonine Mars, at the tip of this "finger of God," is poised to leap into action. On the back end, Pluto has plenty of raw power available, while Neptune is flowing a constant stream of divine energy and insight.
The soul-blended ecstasy of sacred sex would be one yummy way to make use of this Yod. But anything that consciously injects divine energy into physical action is emphatically supported! This Yod begins today (8/8), peaks on 8/14 and ends on 8/17.
Yod Peaks: Sun-Jupiter-Neptune
Your Muse could be urging you to make more time for her as she recognizes the possibilities of a Sun-Jupiter-Neptune Yod. Its creative possibilities are huge!
On the back end, the Sun is dignified in its own sign of Leo. This radiates the vibe of the performer in the spotlight. Jupiter is in Libra, amplifying the energy of the artist. And both planets send their energy to Piscean Neptune, where both the planet and sign represent divine inspiration.
This Yod started on 7/31, peaks today (8/8) and ends on 8/10.
8/9 (Wed)
On its own, a Sun-Pluto quincunx (17°24′ Leo-Capricorn) can be a potent catalyst for personal transformation and empowerment. It can also help raise your profile if you make the right adjustments.
This aspect is also part of the Sun-Neptune-Pluto Yod that wraps up tomorrow. Please see that interpretation to understand this aspect in its larger context.
---
Ready for inspiration that can take your relationships to the next level? And maybe even do the same for your creativity and finances? Then create enough quiet time to hear your intuitive flashes as Venus quintiles Uranus (10°30′ Cancer-28°30′ Aries).
8/10 (Thu)
You can communicate more clearly with your beloved as Mercury sextiles Venus (11°19′ Virgo-Cancer). More broadly, this aspect also supports harmonious communication and creative writing.
This sextile is part of the Mercury-Venus-Pallas-Ceres-Vesta-Neptune-Pluto Envelope that continues through 8/20. Please see that interpretation to understand this aspect in its larger context.
---
A Mars-Neptune quincunx (13°31′ Leo-Pisces) isn't just great for sacred sex. It can help you consciously bring divine energy into any physical activity. To feel this prana more easily, try activities such as yoga, chi gung, or ecstatic dance.
This quincunx is part of a Mars-Neptune-Pluto Yod through 8/17. Please see that interpretation to understand this aspect in its larger context.
---
"Was a sunny day … not a cloud was in the sky." This Paul Simon lyric may come to mind as the Sun sextiles Jupiter (18°25′ Leo-Libra). This is a classic feel-good aspect: energizing, upbeat and enthusiastic. Get out and shine your wonderful self into the world!
8/11 (Fri)
T-square Begins: Vesta-Saturn-Neptune
Perhaps you've imagined how you could help others by making a positive contribution to the world. But have you actually called in that reality from the universe? Your opportunity has arrived in the form of a Vesta-Saturn-Neptune T-square. It starts today (8/11), peaks on 8/23 and ends on 9/3.
Law of Attraction potential radiates from this T-square! Neptune supports imagination and visualization, while Saturn embodies crystallization into the physical world. Service to a higher cause is represented by Vesta.
A Uranus-Neptune semi-square (28°29′ Aries-13° 29′ Pisces) can support rapid spiritual awakening and uncompromisingly original creativity. But hey, why not use it for both?
Because these planets are so slow, they'll hold this opportunity open for you until the middle of 2020!
8/12 (Sat)
Mercury Retrograde
Mercury turns retrograde today at 9 PM EDT (11°38′ Virgo). The messenger god will turn direct again on 9/5 at 28°25′ Leo.
While Mercury's retrograde in Virgo through 8/31, reflect on how you're serving others, your health, and how you might take your organizational systems and procedures to the next level.
As the winged messenger reverses in Leo, 8/31 through 9/5, reflect on how you're leading or strutting your stuff. What changes would make your life more wonderful in these areas? How about in terms of children, your inner child, appropriate risk-taking or chill-out time?
When Mercury is retrograde, it's best to avoid making major purchases or signing critical contracts. Make sure you're understanding and being understood, double check any travel arrangements, and make sure your critical data is backed up. Mercury retrograde is a fantastic time to complete projects already started, make repairs, reflect and contemplate.
The #1 Astrology Software for Windows — at an Unbeatable Price!
SOLAR FIRE 9 is the world's leading astrology software for Windows. Earlier versions brought an unprecedented level of ease to casting and working with astrological charts. The current version adds many more calculations, extra convenience features, more interpretive text, and exciting new graphic displays.
SOLAR FIRE 9 contains something for everyone!
For advanced astrologers and professionals, it has a great variety of high-precision astrological calculations and an exceptional degree of user-customization.
For novices, its innovative point-and-click chart interpretations provide an enjoyable way to learn. Many easily explored options will encourage you to experiment with new techniques.
No one sells Solar Fire for less than AstroShaman.
Click here to learn how Solar Fire can supercharge your astrology!
Today's Neptune-Ceres trine (13°29′ Pisces-Cancer) is part of two Envelopes: Mercury-Venus-Ceres-Pallas-Vesta-Neptune-Pluto through 8/20, and Ceres-Pallas-Vesta-Neptune-Pluto through 9/2. Please see these interpretations to understand this aspect in its larger contexts.
---
Your creativity can flow smoothly and easily as Venus trines Neptune (13°29′ Cancer-Pisces). This aspect can also harmonize relationships, especially in your family. It can also be easier to feel the divine essence – in yourself, and in everyone and everything around you.
8/13 (Sun)
Envelope Peaks: Mercury-Venus-Pallas-Ceres-Vesta-Neptune-Pluto
The Mercury-Venus-Pallas-Ceres-Vesta-Neptune-Pluto Envelope aspect pattern that started 8/3 peaks today (8/13) and ends on 8/20.
---
You can enjoy a smooth flow of productivity as the Sun trines Saturn (21°17′ Leo-Sagittarius).
8/14 (Mon)
Yod peaks: Mars-Neptune-Pluto
The Mars-Neptune-Pluto Yod that started on 8/8 peaks today (8/14) and ends on 8/17.
8/15 (Tue)
T-square peaks: Venus-Jupiter-Pluto
The Venus-Jupiter-Pluto T-square that started on 8/6 peaks today (8/15) and ends on 8/23.
---
Today's Neptune-Vesta opposition (13°24′ Pisces-Virgo) is part of two Envelope aspect patterns: Mercury-Venus-Ceres-Pallas-Vesta-Neptune-Pluto through 8/20, and Ceres-Pallas-Vesta-Neptune-Pluto through 9/2. Please see these interpretations to understand this aspect in its larger contexts.
---
You can implement life-affirming relationship changes (or releases) and supercharge your creative expression as Venus opposes Pluto (17°18′ Cancer-Capricorn). And keep an eye out for new financial opportunities! This opposition is part of the Mercury-Venus-Pallas-Ceres-Vesta-Neptune-Pluto Envelope that continues through 8/20.
Void-of-Course Moons
It's best to avoid starting important new projects or making major purchases during void-of-course Moons. "Business as usual" is the optimal strategy. Void-of-course Moons occur when the Moon has made her last major Ptolemaic aspect, but has not yet moved into her next sign.
7/31, 7:10 AM – 8/1, 8:01 AM, Sagittarius
8/3, 5:38 PM – 8:37 PM, Capricorn
8/6, 5:22 AM – 8:16 AM, Aquarius
8/8, 3:07 PM – 5:56 PM, Pisces
8/10, 9:38 AM – 8/11, 1:22 AM, Aries
8/13, 4:01 AM – 6:40 AM, Taurus
8/14, 9:15 PM – 8/15, 10:06 AM, Gemini
Whatever your Sun Sign, AstroShaman's forecasts can help you make the best use of the current astrological energies.
All dates and times are in the U.S. eastern time zone. Events are most powerful on the dates listed, but their influence will be active for at least several days before and after.
Everyone is affected by these global transits. However, you'll be most powerfully impacted when moving planets activate sensitive points in your natal chart.
Discover how these transits will personally affect you by booking a session with me. Learn more about my Astrology+ sessions.
Recent Forecasts