A Leo Full Moon with two aspect patterns and a potent Sabian Symbol highlights the first half of February.
Beyond that, Venus is the (evening) star of the show. She makes aspects to almost every slower planet, and forms an intense T-square with Chiron and the lunar nodes. Learn how all this can improve your relationships, creativity, finances and more!
Click astrology graphics to see larger images. Some resource links may occur more than once. This is because many people link to a specific day's forecast from social media, and might not see an important resource link elsewhere on this page.
2/2 – 2/4 (Sun-Tue)
Venus is by far the most active planet in the first half of February. She aspects every slower planet in the sky, Jupiter through Pluto, except for Neptune. (She doesn't need Neptune when she's in Pisces, the sign that shares Neptune's meanings!) Three of these six Venus aspects happen on three consecutive days: February 2-4.
Before we get into what these aspects mean, let's quickly list them. On 2/2, there's a Venus-Pluto sextile (23°27′ Pisces-Capricorn). On 2/3, there's a Venus-Saturn sextile (25°22′ Pisces-Capricorn). And on 2/4, there's a Venus-Jupiter quintile (26°30′ Pisces-14°30′ Capricorn).
Sextiles from Saturn and Pluto
Venus embodies the core meanings of relationship, creativity and money. Since Pluto and Saturn are making sextiles – energetic yet harmonious aspects – these aspects can bring power and stability to what's already working in these areas.
A relationship could enjoy a more solid foundation, and a more potent sexual connection if it's romantic. You could enjoy more passion and productivity in your creative projects. You could also build a more secure financial foundation and make more money!
In aspect interpretation, planets are more important than aspects. Even though these sextiles are soft aspects, Pluto and Saturn don't mess around. They could bring challenge in any of these areas that aren't aligned with your life purpose.
Other Factors
The Jupiter quintile is a fairy dust aspect that can bring luck and joyous expansion. It can add its magic to any of the themes discussed here. Most people will experience extra sparkle in their relationships or enhanced creative flow in their artistry.
Venus is in Pisces, the sign of divine union and inspired creativity. With Venus representing relationship, this could empower you to create a deeper conscious connection with your higher self. With Venus as artist, great creative juju is amplified.
These three Venus aspects offer a wide range of life-affirming possibilities. Pick the ones you're most excited to activate and get rolling!
The #1 Astrology Software for Windows — at an Unbeatable Price!
SOLAR FIRE 9 is the world's leading astrology software for Windows. Earlier versions brought an unprecedented level of ease to casting and working with astrological charts. The current version adds many more calculations, extra convenience features, more interpretive text, and exciting new graphic displays.
SOLAR FIRE 9 contains something for everyone!
For advanced astrologers and professionals, it has a great variety of high-precision astrological calculations and an exceptional degree of user-customization.
For novices, its innovative point-and-click chart interpretations provide an enjoyable way to learn. Many easily explored options will encourage you to experiment with new techniques.
No one sells Solar Fire for less than AstroShaman.
Click here to learn how Solar Fire can supercharge your astrology!
2/5 (Wed)
T-square Begins
There's only one significant aspect pattern in the first half of February: a T-square with Venus, Chiron and the lunar nodes. It starts today (2/5), peaks on 2/12 and ends on 2/19.
In this aspect pattern, Piscean Venus carries the same potential meanings noted above: relationship, money, divine union and inspired creativity. Chiron is the wounded healer, while the lunar nodes represent life purpose.
You could experience challenge in any of these areas if you're not aligned with your life purpose. For most people, this would show up mostly within important relationships.
If you and your partner could benefit from a world-class relationship healing technique, try the 4-part Nonviolent Communication Process. To heal emotional pain within yourself, my free Healing Invocation has helped thousands do this essential shadow work quickly and efficiently.
This T-square can also help you go to the next level in helping others as a mentor or healer. With Venus in Pisces, relax and let your inner wisdom guide you in this service.
2/5 – 2/7 (Wed-Fri)
Venus may be the star of the show in the first half of February, but chatterbox Mercury still wants its say! The winged messenger makes two aspects within three days: a Mercury-Uranus sextile (2°55′ Pisces-Taurus) on 2/5, and a Mercury-Mars quintile (5°48′ Pisces-23°48′ Sagittarius) on 2/7.
Intuitive Flashes
Regarding the sextile, Mercury represents human mind. Uranus represents divine mind. Uranus sends down these inspired insights via intuitive flashes.
Expect more of these, and do your best to follow them. They come direct from your higher self, the most infallible source available to us humans!
How can you tell an intuitive flash from a regular thought? The feeling of absolute certainty when they hit. When you "know it in your bones" for no reason, you've gotten one of those "text messages from God"!
Other Factors
Mercury's in Pisces, which can open your mind to a waterfall of constantly flowing intuitive guidance. This sign placement will make it even easier for you to follow your inner guidance!
The Mercury-Mars quintile can energize your thinking, learning and communicating. It can also add a touch of genius to your thoughts, so take a deep dive into unconventional thinking!
With Mars in Sagittarius, be willing to step out as a wisdom-giver if you're so called. Sagittarius represents the professor, philosopher and guru, who share information that makes life better!
Awaken, Heal and Thrive!
Kick your personal evolution into high gear! Awakening Plus offers you online spiritual and shamanic experiences … 500+ consciousness-shifting recordings … and life-transforming courses. This extraordinary membership also gives you community connection and personal support.
Ready to awaken, heal and thrive like never before? Click to learn more!
2/7 (Fri)
Abundance or shadow work? A Uranus-Ceres square (2°59′ Taurus-Aquarius) could fire up either one at any moment. If it's abundance, use your riches wisely. If it's shadow work, I once again recommend healing that old emotional pain once and for all with my free Healing Invocation.
2/9 (Sun)
Leo Full Moon
February's Full Moon illuminates the sky at 2:33 AM EST (20°0′ Leo). Any Leo Full Moon is great for adjustment or release in the following areas:
leadership
performance
risk-taking
playfulness
children
rest and recreation
Aspect Patterns
This Full Moon has two aspect patterns: a T-square and a Cradle.
T-square
The T-square includes the Moon, Sun, and Vesta. This suggests that you might want to somehow "turn the corner" regarding your service to a higher cause.
Is there some personal higher purpose or organization that serves others, even though it provides no selfish benefit to you? That's Vesta's primary meaning.
This release, adjustment or corner to be turned could involve changing your relationship to such a cause. Do you need to contribute more? Scale back? Disengage? What does your heart tell you? What's your inner guidance?
Cradle
This Full Moon's Cradle involves the luminaries, Sagittarian Mars and Juno. It suggests injecting a committed partnership with fresh energy, or even passion!
If a relationship is intimate, this Cradle suggests an adventurous approach to sexuality. If it's platonic, find some other way to venture forth together in a bold quest!
This Cradle includes all three of astrology's fiery archetypes. The Moon is in Leo, Mars is in Sagittarius, and Mars carries the same energy as Aries. How will you know where to focus all this fire energy? You'll be fired up about it!
In addition to sex, Martian possibilities include you embodying the energy of the athlete, leader, pioneer or entrepreneur. Juno can represent a personal or professional partner. But she could also show up as a client or customer with whom you have an ongoing business relationship. Finally, the Aquarian Sun suggests that you act as your authentic self, follow your intuitive flashes, and serve others with the special talents you most love to use.
Connect with a committed partner and choose which archetypal energies best suit your situation. Get clear on your mutual passion… and make it happen!
Sabian Symbol
This Full Moon's Sabian Symbol is, "American Indians perform a ritual to the sun." This could refer to the Sun Dance, a grueling ceremony in which participants dance for four days without food or water.
In the context of this Full Moon, this symbol asks how far you're willing to go to be an optimal leader or performer, or just a radiantly shining person. Is there some training, apprenticeship or difficult initiation you need to undergo? Some significant adversity you need to overcome?
"Courage" is a Leo keyword. Call on yours to face whatever challenges come up. Your Sun Dance might be chosen or imposed. It could be literal or metaphorical.
My life experience and client work has shown me that every challenge can be mastered. If you already have the resources you need, use them. If you don't have them, call them in from your physical or spiritual allies.
Challenge is always a call to personal growth and increased mastery. Haven't you gained the most strength and wisdom by persevering when things were toughest? Keep that insight strong to inspire you as you face your own "Sun Dance".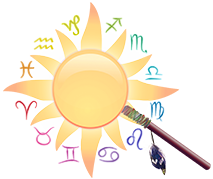 Deepen Your
Insight, Healing & Awakening
Your astrology chart reveals powerful insights into your relationships, career, soul purpose, and much more. Getting a yearly Astrology+ update can show you what's important now!
I also offer Shamanic Healing / IFS, one-of-a-kind Life Coaching, and more. All my services are equally effective in person or long distance.
2/10 (Mon)
The meaning of today's Venus-Chiron conjunction (2°56′ Aries) is included in the interpretation of the Venus-Chiron-Lunar Nodes T-square that started on 2/5.
---
Intuitive flashes can pop in more easily under a Sun-Uranus quintile (21°2′ Aquarius-3°2′ Taurus). This magical aspect can also inspire you to be more authentic and serve others in alignment with your passions!
2/12 (Wed)
T-square Peaks
The Venus-Chiron-Lunar Nodes T-square that started on 2/5 peaks today (2/12) and ends on 2/19.
---
Passion, inspiration and empowerment: will you focus these energies into your relationships, creativity or finances? The choice is yours under a Venus-Pluto quintile (5°46′ Aries-23°46′ Capricorn.
2/15 (Sat)
The sixth and final Venus aspect of February's first half is a Venus-Saturn quintile (8°38′ Aries-26°38′ Capricorn. This merges inspiration with Saturn's gifts. These include maturity, responsibility, good time management, and exemplary planning and implementation. Focus these productive energies into your relationships, finances, or creative pursuits!
Make that amazing life you've been dreaming about real!
My unique combination of modalities, refined through more than 10,000 AstroShaman client sessions, can help you thrive in all areas of your life. And my unusual approach could help you do this faster than you might have thought possible.
Whatever your Sun Sign, my forecasts can help you make the best use of the current astrological energies.
All dates and times are in the U.S. eastern time zone. Events are most powerful on the dates listed, but their influence will be active for at least a week before and after.
Everyone is affected by these global transits. However, you'll be most powerfully impacted when moving planets activate sensitive points in your natal chart. Discover how these transits will personally affect you by booking a session with me.
Learn more about my Astrology+ sessions.
Recent Forecasts
Check back around the 1st and 16th for updated forecasts.