Chiron turning retrograde is one of several events in July's first half that spotlight the wounded healer's ability to bring wholeness where it hurts. You can also take advantage of a Capricorn Full Moon, a Jupiter-Neptune quincunx, and five different types of aspect patterns!
Click astrology graphics to see larger images.
7/1 (Sat)
Chiron Retrograde
Chiron turns retrograde at 3:09 AM EDT (28°51′ Pisces). The wounded healer will turn direct again on 12/5 (24°19′ Pisces).
Chiron's retrograde station is a great time to reflect on what shadow work would benefit you. Whatever causes you the greatest emotional upset usually points to the deepest psychological wound. My free Healing Invocation, as well as the additional resources linked from its post, have helped a lot of people.
Also think about your strengths in this archetype as Chiron starts to backpedal. How are you stepping into the roles of healer, mentor, shaman, awakener?
These Chironic themes will hit home most powerfully for you if Chiron is making a conjunction, opposition or square to sensitive points in your natal chart. Points most strongly affected will lie between 26° and 29° in the mutable signs (Gemini, Virgo, Sagittarius and Pisces), and between 0° and 2° in the cardinal signs (Aries, Cancer, Libra and Capricorn
Awaken, Heal, and Thrive!
Kick your personal evolution into high gear! Awakening Plus offers you online spiritual and shamanic experiences … 500+ consciousness-shifting recordings … and life-transforming courses. This extraordinary membership also gives you community connection and personal support.
Ready to awaken, heal, and thrive like never before? Click to learn more!
You can enjoy a magical flow of creative inspiration with Venus quintile Neptune (26°12′ Taurus-14°12′ Pisces). This fairy dust aspect can also help you tune into the shamanic "middle world" – the beautiful, subtle glow that permeates and surrounds everything physical. This can be perceived through feeling, sight or both. (I perceive sight and feeling as one merged sense in the inner worlds.)
---
Kooky creativity is one fun way to express a Sun-Uranus quintile (10°6′ Cancer-28°6′ Aries). You might also be inspired to step more fully into your authentic self-expression. This aspect can make it easier to catch intuitive flashes. And with the Sun in Cancer, let your nurturing and compassion express themselves however it feels best.
7/2 (Sun)
Double Thor's Hammer Peaks
As I wrote on 6/29, relationship intensity is the primary theme of two interlinked Thor's Hammers that started on 6/29, peak today (7/2) and end on 7/5. The individual Thor's Hammers are Venus-Juno-Jupiter and Venus-Juno-Vesta. The Double Thor's Hammer is Venus-Juno-Vesta-Jupiter.
This aspect pattern can highlight loyalty conflicts you're feeling between two or more important people in your life. There could also be tension between a significant other and a higher calling. One solution could be to make time for all these important people in your life, separately or together. You could also invite one or more of them to get involved in the higher calling you're drawn to.
---
Communication could feel awkward or constrained with Mercury quincunx Saturn (23°16′ Cancer-Sagittarius). Speaking from the heart with the authority of your convictions should help you get your point across.
---
Today's Mars-Pluto opposition (18°18′ Cancer-Capricorn) is part of a Mars-Jupiter-Pluto T-square in effect through 7/11. Please see that T-square interpretation to understand this aspect in its larger context.
7/3 (Mon)
Thor's Hammer Begins: Venus-Jupiter-Pluto
Relationship themes can be amplified by a Venus-Jupiter-Pluto Thor's Hammer that begins today (7/3), peaks on 7/6 and ends on 7/8. This potent aspect pattern can unmask challenging relationship issues, and can also take whatever's wonderful between you to the next level!
With Venus in Gemini, ask yourself if you're enjoying enough variety in your relationships. This could apply to the number of people you're interacting with, or to how many different activities you're enjoying with one person. It's a great time to try something new!
This Thor's Hammer can also highlight how well you're communicating in your relationships. It also supports an eclectic, carefree approach to creativity.
---
Venus also sextiles Chiron today (28°51′ Taurus-Pisces). This can flow sweet healing energy to relationships, as well as creativity and money issues. With Venus in Taurus, nurturing touch can be especially therapeutic in relationship healing.
7/4 (Tue)
Venus transits Gemini today through 7/31. As I said in yesterday's Thor's Hammer interpretation, ask yourself if you're enjoying enough variety in your relationships, and be willing to try something new!
---
Intuitive flashes may be firing – insistently! – with Mercury square Uranus (28°10′ Cancer-Aries). This is a fantastic time to think independently (it is the USA's Independence Day, after all). Mercury's placement in Cancer makes it easier to add emotional power to your brilliant insights. Decision-making is more emotionally driven than many people realize, and this approach can inspire people's hearts as well as their minds.
7/5 (Wed)
Jupiter Quincunx Neptune
You have over a month to make creativity-enhancing adjustments with Jupiter quincunx Neptune (14°10′ Libra-Pisces). Piscean Neptune flows artistic inspiration, while Libran Jupiter can amplify your desire to create. This aspect can also speed the release of relationships that don't serve your highest good, while dialing up blissful soul connection in those that do. The effects of this quincunx will resonate through 8/11.
The Sun makes exact aspects to both these planets today. These connections — a Sun-Neptune trine (14°9′ Cancer-Pisces) and a Sun-Jupiter square (14°14′ Cancer-Libra) — will continue their influence through 7/16. The Sun's heat and light add additional energy to this Jupiter-Neptune quincunx for the next week and a half.
With the Sun in Cancer, matters relating to home, family and security can receive a smooth flow of energy and inspiration from Neptune. Jupiter can amplify whatever needs your attention … and also fire up celebration, joy and enthusiasm!
---
Wise words and hands-on healing are smoothly supported with Mercury trine Chiron (28°51′ Cancer-Pisces). With Mercury in Cancer, these activities receive special support in a family context.
---
Mercury transits Leo today through 7/25, helping you communicate with wit and showmanship. If you're the boss, this placement can also help you get your point across with authority.
7/6 (Thu)
Thor's Hammer Peaks: Venus-Jupiter-Pluto
The Venus-Jupiter-Pluto Thor's Hammer that began on 7/3 peaks today (7/6) and ends on 7/8.
---
Unto itself, a Uranus-Ceres sextile (20°12′ Aries-Gemini) can pop down helpful intuitive flashes relating to abundance. It can also provide helpful insights to help you deal more skillfully with sorrow, mother-daughter relationships, and release-and-return challenges. This sextile is also part of a Ceres-Juno-Vesta-Uranus Kite that will start on 7/13.
7/7 (Fri)
T-square Peaks: Sun-Jupiter-Pluto
The Sun-Jupiter-Pluto T-square that started on 6/29 peaks today (7/7) and ends on 7/16. At the most basic level, the Sun simply shines additional energy into the Jupiter-Pluto square. With the Sun in Cancer during the entire T-square, the themes of family, home, nurturing and security are strongly energized.
If any of these aren't on solid ground, challenge may arise to bring healing opportunities to your attention. Anything in these areas that's already in alignment can be powerfully and positively amplified!
---
Mercury makes flowing aspects to both classic benefics today. A Mercury-Jupiter quintile (2°19′ Leo-14°19′ Libra) and a Mercury-Venus sextile (2°48′ Leo-Gemini) support original thinking, creative writing and smooth, energized learning. With Mercury in Leo, these aspects can help you express yourself with drama and flair!
---
Unhealed sorrows could be triggered for healing by a Chiron-Ceres square (28°50′ Pisces-Gemini). Prosperity mentoring is also supported by this aspect. This square is part of a Juno-Ceres-Chiron T-square that starts on 7/10.
7/8 (Sat)
Grand Trine Peaks: Vesta-Saturn-Uranus
As I wrote on 6/19, it's a great time to be serving a higher cause, thanks to a Grand Trine composed of Vesta, Saturn and Uranus. It started on 6/19, peaks today (7/8) and ends on 7/22.
Vesta can help you enhance your ability to serve, and can motivate you to devote energy to something greater than yourself. She can also juice up your Law of Attraction work with sex magic. Vesta's in Leo, so feel free to draw appropriate attention to the cause you're supporting.
What about the other members of the Grand Trine? Let Uranus lead – he is in Aries, after all – with his intuitive flashes. Be willing to step outside the box if your inner guidance directs you. Then have Saturn do all the necessary organizing, administration and planning. With all three planets in fire signs, there's plenty of energy to get the ball rolling!
7/9 (Sun)
Capricorn Full Moon
July's Full Moon illuminates the sky at 12:07 AM EDT (17°9′ Capricorn). Any Capricorn Full Moon is a great time to take stock of how you're doing in the areas of maturity, productivity, and time management. Are you playing the role of the "wise elder" as appropriate? Regarding Capricorn's dark side, are you overworking, treating people as expendable pawns, or allowing the ends to justify the means?
Aspects
This Full Moon's aspects are dominated by a five-planet T-square. This includes the Moon, Sun, Mars, Juno and Jupiter.
Mars and Jupiter add lots of zing, made even stronger by their hard aspects to the Moon. This can give you abundant energy to intensify or make adjustments to these Capricornian life areas. Don't be surprised if anything that's out of balance in these areas draws attention to itself.
Juno's presence in the T-square will have a similar effect. Whatever's in alignment in your committed partnerships will be positively energized, while challenges may get all up in your face.
There's only one significant aspect to this Full Moon that's not in the T-square: a Moon-Neptune sextile. Considered independently, it can smoothly and powerfully augment your divine awareness and inspired creativity. In relation to the T-square, it can provide helpful intuitive insights about how to work with this aspect pattern's opportunities and challenges.
Sabian Symbol
This Full Moon's Sabian Symbol is, "The Union Jack flies from a new British warship." Given Britain's colonial history ("the Sun never sets on the British Empire"), this evokes images of controlling others through force and repression. A Liverpool patriot and Mahatma Gandhi would obviously have very different reactions to this.
This image invites you to ask if there's anyone you're forcing your will upon. If so, is this domination worth the time, energy and resources it's taking? Does someone else have you under their thumb? If you're not content with this situation, what can you do to change it?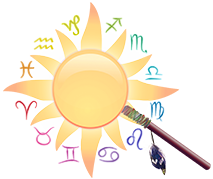 Deepen Your
Insight, Healing & Awakening
Your astrology chart reveals powerful insights into your relationships, career, soul purpose, and much more. Getting a yearly Astrology+ update can show you what's important now!
I also offer Shamanic Healing / IFS, one-of-a-kind Life Coaching, and more. All my services are equally effective in person or long distance.
You could experience wonkerjawed forward motion with Mars quincunx Saturn (22°49′ Cancer-Sagittarius). If you find yourself repeating the same approach to no avail, try something different. Used skillfully, this aspect could give you Energizer Bunny productivity! With Mars in Cancer, issues around family, home and security could be prominent.
7/10 (Mon)
T-square Begins: Ceres-Juno-Chiron
Relationship shadow work could be on the menu with a Ceres-Juno-Chiron T-square. This challenging aspect pattern starts today (7/10), peaks on 7/18 and ends on 7/30.
Chiron is the wounded healer, and loves to trigger old emotional pain so it can be healed. Juno represents committed partnerships, romantic or otherwise. Ceres can represent sorrow, mother-daughter relationships, and release and return.
Chances are that something challenging will come up in at least one of your significant relationships. To learn how to communicate more clearly in challenging circumstances, I continue to recommend the book Nonviolent Communication, 3rd Edition  by Marshall Rosenberg. To clear emotional pain, many have found my free Healing Invocation helpful.
A sunnier possibility: use this T-square to seek sage advice on how to bring more abundance to a committed partnership!
---
Personal transformation is empowered by a Sun-Pluto opposition (18°7′ Cancer-Capricorn). You can use this to shed whatever doesn't support your evolution. The more you invite in divine power and follow your inner guidance, the more powerful you can become! With the Sun in Cancer, transformational family dynamics are supported.
7/11 (Tue)
Yod Begins: Mercury-Jupiter-Neptune
A week-long "Finger of God" with Mercury, Jupiter and Neptune begins today (7/11), peaks on 7/14 and ends on 7/17. If you make the right adjustment – such as setting aside time for your art – this Yod is overflowing with creative potential.
Storytelling Mercury is in Leo, the sign of the spotlighted performer. Expansive Jupiter is in Libra, the sign of the artist. And Piscean Neptune is all about creative inspiration. Let your muse out for some playtime: paint, write, dance and sing!
7/12 (Wed)
No major astrology events.
7/13 (Thu)
Three Aspect Patterns Begin
Three related aspect patterns begin today. We'll start simple and work our way up!
Grand Trine Begins: Juno-Vesta-Uranus
Here are two cool ways to use a Juno-Vesta-Uranus Grand Trine that starts today (7/13), peaks on 7/28 ends on 8/5:
Following your intuitive guidance, work joyously for a selfless cause with a committed partner
Engage in sex magic with a committed partner to empower Law of Attraction manifestation. With Uranus in Aries, you can even get kinky!
A Grand Trine will give you a certain amount of easy flow for free. But you'll need to "mine the trine" – apply conscious effort – to get the greatest benefit.
Kite Begins: Ceres-Juno-Vesta-Uranus
This Ceres-Juno-Vesta-Uranus Kite is simply the prior Grand Trine with Ceres added as the focal point. It's the shortest-lived of the three aspect patterns, starting today (7/13), peaking on 7/19 and ending on 7/25.
Ceres adds a new dimension to the prior Grand Trine interpretations. It could support fundraising for that selfless cause. Or the cause could help people heal their old sorrows. And that Law of Attraction sex magic now has clear support for amplifying your prosperity!
Kite Begins: All Four Asteroid Goddesses
It's a beautiful thing to see all four asteroid goddesses in a harmonious aspect pattern like this Kite. It starts today (7/13), peaks on 7/29 and ends on 8/11. This gives you nearly a month to harmonize these four distinctive aspects of the feminine:
Ceres: abundance, sorrow, release and return, mother-daughter relationships
Juno: committed partnerships
Pallas: feminine assertiveness, strategy, practical creativity
Vesta: honing your skills, selfless service to a higher cause, and sex magic
The simplest way to work with this Kite is to practice shifting from the attributes of one asteroid goddess to another. If you're more ambitious, try integrating two or more at once!
The #1 Astrology Software for Windows — at an Unbeatable Price!
SOLAR FIRE 9 is the world's leading astrology software for Windows. Earlier versions brought an unprecedented level of ease to casting and working with astrological charts. The current version adds many more calculations, extra convenience features, more interpretive text, and exciting new graphic displays.
SOLAR FIRE 9 contains something for everyone!
For advanced astrologers and professionals, it has a great variety of high-precision astrological calculations and an exceptional degree of user-customization.
For novices, its innovative point-and-click chart interpretations provide an enjoyable way to learn. Many easily explored options will encourage you to experiment with new techniques.
No one sells Solar Fire for less than AstroShaman.
Click here to learn how Solar Fire can supercharge your astrology!
7/14 (Fri)
Yod Peaks: Mercury-Jupiter-Neptune
The Mercury-Jupiter-Neptune "Finger of God" that started on 7/11 peaks today (7/14) and ends on 7/17. The two aspects Mercury makes today – a Mercury-Neptune quincunx (14°3′ Leo-Pisces) and a Mercury-Jupiter sextile (14°59′ Leo-Libra) — are part of this Yod.
---
On its own, a Uranus-Vesta trine (28°21′ Aries-Leo) can help you step out and unabashedly embody your authentic inner Wonder Woman. It's also part of the Ceres-Juno-Vesta-Uranus Kite that started yesterday. Check out that interpretation to learn more about this trine in its larger context.
---
You can help heal your inner wounds by making cathartic art with Venus quintile Chiron (10°47′ Gemini-28°47′ Pisces). Some magical mentoring might also be available regarding your relationships, creativity or finances.
---
Your authentic self expression might be dampened – perhaps by a family member — with the Sun quincunx Saturn (22°29′ Cancer-Sagittarius). But if you're ready to fully stand in your Saturnian authority, then no one can tell you what you can and cannot do!
7/15 (Sat)
T-square Begins: Venus-Saturn-Chiron
Are you ready to embrace the next level of psychological work that will make your important relationships even more wonderful? I hope so, because a Venus-Saturn-Chiron T-square might just arrange that for you! This challenging aspect pattern begins today (7/15), peaks on 7/27 and ends on 8/1.
Chiron loves to dive into old emotional wounds, and Saturn is the stern taskmaster who gives you every chance to learn important life lessons. The resources I recommended in my 7/10 forecast — the book Nonviolent Communication, 3rd Edition by Marshall Rosenberg, and my free Healing Invocation – could also serve you well here.
This T-square also supports gaining wisdom from others that can help with your relationships, creativity and finances. You could also create cathartic art … with Venus in Gemini, the more diverse the better!
Void-of-Course Moons
It's best to avoid starting important new projects or making major purchases during void-of-course Moons. "Business as usual" is the optimal strategy. Void-of-course Moons occur when the Moon has made her last major Ptolemaic aspect, but has not yet moved into her next sign.
7/2, 9:16 AM – 12:59 PM, Scorpio
7/4, 9:34 PM – 7/5, 1:08 AM, Sagittarius
7/7, 10:12 AM – 1:45 PM, Capricorn
7/9, 10:12 PM – 7/10, 1:35 AM, Aquarius
7/12, 8:40 AM – 11:51 AM, Pisces
7/14, 1:00 PM – 7:52 PM, Aries

Whatever your Sun Sign, my forecasts can help you make the best use of the current astrological energies.
All dates and times are in the U.S. eastern time zone. Events are most powerful on the dates listed, but their influence will be active for at least a week before and after.
Everyone is affected by these global transits. However, you'll be most powerfully impacted when moving planets activate sensitive points in your natal chart. Discover how these transits will personally affect you by booking a session with me.
Learn more about my Astrology+ sessions.
Recent Forecasts
Check back around the 1st and 16th for updated forecasts.