2022's second-strongest aspect – Jupiter conjunct Neptune – highlights April. We also have a Taurus Solar Eclipse electrified by Uranus, an Aries New Moon empowered by a Grand Stellium, and a Libra Full Moon supercharged by Pluto!
But that's not all. Pluto turns retrograde, the Sun enters Taurus, and Saturn and the lunar nodes help form several T-Squares!
This forecast covers this month's most important astrological events. Also check out my award-winning This Week in Astrology audio podcast and YouTube video forecasts!
Click astrology graphics to see larger images. Some resource links may occur more than once. This is because many people link to a specific day's forecast from social media, and might not see an important resource link elsewhere on this page.
4/1 (Fri)
Aries New Moon
There's a New Moon at 2:24 am EDT (11°30′ Aries). Aries and New Moons are great for starting anything! The energy of Aries also supports your embodiment of the warrior, pioneer, entrepreneur and sexual being.
Aspects
Grand Stellium
This New Moon is dominated by a powerful Grand Stellium. It contains five planets in Aries – Moon, Sun, Mercury, Pallas Athena and Chiron – all within 8 degrees!
Chiron is the most potent player here, for two reasons. First, he's the Wounded Healer archetype. Second, he's less than a degree from the luminaries!
On the challenging side, Chiron can partner with Aries' aggressive or violent side to create wounding. Try to avoid being on either the giving or receiving side of this, emotionally or physically. With Mercury less than two degrees from the luminaries on their other side, verbal attacks are possible.
But Chiron would rather show up positively, playing the role of the mentor or healer. Mercury, the planet of communication, also supports mentoring.
Mercury also rules Virgo, the sign of healing. In medical astrology, Mercury rules the arms and hands, through which healing energy flows. So Mercury can support Chiron's healing side as well.
The fifth and final planet in this Grand Stellium is Pallas Athena. As the warrior goddess who sprang fully armored from Zeus' head, she adds even more assertive energy into the mix.
But Pallas Athena also has other gifts. She excels at strategy, diplomacy, negotiation and mediation. The more you skillfully practice these, the less need you'll have for battle!
Other Aspects
The Grand Stellium is this New Moon's main influence, but not the only one. Four other planets also aspect the Sun and Moon, arcing out like the wings of a bird.
A Venus semi-square warns of possible challenge in your relationships, creativity or finances. But her Aquarian placement suggests that you can take these areas into positive territory – by being your unique self, following your intuitive hits, and serving others with your special talents that you most love to use.
Those last three ideas are also energized by a Uranus semi-sextile. Stay alert for any surprise or disruption catalyzed by this aspect. It will highlight what you need to repair or release.
This New Moon's final aspects are harmonious trines from two asteroid goddesses. Vesta invites you to serve a cause that serves a higher good. And Ceres wants to bless you with abundance, and help your shadow work flow more easily.
Awaken, Heal and Thrive!
Kick your personal evolution into high gear! Awakening Plus offers you online spiritual and shamanic experiences … 450+ consciousness-shifting recordings … and life-transforming courses. This extraordinary membership also gives you community connection and personal support.
Ready to awaken, heal and thrive like never before? Click to learn more!
4/4 (Mon)
A Mars-Saturn conjunction (22°24′ Aquarius) can bless you with the endurance of the Energizer Bunny … especially if you aim for your true north, and follow your flashes of inner guidance.
If you hit an obstacle, remember my favorite Stoic saying: "the obstacle is the way". Should you persevere through the obstacle, or detour to a different path? If the answer isn't obvious, this duo's Aquarian placement invites you to take your cue from your intuitive hits.
4/6 (Wed)
Do Your Committed Partnerships Support Your Life Purpose?
Are your committed partnerships fully aligned with your life purpose? That's the main question being asked by a T-Square that started on 3/24, peaks today (4/6) and ends on 4/18. This hard aspect pattern is formed by Mars, Saturn and Juno's tight Aquarian Stellium squaring the lunar nodes.
A committed partnership, represented by the asteroid goddess Juno, can be any ongoing romantic or platonic connection between two people.
Saturn
Saturn could cause challenge to arise within any bonded relationship that needs adjustment or release. But he can help you stabilize and deepen structures that are going well.
Saturn can help out with any mutual goals you two are striving toward. He can also support you in being more mature and responsible, managing your time well, and efficiently planning and implementing your strategies.
Mars
Mars can add fiery energy to all this. He also opens the possibility of new committed partnerships, since he loves to initiate! Mars' lower potentials include anger, violence and irresponsible impulsivity. Steer clear of those the best you can.
As a team, Mars and Saturn can bless whatever you two are doing with enhanced endurance and longevity.
Aquarius
As noted above, Mars, Juno and Saturn are in Aquarius. This encourages an innovative approach to your committed partnerships. This can apply whether you're dealing with a challenge or making a quantum leap into exciting new territory! The Aquarian energy also encourages you to follow your intuitive hits, and serve others using your special gifts and talents that you most love to use.
Without Juno
We can also consider this T-Square without Juno. Removing her eliminates the committed partnership theme, and leaves us with Mars, Saturn and the lunar nodes.
The most straightforward way to interpret this simplified T-square is by focusing on Mars. Consider how you're taking on the role of the warrior, pioneer, entrepreneur or sexual being. Are you doing this in an authentic and original way? Are you letting your intuitive hits guide you? Do your actions serve others?
As before, any challenges in these areas will alert you to anything that's out of kilter with your soul purpose. These will be courtesy of Saturn. However, he can also help you build foundations and solidify structures that support what's going well.
With Venus
To make things even more interesting, Venus is a part-time member of this T-Square. She joined forces with the Aquarian planets on 3/25 and remains thru 4/8. The main T-square started a day earlier (3/24) and lasts 10 days longer (thru 4/18).
During her two weeks in this T-square, Venus reinforces the relationship theme already established by Juno. Venus also wants to know how your creativity and finances are doing, and whether your committed partnerships support them.
---
Unexpected breakthroughs and inspirations are available for your relationships, creativity and finances … thanks to a Venus-Uranus quintile (1°11′ Pisces-13°11′ Taurus). With Venus in Pisces, the magic can also extend to your spiritual awakening practices.
The #1 Astrology Software for Windows — at an Unbeatable Price!
SOLAR FIRE 9 is the world's leading astrology software for Windows. Earlier versions brought an unprecedented level of ease to casting and working with astrological charts. The current version adds many more calculations, extra convenience features, more interpretive text, and exciting new graphic displays.
SOLAR FIRE 9 contains something for everyone!
For advanced astrologers and professionals, it has a great variety of high-precision astrological calculations and an exceptional degree of user-customization.
For novices, its innovative point-and-click chart interpretations provide an enjoyable way to learn. Many easily explored options will encourage you to experiment with new techniques.
No one sells Solar Fire for less than AstroShaman.
Click here to learn how Solar Fire can supercharge your astrology!
4/7 (Thu)
What Higher Cause Aligns With Your Life Purpose?
A T-Square starting today (4/7), and lasting almost two months, asks what higher cause aligns with your life purpose. It peaks on 4/27 and ends on 6/2. It includes Vesta, Saturn and the lunar nodes.
Vesta represents the higher cause. Her placement in Aquarius wants the cause you're serving to resonate authentically with you.
Clear-eyed Saturn can help you reality check this cause. Is it truly worthy of your continued support? Is it the best place for you to be funneling your energy? With both Vesta and Saturn in Aquarius, are you getting intuitive hits that give a thumbs-up to your continued involvement?
The lunar nodes are the axis of life purpose. There are thousands of worthy causes out there. Does the one you're supporting feel solidly aligned with the reason you were born?
4/11 (Mon)
10-½ Month T-Square Reality Checks Your Life Purpose
What happens if you remove Vesta from the T-Square that started four days ago? You get a potent T-Square that lasts over five times longer, and carries a simple message: get on track with your life purpose!
This T-Square is stripped down to Saturn and the lunar nodes. It started on 2/15, peaks today (4/11), and ends on 12/26.
Saturn can bring challenge, but only when it's needed. To the degree that you've deviated from your life purpose, Saturn will roil the waters to let you know. Release or adjust accordingly. But if you're on track, he'll be a steady wind in your sails.
The South Node is in Scorpio, while the North Node is in Taurus. So some of this life purpose reality checking might involve material resources, wealth and abundance. Are you wielding power skillfully to achieve clear, desirable outcomes? And do you have an appropriate amount of sensuality and sexuality in your life?
Two planets are conjunct Saturn in Aquarius as this T-Square peaks. Their effects are transient but noteworthy. Juno asks if your committed partnerships align with your life purpose. And Mars adds electricity and passion to help you get in gear with whatever needs doing!
Have My Invocations Helped You? Please Tell Me Your Story!
I'm writing a book to help people get the maximum benefit from my invocations. And the book needs real-life stories from people who've been helped by them. People use them for healing, embodied awakening and much more.
If my invocations have helped you, I'd be tremendously grateful if you could take a moment to share your story.
4/12 (Tue)
Jupiter Conjunct Neptune
2022's #2 aspect is only exact once, and it happens today! But this Jupiter-Neptune conjunction (23°58′ Pisces) is in orb (close enough to matter) for over a year, 1/28/22 thru 2/15/23.
This potent aspect supports many wonderful things, including:
Spiritual teachings
Religious practices focused on direct personal enlightenment
Deeply enhanced flow states
Deeply enhanced divine inspiration and creative inspiration
Expanding your inner artistry
Gaining wisdom from dreams, and
Gaining deep insight from your inner wisdom
But this conjunction also has darker possibilities. Jupiter could expand Neptune's potential for addiction, substance abuse, or excessive escapism. Avoid aimless wandering, or martyring yourself in a relationship.
There's expanded potential for confusion, delusion and deception, so watch out for false teachings. Reality check ideas with your inner guidance, if you can access it. Otherwise, vet them however you can, to avoid getting sucked into a compelling falsehood.
The four questions from The Work of Byron Katie are especially helpful during this conjunction:
Is this true?
Can you absolutely know that it's true?
How do you react when you believe that thought? What happens?
Who would you be without the thought?
Can you hold all beliefs as conditional, and potentially subject to revision or replacement?
I love what another astrologer (sorry, I don't remember her name) said when forecasting this conjunction: "Realism is trapped imagination." Focus on what you want as Jupiter conjoins Neptune … and this extraordinary conjunction can help you make it real!
Make that amazing life you've been dreaming about real!
My unique combination of modalities, refined through more than 10,000 AstroShaman client sessions, can help you thrive in all areas of your life. And my unusual approach could help you do this faster than you might have thought possible.
4/16 (Sat)
Libra Full Moon with Pluto T-Square!
A Full Moon brightens the sky at 2:55 pm EDT (26°45′ Libra). Any Libra Full Moon is great for release or adjustment in your relationships or creative expression.
Aspects
Pluto T-Square
This Full Moon's most potent aspect pattern is a T-Square with the luminaries, Pallas Athena and Pluto. This can easily manifest as relationship challenge, especially if feminine energy (Pallas Athena in Aries) isn't appropriately assertive.
As lord of the underworld, Pluto is associated with shadow work. There's nothing like a close relationship to trigger old wounds and traumas that are ripe for healing. Nonviolent Communication is an amazing, time-tested protocol for relationship healing. And my Healing Invocation can help you do your solo shadow work quickly and efficiently. (The Healing Invocation is part of my Free Invocation Masterclass.)
Pluto can show you any weak spots in your relationships. Then it's up to you to decide whether that relationship should be healed or released.
But if a relationship is on strong footing, Pluto has numerous blessings to offer. He can help you relate more vulnerably and honestly. If it's a sexual relationship, Pluto holds the secrets of sacred sex. Why settle for superficial physical pleasure, when you could enjoy the divine ecstasy of soul-blended lovemaking?
What about your creative expression? Pluto can supercharge it, or can help it evolve to its next level. Pluto also encourages you to be raw, authentic and uninhibited with your artistry.
Other Aspects
The Moon and Venus are tightly sesquare. This is another possible indicator of relationship challenge. With Venus in Pisces, make sure you're not just molding yourself into your partner's ideal image. On the upside, Venus in Pisces supports deep empathic blending with your partner, and can also open the door to inspired creativity.
The relationship theme recurs yet again with the Moon's trine to Juno. Juno is the goddess of committed partnership, and the trine suggests smooth, harmonious connection. With Juno in Aquarius, let your relationship help you blossom into your most authentic self!
The Moon's trine to Saturn can help you stay the course with your Full Moon goals, while a Mars trine can give you abundant energy to carry them out. Finally, with the right adjustments, the Moon's quincunxes to Jupiter and Neptune can energize your inspired creativity and spiritual awakening practices.
4/19 (Tue)
The Sun enters Taurus at 10:24 pm EDT. More power is available for money and material resources for the next month, along with dogged persistence. This is also a great time to enjoy your five senses, spend time in nature, or "just be".
4/27 (Wed)
T-Square Peaks
The Saturn-Vesta-Lunar Nodes T-Square that started on 4/7 peaks today (4/27) and ends on 6/2.
---
A Venus-Neptune conjunction (24°28′ Pisces) makes it easier to be creatively inspired, and can help you strengthen your relationship with your divine self. You can also more easily perceive the divine in everyone and everything around you.
4/29 (Fri)
Pluto Retrograde
Pluto turns retrograde at 2:36 pm EDT (28°35′ Capricorn). He'll turn direct again on 10/8 (26°6′ Capricorn).
This is a great time to reflect on two of Pluto's main themes: wealth and power. Wealth can be money, but it can also be anything you value. What kind of wealth is most important to you?
Power has two basic flavors: power over and shared power. "Power over" controls, manipulates, and forces others to do its bidding. Shared power distributes opportunity and responsibility more equally, and aims for win-win outcomes. When done well, it's like a rising tide that lifts all boats.
What kind of power are you cultivating? What power themes would be worth contemplating as Pluto turns retrograde?
Pluto also rules occult practices and sacred sex. He's the lord of shamanism, shadow work, and soul-deep transformation.
Are you interested in exploring any of these for the first time, or changing how you're working with them now? (If you'd like a fast and effective tool for healing old emotional traumas, check out the Healing Invocation in my Free Invocation Masterclass.)
Pluto also rules taxes, insurance and inheritance. Are any of these themes up for you?
Finally, planets are most powerful when they change directions. Do you have sensitive points in your natal chart at or after 25° in a cardinal sign (Aries, Cancer, Libra or Capricorn), or at 0° or 1° in a fixed sign (Taurus, Leo, Scorpio or Aquarius)? If so, Pluto's retrograde station will stimulate them powerfully. Work skillfully with any challenges that arise, so that you can milk the maximum wealth and power from the situation!
4/30 (Sat)
Solar Eclipse
A Taurus Solar Eclipse aligns at 4:28 pm EDT (10°28′ Taurus). A Solar Eclipse is an extra-powerful New Moon, whose effects last at least six months.
At the most basic level, this is a Taurus New Moon. This is great for persistence and endurance. Just be sure that you're not holding onto an outworn structure that needs to change!
Taurus rules money and possessions, so put an appropriate amount of energy into material things. Taurus rules all five senses, so give yourself wonderful things to see, smell, hear, taste and touch.
Also make time to hang out in nature, and even to do nothing at all. Taurus can certainly work long and hard, but it also has this chill-time motto: "I'm not a human doing — I'm a human being!"
Aspects
This Solar Eclipse's most powerful aspect is Uranus' conjunction to the Sun and Moon. Its power is emphasized by the tightness of its orb (degree of exactness) – only 4 degrees!
This is a great time to persistently express your authentic human self in the world. Follow your intuitive hits relentlessly. And stubbornly serve others with your special talents that you most love to use.
If you've gotten stuck in something that doesn't serve your highest good, Uranus will shake it up. Take chaos or breakdown as a sign that something needs to be released or paradigm shifted.
This Solar Eclipse's second-strongest aspect is a Mars sextile. This can energize you to get cracking with your Eclipse/New Moon goals. With Mars in Pisces, It will be easier to act in flow state. If you desire a sexual experience of Taurus' sensuality, Piscean Mars supports tantric, soul-blended eroticism.
Finally, this Eclipse is bracketed by semi-squares from Neptune and Ceres. Neptune supports inspired creativity and divine union. Ceres can help you with any shadow work you're doing, and also supports harvest and abundance.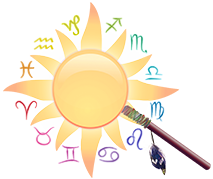 Deepen Your
Insight, Healing & Awakening
Your astrology chart reveals powerful insights into your relationships, career, soul purpose and much more. Getting a yearly Astrology+ update can show you what's important now!
I also offer Shamanic Healing / IFS, one-of-a-kind Life Coaching, and more. All my services are equally effective in person or long distance.
You can enjoy magnified opportunity in your relationships, creativity and finances with Venus conjunct Jupiter (27°57′ Pisces). Their Piscean placement adds inspired creativity, and can help you enjoy extra empathic connection in your relationships!
Whatever your Sun Sign, my forecasts can help you make the best use of the current astrological energies.
All dates and times are in the U.S. eastern time zone. Events are most powerful on the dates listed, but their influence will be active for at least a week before and after.
Everyone is affected by these global transits. However, you'll be most powerfully impacted when moving planets activate sensitive points in your natal chart. Discover how these transits will personally affect you by booking a session with me.
Learn more about my Astrology+ sessions.
Recent Forecasts
Check back around the 1st and 16th for updated forecasts.