Relationship growth opportunities are catalyzed by numerous astrological events in the second half of May. These include a Scorpio Full Moon and most of our six new aspect patterns. We also have the Sun entering Gemini, as well as Neptune aspects encouraging inspired creativity and spiritual awakening.
Click astrology graphics to see larger images. Some resource links occur more than once. This is because many people link to a specific day's forecast from social media, and might not see an important resource link elsewhere on this page.
5/16 (Thu)
You can enjoy increased mental focus and productivity, especially in practical matters, with Mercury trine Saturn (20°17′ Taurus-Capricorn).
5/17 (Fri)
T-square Begins: Mars-Pallas Athena-Chiron
Your personal healing work can be supported energetically, compassionately and strategically thanks to a T-square that starts today (5/17). It features Mars, Pallas Athena and Chiron. It peaks on 5/28 and ends on 6/9.
These qualities apply whether you're giving or receiving the healing work. The same qualities support you if sage advice is given or received. With Mars in Cancer, this healing dynamic may include family members.
---
Don't hold to an unsubstantiated opinion too stubbornly as Mars quincunxes Jupiter (22°18′ Taurus-Sagittarius). Use the extra energy Jupiter sends Mercury to assess the facts of the matter objectively.
5/18 (Sat)
Scorpio Full Moon
A Full Moon illuminates the sky at 5:11 PM ET (27°38′ Scorpio). Any Scorpio Full Moon is great for release or adjustment in many areas, including transformation, shadow work and sexuality. Scorpio can also represent occult practices, great wealth and shared resources. Insurance, taxes and inheritance are also within Scorpio's domain.
Aspects
This Scorpio Full Moon opposes Mercury and sextiles Pluto. Pluto has the same keywords as Scorpio, so his presence gives smooth, energizing support for all the Scorpio themes above. Taurean Mercury encourages you to persistently learn about or share information relating to these Scorpio themes.
The luminaries also form a challenging aspect pattern with Juno and Pallas Athena. If this pattern has a name, I couldn't find it. It's bordered by an opposition, a square, and two semi-squares, while the opposite corners are connected by 135° sesquares.
This mystery aspect pattern could stir up challenge in a committed partnership. If so, Pallas Athena suggests using strategy, diplomacy and tact to negotiate a win-win outcome.
The Scorpio Moon and Juno's placement in Cancer emphasize the importance of facing whatever old emotional wounds are triggered by this conflict. As usual, I recommend the 4-part Nonviolent Communication Process to work things out with your committed partner, and my free Healing Invocation to support your personal shadow work.
Sabian Symbol
This Full Moon's Sabian Symbol is, "The king of the fairies approaching his domain." Broadly speaking, any king approaching his domain carries a sense of increased power. Power is a crucial Scorpio keyword, and how a king uses power says a great deal about his character.
An insecure leader dominates and controls by any means necessary, since he's always fearful of being overthrown by a usurper. But a leader who has tapped into the ultimate power – the divine source within himself – overflows with power! He has no need to control anyone else. His greatest joy becomes awakening others to the divine power that lies latent within them. This rising tide lifts all boats.
But "the king of the fairies" is another matter. The mystic fairy kingdom operates by its own trickster rules, which have no regard for human morality. A fairy might be physically attractive, even sexually intoxicating, but they would think nothing of seducing and discarding a human after their mortal plaything is no longer useful or entertaining. Even if the human dies or goes insane, this would not trouble the fairy's conscience. There are many more whence came that one!
Fairy amorality has much in common with the fearful, dominating human. What fairies do amongst themselves in their dimension  is their business, and perfectly appropriate there. But we humans can cultivate compassion, kindness and unconditional love. Why not choose the power that blesses all?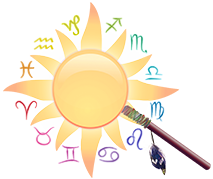 Deepen Your
Insight, Healing & Awakening
Your astrology chart reveals powerful insights into your relationships, career, soul purpose, and much more. Getting a yearly Astrology+ update can show you what's important now!
I also offer Shamanic Healing / IFS, one-of-a-kind Life Coaching, and more. All my services are equally effective in person or long distance.
You can take a deep dive into investigation, research or detective work with Mercury trine Pluto (23°1′ Taurus-Capricorn). This aspect can also smoothly empower sustained mental focus.
---
You can take relationships, creativity and finances to the next level with Venus conjunct Uranus (3°58′ Taurus). If anything's out of alignment with your higher purpose in these areas, it will experience destabilization – possibly in a surprising way. Listen for (or request) intuitive flashes to guide you in whatever release or restructuring serves highest good.
What if a relationship, creative project or financial situation does align with your soul purpose? This aspect can give it a quantum leap to the next level of wonderful, or show you how to make that leap yourself!
5/20 (Mon)
Yod Begins: Venus-Ceres-Pallas
Old emotional wounds (Ceres) could get triggered in a relationship (Venus) during the six days of this Venus-Ceres-Pallas Yod. If so, combine strategy and negotiation (Pallas Athena) to craft a mutually satisfying resolution. Then Ceres can shift from sorrow to her more welcome qualities of harvest and abundance! This Yod begins today (5/20), peaks on 5/23 and ends on 5/25.
5/21 (Tue)
Two Mystic Rectangles Begin
Two Mystic Rectangles begin today (5/21), and both serve mainly to reinforce the message of the Yod that started yesterday.
The most obvious reason for this is that both aspect patterns include Ceres (sorrow and mourning) and Pallas Athena (strategy and negotiation). The Yod that started yesterday featured Venus, who represents a relationship that would catalyze emotional challenge. Both Mystic Rectangles include Chiron, the wounded healer, who takes on Venus' relational role.
Communication is inherent in the Yod, since this theme is naturally carried by diplomatic Pallas Athena and relational Venus. In the Mystic Rectangles, communication is even more clearly shown by the two Geminian planets that distinguish each aspect pattern: the Sun and Mercury.
In short, the fundamental message of all three aspect patterns is the same: use skillful communication to heal the wounds catalyzed by a relationship. The fundamentally harmonious quality of the Mystic Rectangles suggest that you'll receive plenty of grace if you make an honest effort. I once again recommend the 4-part Nonviolent Communication Process to work things out with your committed partner, and my free Healing Invocation to support your personal shadow work.
About those Mystic Rectangles: the Mercury-Ceres-Pallas-Chiron Mystic Rectangle starts today (5/21), peaks on 5/24 and ends on 5/27. The Sun-Ceres-Pallas-Chiron Mystic Rectangle lasts much longer: it starts today (5/21), peaks on 5/29 and ends on 6/4.
The #1 Astrology Software for Windows — at an Unbeatable Price!
SOLAR FIRE 9 is the world's leading astrology software for Windows. Earlier versions brought an unprecedented level of ease to casting and working with astrological charts. The current version adds many more calculations, extra convenience features, more interpretive text, and exciting new graphic displays.
SOLAR FIRE 9 contains something for everyone!
For advanced astrologers and professionals, it has a great variety of high-precision astrological calculations and an exceptional degree of user-customization.
For novices, its innovative point-and-click chart interpretations provide an enjoyable way to learn. Many easily explored options will encourage you to experiment with new techniques.
No one sells Solar Fire for less than AstroShaman.
Click here to learn how Solar Fire can supercharge your astrology!
Learning and communication is a major message today. The Sun and Mercury both enter Gemini, then quickly create a conjunction (0°12′ Gemini). The Sun's entry into Gemini makes learning, communication, variety and playfulness strong themes for the next month.
This is soon followed by a Mercury-Neptune quintile (0°27′ Gemini-18°27′ Pisces) and a Sun-Neptune quintile (0°28′ Gemini-18°28′ Pisces). These fairy dust aspects can stimulate the flow of divine inspiration into your thinking and communication. The Sun-Neptune quintile also support embodied awakening.
---
The day closes with a distinctly different example of this magical aspect: a Pluto-Chiron quintile (22°58′ Capricorn-4°58′ Aries). This can add powerful juju to healing and mentoring.
5/22 (Wed)
Your ability to take immediate action on your intuitive flashes is harmoniously stimulated by a Mars-Uranus sextile (4°11′ Cancer-Taurus). With Mars in Cancer, this aspect can also help you open your heart more fully while making love. This aspect can also support breakthroughs in compassionate leadership and emotionally satisfying athletic achievement.
5/23 (Thu)
Yod Peaks: Venus-Ceres-Pallas
The Venus-Ceres-Pallas Athena Yod that started on 5/20 peaks today (5/23) and ends on 5/25.
---
We have two aspects today involving outer planets and asteroid goddesses. The first, a Pluto-Vesta square (22°57′ Capricorn-Aries), puts a spotlight on whatever selfless service you're giving to a higher cause. If it's soul-aligned, you'll feel empowered in your service. If this service no longer excites you, consider releasing it or transforming it so it comes back into harmony.
---
The second outer planet-asteroid goddess combo is a Uranus-Juno quintile (4°15′ Taurus-16°15′ Cancer). This can support a breakthrough or paradigm shift in a committed partnership. For best results, both partners should pay close attention to their intuitive flashes!
---
Chiron aspects two personal planets today. A Mars-Chiron square (5°3′ Cancer-Aries) can catalyze old emotional wounds … and support their rapid healing. A Mercury-Chiron sextile (5°2′ Gemini-Aries) highlights the important role communication can play in this healing process.
5/24 (Fri)
Mystic Rectangle Peaks
The Mercury-Ceres-Pallas-Chiron Mystic Rectangle that started on 5/21 peaks today (5/24) and ends on 5/27.
5/26 (Sun)
T-square Begins: Mercury-Jupiter-Neptune
Divinely inspired learning, writing and communication are abundantly supported by a Mercury-Jupiter-Neptune T-square. This aspect pattern begins today (5/26), peaks on 5/30 and ends on 6/3. This T-square also gives strong support for sharing life-changing wisdom with others, as well as focusing on spiritual awakening and expressing your inspired creativity.
One caution: don't fall into "street corner preacher syndrome." With this aspect pattern, there's a danger of enthusiastically and unintentionally spreading misinformation.
---
Mentoring and similar wisdom-sharing activities are smoothly and enthusiastically supported by a Sun-Chiron sextile (5°9′ Gemini-Aries).
5/28 (Tue)
T-square Peaks: Mars-Pallas-Chiron
The Mars-Pallas-Chiron T-square that started on 5/17 peaks today (5/28) and ends on 6/9.
Yod Begins: Venus-Juno-Jupiter
A committed partnership could reach new heights of joy thanks to a Venus-Juno-Jupiter Yod. Your task: decide what adjustment would unlock this relationship's highest potential. You have one week to take advantage of this "Finger of God," which starts today (5/28), peaks on 6/1 and ends on 6/4
---
Divine flow in committed partnership is also supported, and smoothly at that, by a Neptune-Juno trine (18°34′ Pisces-Cancer). This energy is ideal for extended eye gazing, conscious chakra blending, and other activities designed to merge your spiritual awareness with your beloved's.
5/29 (Wed)
Mystic Rectangle Peaks: Sun-Ceres-Pallas-Chiron
The Sun-Ceres-Pallas-Chiron Mystic Rectangle that started on 5/21 peaks today (5/29) and ends on 6/4.
---
Mercury makes two aspects today. A Mercury-Neptune square (18°35′ Gemini-Pisces) can sow confusion for those who are less divinely conscious. But it can increase the flow of intuitive knowing for those who are more awakened. This square is wonderful for creative writing and other mental endeavors. A Mercury-Chiron quintile (17°14′ Gemini-5°14′ Aries) can lend special inspiration to mentoring and similar wisdom-sharing activities.
5/30 (Thu)
T-Square Peaks: Mercury-Jupiter-Neptune
The Mercury-Jupiter-Neptune T-square that started on 5/26 peaks today (5/30) and ends on 6/3.
---
A steady flow of creative inspiration is available with Venus sextile Neptune (18°35′ Taurus-Pisces). With Venus in Taurus, this harmonious, energetic aspect is also ideal for Law of Attraction work and embodied awakening. This sextile also makes it easier to perceive the divine in the people and things around you
---
Mercury makes two aspects today. A Mercury-Jupiter opposition (20°48′ Gemini-Sagittarius) could exacerbate mile-a-minute monologues or an endless flurry of texting. Used more mindfully, it can provide high-powered stimulation of positive mental activities.
If words are running away with you, call on the Mercury-Saturn quincunx (19°47′ Gemini-Capricorn) that also happens today for an adjustment. Saturn's restraining influence is the perfect antidote to Jupiter's endless expansion! Saturn can also lend focus, maturity and perseverance to your learning and communication.
5/31 (Fri)
Steady Eddie energy for relationships, creativity and finances is available with Venus trine Saturn (19°44′ Taurus-Capricorn). Taurean Venus encourages you to take all the time you need in these areas.
---
Transformative thinking is energized when you make the right adjustment with Mercury quincunx Pluto (22°49′ Gemini-Capricorn). This aspect also supports research, investigation, and communicating the honest truth – no matter how taboo it may be.
Whatever your Sun Sign, my forecasts can help you make the best use of the current astrological energies.
All dates and times are in the U.S. eastern time zone. Events are most powerful on the dates listed, but their influence will be active for at least a week before and after.
Everyone is affected by these global transits. However, you'll be most powerfully impacted when moving planets activate sensitive points in your natal chart. Discover how these transits will personally affect you by booking a session with me.
Learn more about my Astrology+ sessions.
Recent Forecasts
Check back around the 1st and 16th for updated forecasts.