The second half of May features a mentally stimulating Gemini New Moon and a Grand Trine that supports committed partnership. We also have an inspiring Venus-Neptune square, an action-oriented Mars-Uranus sextile, and more!
This forecast covers the most important astrological events. Would you like my interpretations of other astrological events in this time frame? Then check out my award-winning This Week in Astrology audio podcast and my YouTube video forecasts — updated weekly!
Click astrology graphics to see larger images. Some resource links may occur more than once. This is because many people link to a specific day's forecast from social media, and might not see an important resource link elsewhere on this page.
5/16 (Sat)
Committed Partnership Grand Trine
A Grand Trine offering opportunities for committed partnership begins today (5/16), peaks on 5/24 and ends on 6/1. It includes the Sun, Juno, Pallas Athena and Saturn.
Juno represents committed partnership. The Gemini Sun represents you, as well as the mental energy and communication you contribute to this relationship.
Saturn offers stability and maturity, while its Aquarian placement could inspire innovative ideas for improving the partnership. And Pallas Athena, also in brilliant Aquarius, can help you be strategic in co-creating a more wonderful "new normal" for this relationship.
The Grand Trine itself is an aspect pattern of easy, harmonious connection. It gives a certain amount of ease for free. But it creates the most benefit when you "mine the trine" with clear intention and consistent effort.
Awaken, Heal, and Thrive!
Kick your personal evolution into high gear! Awakening Plus offers you online spiritual and shamanic experiences … 500+ consciousness-shifting recordings … and life-transforming courses. This extraordinary membership also gives you community connection and personal support.
Ready to awaken, heal, and thrive like never before? Click to learn more!
5/17 (Sun)
You can enjoy steady vitality with the Taurean Sun trine Jupiter (27°13′ Taurus-Capricorn). This easy-flowing aspect can also support financial abundance, enhanced sensuality and simply relaxing in nature.
5/20 (Wed)
The Sun enters Gemini at 9:49 AM EDT. Learning, communication and playfulness get extra support for the next month.
Be sure to get enough variety: Gemini can be like a stone skipping across the surface of a pond. Gemini also supports connecting with neighbors and siblings, as well as local travel … as much as social distancing allows, anyway! :-)
---
Your muse may not take no for an answer with Venus square Neptune (20°39′ Gemini-Pisces). Venus is the artist, Neptune is divine inspiration, and a square insists on "turning a corner".
This aspect can also make it easier to deepen your relationship with your divine self and perceive the divine in the world around you. With Venus in Gemini, creative writing is supported, as well as a variety of creative outlets.
Hard aspects can also bring challenge. Try not to fall under the spell of someone trying to talk you into something that wouldn't serve your highest good. And don't go overboard on sensual indulgence. It might be better to mindfully measure out a small portion of ice cream, instead of distractedly wolfing down the entire carton!
5/22 (Fri)
Gemini New Moon
May's New Moon lines up at 1:39 PM EDT (2°4′ Gemini). Any Gemini New Moon is great for new beginnings or fresh energy in the same themes I covered in my 5/20 forecast for the Sun entering Gemini. These include learning, communication, variety, connecting with neighbors and siblings, and local travel.
Aspects
Grand Trine
The Moon and Sun form a Grand Trine with Juno, Pallas Athena, Jupiter and Saturn. The luminaries also square Mars and Ceres.
Jupiter and Mars give you extra energy for the Gemini themes already mentioned. The Mars-Ceres conjunction that squares the luminaries could catalyze some shadow work. But it can also fire up opportunities for enhanced abundance!
The Grand Trine offers harmonious support for your committed partnerships, especially if you're strategic and diplomatic. Can you inject some fresh ideas into a relationship to encourage its growth … in a practical and structured way?
Sabian Symbol
The Sabian Symbol for this New Moon is, "The charming court life at the Garden of the Tuileries in Paris."
In this time of social distancing, we're doing more of our social intercourse via online tools like Zoom. We can add in a cool virtual background, but chances are that our homes will be a bit less magnificent than the Tuileries!
Still, our need for human connection remains. Are you choosing to connect with virtual groups that are more charming than challenging? Can you all work together to create a virtual gathering place that's as delightful as possible?
The #1 Astrology Software for Windows — at an Unbeatable Price!
SOLAR FIRE 9 is the world's leading astrology software for Windows. Earlier versions brought an unprecedented level of ease to casting and working with astrological charts. The current version adds many more calculations, extra convenience features, more interpretive text, and exciting new graphic displays.
SOLAR FIRE 9 contains something for everyone!
For advanced astrologers and professionals, it has a great variety of high-precision astrological calculations and an exceptional degree of user-customization.
For novices, its innovative point-and-click chart interpretations provide an enjoyable way to learn. Many easily explored options will encourage you to experiment with new techniques.
No one sells Solar Fire for less than AstroShaman.
Click here to learn how Solar Fire can supercharge your astrology!
5/25 (Mon)
We live in a world teeming with "alternate truths". The days of trusted central authority are slipping away.
Fortunately, there's one source of information you can trust absolutely: your own intuitive flashes. And with today's Mars-Uranus sextile (8°12′ Pisces-Taurus), it's easier to take immediate action (Mars) on these "text messages from God" (Uranus).
This sextile also makes it easier to take an innovative approach to Martian activities such as being the warrior, pioneer, sexual being or entrepreneur. With Mars in Pisces, you may also be inspired to take an unusual approach to spirituality or creativity.
5/29 (Fri)
All sorts of learning and mentoring are supported by a Sun-Chiron sextile (8°39′ Gemini-Aries). Take advantage of this smooth, energetic aspect to dish out or absorb helpful information!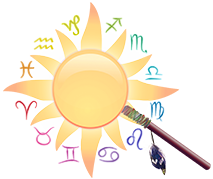 Deepen Your
Insight, Healing & Awakening
Your astrology chart reveals powerful insights into your relationships, career, soul purpose, and much more. Getting a yearly Astrology+ update can show you what's important now!
I also offer Shamanic Healing / IFS, one-of-a-kind Life Coaching, and more. All my services are equally effective in person or long distance.
Make that amazing life you've been dreaming about real!
My unique combination of modalities, refined through more than 10,000 AstroShaman client sessions, can help you thrive in all areas of your life. And my unusual approach could help you do this faster than you might have thought possible.
Whatever your Sun Sign, my forecasts can help you make the best use of the current astrological energies.
All dates and times are in the U.S. eastern time zone. Events are most powerful on the dates listed, but their influence will be active for at least a week before and after.
Everyone is affected by these global transits. However, you'll be most powerfully impacted when moving planets activate sensitive points in your natal chart. Discover how these transits will personally affect you by booking a session with me.
Learn more about my Astrology+ sessions.
Recent Forecasts
Check back around the 1st and 16th for updated forecasts.