The second half of September features Mercury turning retrograde, a Pisces Full Moon and the Autumn Equinox. We also have several aspect patterns offering both challenge and opportunity. Dive in to learn the most life-affirming use of these potent astrological energies!
This forecast covers this half-month's most important astrological events. Also check out my award-winning This Week in Astrology audio podcast and YouTube video forecasts!
Click astrology graphics to see larger images. Some resource links may occur more than once. This is because many people link to a specific day's forecast from social media, and might not see an important resource link elsewhere on this page.
9/16 (Thu)
Kite Supports Healing and Mentoring
Healing and mentoring — whether you're giving or receiving — are smoothly and powerfully supported by a Kite that starts today (9/16), peaks on 9/29 and ends on 10/10. It features Mars on the back end, Ceres and Saturn on the side corners, and Chiron at the tip.
Chiron represents healing and mentoring. Mars energizes it, while his placement in Libra helps the work go harmoniously. Ceres reinforces the shadow work theme, while Aquarian Saturn supports an innovative structure for this life-affirming work. This Kite's trines and sextiles support flow and harmony, while its opposition kicks in a helpful energy boost!
This aspect pattern could also stir up some shadow work, especially because of its Mars-Chiron opposition. But if so, its predominantly soft aspects will help your emotional and psychological healing proceed with greater ease.
The Libran Sun (not pictured) joins Mars at the tip of this Yod 9/24 through 10/9. This doesn't significantly change the meaning of the Kite, but does add extra energy!
"Finger of God" Catalyzes Shadow Work and Abundance
Shadow work and abundance are both fired up by a Yod – or "Finger of God" – that starts today (9/16), peaks on 9/20, and ends on 9/24. It includes Ceres and Chiron on the back end and Venus at the tip.
For the shadow work interpretation, Chiron is the Wounded Healer. Ceres can represent emotional trauma. Venus is in Scorpio, the sign most associated with shadow work. Venus can represent the relating that originally caused the trauma, as well as the current interaction that triggers it.
This Finger of God can represent not only internal healing work, but you and another person working to heal your relationship container. My favorite resource for this is Nonviolent Communication by Marshall Rosenberg.
But this Yod can also fire up abundance! Venus represents money, while Scorpio offers wealth and power. The grain goddess Ceres can bring harvest and abundance.
Chiron doesn't have a specific archetypal connection to abundance. But it could represent the sound advice you receive on how to grow your prosperity, as well as the healing of any traumas blocking it. (My Healing Invocation has helped thousands do their shadow work more quickly and effectively. Check it out in my Free Invocation Masterclass.)
Awaken, Heal and Thrive!
Kick your personal evolution into high gear! Awakening Plus offers you online spiritual and shamanic experiences … 500+ consciousness-shifting recordings … and life-transforming courses. This extraordinary membership also gives you community connection and personal support.
Ready to awaken, heal and thrive like never before? Click to learn more!
9/20 (Mon)
Pisces Full Moon
A Full Moon illuminates the sky at 7:55 p.m. EDT (28°13′ Pisces). Any Pisces Full Moon is great for release or adjustment in several areas. These include spiritual practices, inspired creativity, and functioning "in the zone". You could also focus on dream interpretation or conscious dreaming.
If necessary, bring release or adjustment into Pisces' more challenging manifestations. These include substance abuse, excessive escapism, aimless drifting or playing the victim.
Aspects
The Moon is loosely conjunct Neptune, which reinforces all the Piscean meanings above. An opposition from Libran Mars could inspire you to forge a deeper relationship with your higher self. This aspect can also give you assertive energy to support your Full Moon goals. In addition, it can support sacred sexual connection: the blending of light bodies, whose ecstasy can radically magnify your erotic pleasure.
The Sun and Moon form a Hard Rectangle with Venus and Uranus. This aspect pattern, made from minor hard aspects, could catalyze challenge in your relationships, finances or creativity. But it can also pop down intuitive hits! These "text messages from God" can show you how to master these challenges and improve your life.
The more you've achieved mastery in an area of life, the easier it becomes for hard aspects to bring opportunity. So stay open to great ideas and breakthrough opportunities in the Venusian realms of relationships, finances and creativity.
Finally, the Full Moon makes a loose sextile with Pluto. This gives harmonious and energizing support for positive transformation. Release whatever doesn't serve you, or make appropriate repairs or adjustments. Pluto can help amplify your wealth and power, and can also support trauma healing. (My field-tested Healing Invocation has helped people do this crucial shadow work more quickly and easily for 10+ years. Learn how in my Free Invocation Masterclass.)
The #1 Astrology Software for Windows — at an Unbeatable Price!
SOLAR FIRE 9 is the world's leading astrology software for Windows. Earlier versions brought an unprecedented level of ease to casting and working with astrological charts. The current version adds many more calculations, extra convenience features, more interpretive text, and exciting new graphic displays.
SOLAR FIRE 9 contains something for everyone!
For advanced astrologers and professionals, it has a great variety of high-precision astrological calculations and an exceptional degree of user-customization.
For novices, its innovative point-and-click chart interpretations provide an enjoyable way to learn. Many easily explored options will encourage you to experiment with new techniques.
No one sells Solar Fire for less than AstroShaman.
Click here to learn how Solar Fire can supercharge your astrology!
Venus-Saturn-Uranus T-square Peaks
The Venus-Saturn-Uranus T-square that started on 9/14 peaks today (9/20) and ends on 9/25.
For starters, Venus simply adds energy to 2021's most important aspect: the Saturn-Uranus square.
But if we think of Saturn and Uranus affecting Venus, this T-square can dramatically affect all three of her core meanings: relationship, creativity and money. If anything in these areas isn't optimal, its foundational structure can get shaken. Let this chaos infusion alert you to areas that need your attention. Then decide if you'd be wiser to repair or release.
But if anything in these three areas is working well, it can go to the next level of wonderful! With Saturn and Uranus working together, structures can shift quickly, even radically. This may happen on its own, or you might need to lend a hand.
With Venus in Scorpio, a good relationship could go to a new level of honesty and intimacy. Creativity can be cathartic and uninhibited. A financial opportunity could increase your wealth and power. Take your pick!
"Finger of God" Peaks
The Venus-Ceres-Chiron Yod ("Finger of God") that started on 9/16 peaks today (9/20) and ends on 9/24.
9/22 (Wed)
Sun Enters Libra / Autumn Equinox
The Sun enters Libra at 3:21 pm EDT. You'll have more energy to channel into relationship, creativity and balance for the next month.
The Sun's entry into Libra also marks the Autumn Equinox. Let's examine this equinox chart to see how you can best partner with the energy of the next three months!
A glance at this chart shows that the planets are fairly spread out, with no tight conjunctions. This diffused energy could make it challenging to get traction and maintain momentum. So be ready to apply extra willpower and determination to important activities to stay in gear.
The fact that two non-Sun personal planets (Mercury and Mars) are in Libra can reinforce this effect. On its shadow side, Libra can be indecisive, or fail to assert itself for fear of displeasing others.
You can break out of these doldrums if you draw on the power of the first astrological archetype. This chart's Sun-Mars conjunction, as well as the Moon's placement in Aries, can give you abundant energy to get your goals accomplished!
Aspects
There are four notable aspect patterns in this Autumn Equinox chart. I've already discussed three of them in this September 16-30 forecast, so I'll simply repeat their most important keywords and link to their interpretations above. Then I'll interpret the fourth one.
Mars-Ceres-Saturn-Chiron Kite: healing, mentoring, shadow work
Venus-Ceres-Chiron Yod: shadow work, abundance, relationship healing
Venus-Saturn-Uranus T-square: relationship, creativity and money
Moon-Mercury-Pluto T-square
Can a calm mind master an impulsive heart? This question is posed by the fourth and final aspect pattern in this Fall Equinox chart: a Moon-Mercury-Pluto T-square.
The Moon in Aries can create passionate emotions. Mercury in Libra can help bring balance to your thought processes. And Pluto will supercharge whatever you do with these two planets!
Make this T-square your ally by first giving considered reflection to whatever decisions need to be made. Once you've made your decision, the power of the other two planets can energize your actions. Even if I'm not 100% certain, I'll take action as long as it's SETT-GEFN –Safe Enough To Try, Good Enough For Now. Momentum is more important than perfection!
Make that amazing life you've been dreaming about real!
My unique combination of modalities, refined through more than 10,000 AstroShaman client sessions, can help you thrive in all areas of your life. And my unusual approach could help you do this faster than you might have thought possible.
9/25 (Sat)
You can enjoy Energizer Bunny endurance with Mars trine Saturn (7°4′ Libra-Aquarius). With Mars in Libra, you can enjoy an extra measure of stick-to-it-iveness in your relationships and creative expression.
9/27 (Mon)
Mercury Retrograde
Mercury turns retrograde 3 times per year, and the winged messenger starts another one today at 1:10 am EDT (25°28′ Libra). Mercury will turn direct again on 10/18 at 11:17 am (10°7′ Libra). I'll discuss this Mercury Retrograde based on its sign and aspects, and will close with my usual Mercury retrograde advice.
Libra
Mercury is retrograde entirely within Libra. For starters, this is a great time to contemplate the areas of flow and challenge in all your important relationships.
Which connections are fine as they are? Which are so awesome that they deserve more time and energy? Which are so toxic that you should completely release them? Which need healing?
You could also think about how you're expressing yourself creatively. Are you firing on all cylinders? Would you be happier if you devoted more time to painting, music, dance or some other artistic expression?
Libra's symbol is the scales, so it also represents balance. Do you have appropriate balance in your life, in areas such as professional versus personal, work versus play?
Finally, Libra loves to appreciate the arts. Are you getting enough enjoyment from the creative expression of others? And is the creativity you're consuming having a positive effect on your life?
Aspects
Mercury makes two tight aspects as it turns retrograde: a Pluto square and a Jupiter trine. For starters, these aspects can make all the effects of this Mercury retrograde stronger than usual.
Pluto Square
The Pluto square invites you to contemplate power and wealth. Do you use power selfishly, to dominate and control others? Alternatively, can you access the divine power within you at will … which lets you help others step into their power without threatening yours?
How do you define wealth? Is it just money? Or do you perceive wealth to be anything that adds value to your life? Once you understand this, what kind of wealth do you want more of in your life?
Pluto also represents death and rebirth — like a phoenix burning to ash, then magnificently resurrecting out of the flames. Everything that's born must die, whether it's physical or energetic. What things in your life should you let die now?
Pluto also represents your unhealed traumas. Which of these would you like to finally heal, once and for all? (Thousands have delegated this crucial work to their higher self with my Healing Invocation, included in my Free Invocation Masterclass.)
Jupiter Trine
Jupiter is a more upbeat planet, and its trine is more easy to work with. How well do you understand the meaning of your life? What areas of inquiry do you feel called to study more deeply? If you're called to share your wisdom with others, are you happy with how you're doing that?
Are you pleased with the amount of foreign travel you're doing, or the influences you're receiving from other cultures? And are you making enough time for joy and celebration in your life?
The Usual Advice
As with all Mercury retrogrades, if possible, delay major new beginnings until Mercury is direct again. If a major purchase or contract signing can be delayed without major negative consequences, do so. Double check any travel plans, and make sure you're understanding and being understood.
Finally, Mercury retrograde is an excellent time to complete things you've already started, get things repaired, and engage in reflection and introspection.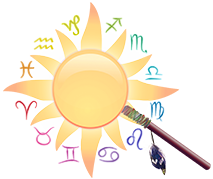 Deepen Your
Insight, Healing & Awakening
Your astrology chart reveals powerful insights into your relationships, career, soul purpose, and much more. Getting a yearly Astrology+ update can show you what's important now!
I also offer Shamanic Healing / IFS, one-of-a-kind Life Coaching, and more. All my services are equally effective in person or long distance.
9/29 & 9/30 (Wed & Thu)
Kite Peaks
The Mars-Ceres-Saturn-Chiron Kite that started on 9/16 peaks today (9/29) and ends on 10/10.
---
Inspired creativity is smoothly energized as Venus trines Neptune (21°22′ Scorpio-Pisces) on 9/29. This harmonious aspect can also ease connection with your higher self, empower sacred sex, and deepen your empathic connection with others.
These Venus-Neptune potentials are further amplified by a Venus-Jupiter square (22°49′ Scorpio-Aquarius) on 9/30. This square will also bring whatever relationship dynamics already exist into sharper focus.
With Venus in tell-it-like-it-is Scorpio, it will be easier to take an honest look at what's really going on! For help with relationship healing, I enthusiastically recommend Nonviolent Communication by Marshall Rosenberg.
This square also increases the potential for financial abundance. However, Venus' placement is Scorpio could indicate feast or famine, so exercise due diligence before making any investments. With Neptune in the game, I recommend using the Law of Attraction. This will make it easier for the universe to fulfill your desires!
Whatever your Sun Sign, my forecasts can help you make the best use of the current astrological energies.
All dates and times are in the U.S. eastern time zone. Events are most powerful on the dates listed, but their influence will be active for at least a week before and after.
Everyone is affected by these global transits. However, you'll be most powerfully impacted when moving planets activate sensitive points in your natal chart. Discover how these transits will personally affect you by booking a session with me.
Learn more about my Astrology+ sessions.
Recent Forecasts
Check back around the 1st and 16th for updated forecasts.