I'm posting this mini-forecast to cover the astrological events on 11/16 and 11/17, including Venus turning direct and Mercury turning retrograde. That's the best I can do at the moment, since I'm making final preparations for my 2019 forecast presentation on Friday, November 16 in Asheville, NC. I hope to have the rest of November's forecast online no later than 11/19.
Click astrology graphics to see larger images.
11/16 (Fri)
It's extraordinarily rare that two personal planets change directions on the same day. But it's happening today, as Venus turns direct this morning and Mercury turns retrograde tonight!
Venus Direct
Venus turned retrograde on 10/5 (10°50′ Scorpio). She backpedaled about 15 degrees, and is now turning direct again today (11/16) at 25°14′ Libra.
In my 10/5 forecast, I recommended reflection on certain topics while Venus was retrograde. Let's review those now, with an eye toward taking action on them at the appropriate time after Venus is direct.
A core opportunity of any planetary retrograde is to favor reflection over action. So Venus retrograde has been a better time to evaluate existing relationships than to start new ones. Rather than starting new creative projects, putting the finishing touches on existing ones. Instead of kicking off new financial investments, tweaking the ones you have. Since Venus rules money, it's best to postpone major purchases until she turns direct.
Signs
Let's take it a level deeper by adding signs. Venus backpedaled through Scorpio until 10/31. During that time, it was optimal to reflect on your intense passions, relationship renewal, the power of love, and the interplay of "beauty and the beast". Were you involved in obsessive attractions, jealousy, possessiveness, passive-aggressive behavior or an outsize love of power?
Venus completed her retrograde in Libra, a sign that she rules, 11/1 through 11/16.This was a great time to reflect on how love, friendship, harmony, pleasure, and beauty are gracing your life. On the low side, are you engaging in pretentious or shallow behavior? Are you indulging in vanity, conceit, self-indulgence or laziness?
Aspects
Venus was influenced by two significant aspects as she turned retrograde. A square with Aquarian Mars highlighted any relationship challenges that need to be addressed. Would it be best to structure relationship in a way that meets both of your unique needs and desires, rather than following convention? The square also opened the door for exciting new insights into your creative process.
A trine from Neptune offered an easy flow of divine energy and creative inspiration. Developing a deeper relationship with your higher self was smoothly supported.
Aspect Patterns as Venus Turns Direct
As Venus turns direct, she forms two aspect patterns. (See graphic above.) One is a Grand Cross with Uranus and the lunar nodes. What upgrades or paradigm shifts can you make to bring your relationships and creativity into better alignment with your life purpose? Is Uranus already sending you intuitive flashes about this?
Venus also forms the tip of a Yod with Juno and Chiron. What adjustments would promote healing in a committed partnership?
Venus retrogrades only come every 1.6 years, and only last about six weeks. Now that she's turning direct, it would normally be time to move ahead with action based on your reflections. And that's fine … as long as they're not better postponed due to Mercury turning retrograde! If so, it might be better to wait until Mercury is direct.
Another option is to squeeze in whatever action you want to initiate in the gap between the two events. If so, get busy — you have about 14-1/2 hours! :-)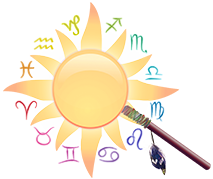 Deepen Your
Insight, Healing & Awakening
Your astrology chart reveals powerful insights into your relationships, career, soul purpose and much more. Getting a yearly Astrology+ update can show you what's important now!
I also offer Shamanic Healing / IFS, one-of-a-kind Life Coaching, and more. All my services are equally effective in person or long distance.
Mercury Retrograde
Mercury turns retrograde today (11/16) at 8:33 pm EST (13°29′ Sagittarius). The winged messenger will spend just over two weeks backpedaling through Sagittarius before continuing its retrograde in Scorpio on 12/1 at 6 AM EST. Mercury will turn direct five days later on 12/6 at 4:22 PM EST (27°16′ Scorpio).
Standard Cautions and Opportunities
For starters, the standard cautions apply. It's best to postpone major purchases and important new beginnings until Mercury is direct. Back up critical data, double check travel arrangements, and make sure that you're understanding and being understood.
The standard opportunities also beckon. This is an ideal time to reflect, contemplate and consider important matters. And it's great for getting things fixed and completing projects that were already started.
Signs
While Mercury is retrograde in Sagittarius, contemplate how your religious and philosophical beliefs are influencing your life for good or ill. Would it make your life more wonderful to delve into a particular field of study, or share your wisdom with others?
Would foreign travel, or involvement in something from outside your comfort zone, enrich your life? Is your life sufficiently adventurous? And are you making enough time to celebrate and do the things you're passionate about?
As Mercury retrogrades in Scorpio, contemplate how satisfied you are with your process of personal transformation. Are you voluntarily releasing the things that diminish your happiness and drain your vitality? Any interest in occult practices or sacred sex? Does anything need attention in the areas of taxes, insurance or inheritance?
Aspects
Mercury makes several hard aspects as it turns retrograde. (See graphic above.) A very tight square to Neptune warns against fuzzy thinking or being misled by others. A square to the Moon, which is conjunct Neptune in Pisces, cautions against clear thinking being overwhelmed by a sea of emotion. Positively, these squares support heart-aligned thought, and receiving a constant stream of intuitive guidance and inspiration.
A Mercury-Uranus sesquare (135°) could lead to scattered, chaotic thinking … or could show up as crystal-clear intuitive flashes from your higher self. Mercury's minor hard aspects to the lunar nodes encourage you to keep your thoughts in alignment with your higher purpose.
Finally, a semi-square to Venus, the other personal planet that just changed directions, suggests that some may disapprove of changes you make following your Mercury retrograde reflections. This is a rite of passage most of us must face when making meaningful life transformations. More happily, this Mercury-Venus semi-square supports harmonious communication, creative writing, and all other forms of creative expression.
11/17 (Sat)
Thor's Hammer Begins: Juno-Pallas-Saturn
Challenge could arise in committed partnership (Juno) under the influence of a Juno-Pallas-Saturn Thor's Hammer. This aspect pattern begins today (11/17), peaks on 11/25 and ends on 12/4.
As always, relationship challenge is an invitation to either take the relationship to the next level or let it go.This planetary trio supports clear strategy and sensitive negotiation (Pallas), implemented with maturity, discipline and wisdom (Saturn).
Bringing these qualities to relationship issues increases the odds for a win-win resolution. Also consider using the 4-part Nonviolent Communication Process, which has helped countless couples harmoniously resolve their differences.
Still to Come…
As noted above, I hope to have the rest of November's forecast online later than 11/19. Stay tuned!
Whatever your Sun Sign, my forecasts can help you make the best use of the current astrological energies.
All dates and times are in the U.S. eastern time zone. Events are most powerful on the dates listed, but their influence will be active for at least a week before and after.
Everyone is affected by these global transits. However, you'll be most powerfully impacted when moving planets activate sensitive points in your natal chart. Discover how these transits will personally affect you by booking a session with me.
Learn more about my Astrology+ sessions.
Recent Forecasts
Check back around the 1st and 16th for updated forecasts.