Valentine's Day is potently colored by contrasting aspects: Mars sesquare Pluto and Venus conjunct Neptune. The first half of February also features a Uranian Leo Full Moon, Venus square Mars, and a powerfully peaking T-Square!
This forecast covers this half-month's most important astrological events. Also check out my award-winning This Week in Astrology audio podcast and YouTube video forecasts!
Click astrology graphics to see larger images. 
As of February 1 …
The Moon is waxing (there was an Aquarian New Moon on 1/21).

There are no retrograde planets.

There's a Mars-Chiron-South Node Yod thru 2/5.
There's a Sun-Mars-Ceres-Jupiter Kite thru 2/3
Theres a Sun-Uranus-Lunar Nodes T-Square thru 2/6
---
As of January 29 at 8:13 pm EST…
#2 in New Age Mental & Spiritual Healing
#5 in Spiritual Growth Self-Help
Learn why Instant Divine Assistance: Your Complete Guide to Fast and Easy Spiritual Awakening, Healing, and More is such a hot title on Amazon, nearly four months after publication!
Ebook — only $3.99, and included with Kindle Unlimited.
Paperback — only $12.99
2/1 (Wed)
Peaking T-Square Fire Up Aquarius/Uranus Energy
Astrology's eleventh archetype, represented by Aquarius and Uranus, is fired up by a T-Square that started on 1/19, peaks today (2/1), and ends on 2/6. It includes the Aquarian Sun, Uranus, and the Lunar Nodes.
To make optimal use of the Aquarius/Uranus archetype, internally accept what's unique about you and share it with the world to the greatest extent that serves highest good. Follow your intuitive hits, which are the most accurate guidance a human can get. And serve others using your special talents that you most love to use!
With the Lunar Nodes in the mix, do all this in whatever way best aligns with your life purpose.
Aquarius/Uranus energy can feel jangly and crazy-making when it doesn't get enough high-side expression. If you're feeling its chaotic side, focus on those high-side expressions and give it something better to do!
2/4 (Sat)
Venus Square Mars
Relationships, creativity, and finances are energized by a Venus-Mars square (11°14′ Pisces-Gemini). Venus in Pisces could help you manifest the relationship of your dreams – as long as you don't get snared in gaslighting or delusions. This relationship could be with a physical being, or with your own divine self.
Since Pisces represents inspired creativity, this square is also a powerful artistic energizer. With Mars in Gemini, creative writing and speaking is especially supported.
Regarding money, dream big but also scrutinize any opportunities with due diligence. Is it time to try a different approach to financial manifestation?
Awaken, Heal, and Thrive!
Kick your personal evolution into high gear! Awakening Plus offers you online spiritual and shamanic experiences … 500+ consciousness-shifting recordings … and life-transforming courses. This extraordinary membership also gives you community connection and personal support.
Ready to awaken, heal, and thrive like never before? Click to learn more!
2/5 (Sun)
Uranian Leo Full Moon
A Full Moon lights up the sky at 1:29 pm EST (16°40′ Leo). Any Leo Full Moon is great for release or adjustment in your roles as a leader or entertainer. You can also transform how you work with children or your inner child, as well as your creativity, rest, and relaxation.
Aspects
The Sun and Moon form a tight T-Square with Uranus. This invites major shake-ups to any part of your status quo, even sudden or radical ones, especially if they're supported by intuitive hits! The Leo themes I just mentioned are hot prospects for change.
This T-Square invites you to entertain or lead as your authentic self, and to trust your inner wisdom as you do. Are you already serving others with your special talents that you most love to use? if not, how can you increase that?
This Full Moon also trines Chiron and Juno, which are tightly conjunct. Which of your committed partnerships are most in need of relationship healing? If you don't know how to accomplish this, consider Marshall Rosenberg's globally proven Nonviolent Communication method. The trines could make this process more easy and harmonious than you anticipated!
These trines could also support you assisting others with relationship healing, or vice versa.
The #1 Astrology Software for Windows — at an Unbeatable Price!
SOLAR FIRE 9 is the world's leading astrology software for Windows. Earlier versions brought an unprecedented level of ease to casting and working with astrological charts. The current version adds many more calculations, extra convenience features, more interpretive text, and exciting new graphic displays.
SOLAR FIRE 9 contains something for everyone!
For advanced astrologers and professionals, it has a great variety of high-precision astrological calculations and an exceptional degree of user-customization.
For novices, its innovative point-and-click chart interpretations provide an enjoyable way to learn. Many easily explored options will encourage you to experiment with new techniques.
No one sells Solar Fire for less than AstroShaman.
Click here to learn how Solar Fire can supercharge your astrology!
2/6 (Mon) & 2/7 (Tue)
Learning, writing, and communication are brilliantly and harmoniously supported by two friendly aspects: a Mercury-Neptune sextile on 2/6 (23°46′ Capricorn-Pisces) and a Mercury-Jupiter quintile on 2/7 (25°25′ Capricorn-7°25′ Aries). Mercury's placement in Capricorn can help make your mental work especially productive!
2/8 (Wed)
The Chiron-Juno conjunction I mentioned in my 2/5 Full Moon forecast is exact today at 12°54′ Aries. Please see that forecast for tips on working with this potent aspect.
2/14 (Tue) & 2/15 (Wed)
Valentine's Day Aspects
Two aspects, roughly eight hours apart, strongly color the energy of Valentine's Day. Don't overthink their exact timing, since both have a strong influence all day February 14.
Mars Sesquare Pluto
Even a minor hard aspect can create a stir when powerful planets are involved. That's why this 135° Mars-Pluto sesquare merits your attention.
With this potentially volatile aspect falling late on Valentine's Day (11:10 pm EST), be especially mindful of how you interact with your sweetheart. If this sesquare isn't handled consciously, it could result in sudden or intense conflict. But it could heat up your erotic passion if used skillfully! With Mars in Gemini, consider spicing up your loveplay with some variety.
This sesquare can also supercharge all things Gemini, including learning, writing, and every kind of communication.
Venus Conjunct Neptune
A Venus-Neptune conjunction is exact on 2/15 at 7:25 am EST. But, as noted above, its influence will be plenty strong on Valentine's Day!
And a good thing too, since this aspect is ideal for energetic blending. Venus rules relationships, while Neptune loves to dissolve boundaries. With this aspect, you could merge with your beloved so completely that you feel like one soul in two bodies! These planets' placement in Pisces, whose energy is identical to Neptune's, enhances this effect even more.
However, this aspect can also make you dangerously gullible. This is an awesome energy for gazing endlessly into your lover's eyes, but might not be the best time to make a serious or binding commitment.
This Venus-Neptune conjunction is also wonderful for downloading inspired creativity and doing spiritual awakening practices.
Your Weekly Good-Vibes Consciousness Boost
Learn fast and easy tools for awakening, healing, and more, gain wisdom from enlightening guests, and enjoy mind-bending ayahuasca stories. New episode every Tuesday.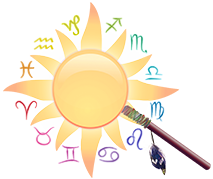 Deepen Your
Insight, Healing & Awakening
Your astrology chart reveals powerful insights into your relationships, career, soul purpose, and much more. Getting a yearly Astrology+ update can show you what's important now!
I also offer Shamanic Healing / IFS, one-of-a-kind Life Coaching, and more. All my services are equally effective in person or long distance.
Whatever your Sun Sign, my forecasts can help you make the best use of the current astrological energies.
All dates and times are in the U.S. eastern time zone. Events are most powerful on the dates listed, but their influence will be active for at least a week before and after.
Everyone is affected by these global transits. However, you'll be most powerfully impacted when moving planets activate sensitive points in your natal chart. Discover how these transits will personally affect you by booking a session with me.
Learn more about my Astrology+ sessions.
Recent Forecasts
Check back around the 1st and 16th for updated forecasts.