Pluto turns retrograde in the second half of April, inviting you to contemplate profound themes like death and rebirth. We also have an intense Taurus New Moon with hard aspects to all the outer and social planets. Handle with care!
This forecast covers the most important astrological events. Would you like my interpretations of other astrological events in this time frame? Then check out my award-winning This Week in Astrology audio podcast and my YouTube video forecasts.
Click astrology graphics to see larger images. Some resource links may occur more than once. This is because many people link to a specific day's forecast from social media, and might not see an important resource link elsewhere on this page.
4/19 (Sun)
The Sun enters Taurus at 10:45 AM EDT. For the next month, the energies of money, material resources and security are emphasized. Persistence and consistency are easier, but be careful that this doesn't shade into blind stubbornness!
Taurus rules the five senses – sight, sound, smell, taste and touch – so it's a great time to indulge them. Taurus also rules the natural world, and remind us that we don't always have to be a "human doing". We can stop once in a while and just be a "human being".
4/22 (Wed)
Taurus New Moon
What do you call a New Moon that makes hard aspects to all the outer and social planets? This one. Handle with care!
This New Moon lines up today (4/22) at 10:26 PM EDT (3°24′ Taurus). It's a great time for new beginnings or additional emphasis in all Taurus themes, which I just detailed in my 4/19 forecast for the Sun entering Taurus.
Aspects
This is one of the most intensely aspected lunations of 2020. The Sun and Moon conjoin Uranus, square Jupiter, Saturn, Pluto and Pallas Athena, and semi-square Neptune. Wow!
Uranus
Let's start with Uranus, which is exactly 3° from the luminaries and also in Taurus. It's easy to imagine radical Uranus and conservative Taurus pulling in different directions. But you can always find a way to make contrasting astrological energies play well together.
One life-enhancing Uranus/Taurus possibility is to let Uranus set something new in motion with an intuitive flash, then make it a habit with Taurus' love of repetition. You could try a bold, experimental approach in Taurean areas such as money and resources. For inspiration, listen to John Lennon's classic song "Imagine", or read Charles Eisenstein's revelatory book Sacred Economics.
You could try a different approach to experiencing nature. When was the last time you tuned into the living energetic field of the natural world, instead of only perceiving it physically? Why not give your physical senses some fresh stimulation by listening to some music you've never heard before, or trying a new recipe?
Or you could keep it simple and just work with the straight-up energy of Uranus itself. It has three basic life-affirming expressions. First, embrace your authentic human self, quirks and all. Second, follow your intuitive flashes, which come direct from the higher self that created you. And third, serve others using your special talents that you most love to use.
Jupiter, Saturn and Pluto
The Sun and Moon also square Jupiter, Saturn and Pluto. This is the badass trio who brought us the coronavirus!
In a nutshell, hard aspects between Saturn and Pluto routinely coincide with the most challenging times in human history. Old structures and ways of life that have outlived their usefulness are destroyed or transformed. And Jupiter amplifies this intensity even more!
But this isn't just an ending. It's a death and rebirth process. New structures and ways of being whose time has come always rise from the ashes … although it may take a while. Mahatma Gandhi famously said that we must be the change we wish to see in the world. What new structures does it serve highest good for you to create now?
We'll get through this intensity with the greatest skill and ease if we're willing and able to face our shadow material, individually and collectively. The darkness of the past must be faced and transmuted before we can fully embody the amazing new reality we're moving into.
This is only a superficial summary of the most important potentials of the Jupiter-Saturn-Pluto Triple Conjunction. For a deep dive into the high and low potentials of their combined energies, see my 4/4 interpretation of the Jupiter-Pluto conjunction. (I also weave Saturn into that interpretation.)
This New Moon interpretation continues after this message.
Awaken, Heal, and Thrive!
Kick your personal evolution into high gear! Awakening Plus offers you online spiritual and shamanic experiences … 500+ consciousness-shifting recordings … and life-transforming courses. This extraordinary membership also gives you community connection and personal support.
Ready to awaken, heal, and thrive like never before? Click to learn more!
Pallas Athena
The Sun and Moon are also square Pallas Athena, who's embedded with Jupiter, Saturn and Pluto. The warrior goddess can fight like a demon if she has to. But she prefers the subtler arts of strategy, negotiation and diplomacy. Pallas can help amplify your abilities in these areas as you craft and implement your New Moon goals … and persuade others to partner with you to accomplish them!
Neptune
This Taurus New Moon's final significant aspect is a semi-square to Neptune. Since this is a minor hard aspect, be careful not to fall into Neptune's lower expressions. These include substance abuse, aimless drifting, excessive escapism and playing the victim in a relationship.
Instead, cultivate Neptune's high potentials. These include spiritual awakening, inspired creativity, dream work and living in flow state. Neptune connecting to Taurus also supports embodied awakening and Law of Attraction manifestation.
Sabian Symbol
This New Moon's Sabian Symbol is, "The pot of gold at the end of the rainbow." Because of the coronavirus pandemic and its global effects, things are extraordinarily challenging right now. But this image reminds us that a great reward awaits us if we handle the situation skillfully. The greater the challenge, the greater the reward once it's mastered!
The #1 Astrology Software for Windows — at an Unbeatable Price!
SOLAR FIRE 9 is the world's leading astrology software for Windows. Earlier versions brought an unprecedented level of ease to casting and working with astrological charts. The current version adds many more calculations, extra convenience features, more interpretive text, and exciting new graphic displays.
SOLAR FIRE 9 contains something for everyone!
For advanced astrologers and professionals, it has a great variety of high-precision astrological calculations and an exceptional degree of user-customization.
For novices, its innovative point-and-click chart interpretations provide an enjoyable way to learn. Many easily explored options will encourage you to experiment with new techniques.
No one sells Solar Fire for less than AstroShaman.
Click here to learn how Solar Fire can supercharge your astrology!
4/25 (Sat)
Pluto Retrograde
Pluto turns retrograde today at 2:54 PM (24°59′ Capricorn). He'll turn direct again on 10/4 at 22°29′ Capricorn.
Planetary retrogrades are great for planning and reflection. But outer planet retrogrades last around five months. That's way too long to stop doing everything associated with a planet! Still, we can take the days around a slower planet turning retrograde for appropriate contemplation.
Death and Rebirth
One of Pluto's main themes is death and rebirth. It's like the phoenix burning to ash, then resurrecting out of the flames. It's like the snake shedding its skin. It's like the caterpillar melting down to goo in its chrysalis, then emerging as a gorgeous butterfly.
What's dying in your life right now? For many of us, aspects of our lives will be permanently transformed by the coronavirus crisis. If you're staying at home with extra time on your hands, take some time for reflection. Have you been engaged in a job, relationship or other commitment that doesn't feed your soul? This is an ideal time to imagine a new and better reality – one you can stride into with excitement and enthusiasm!
Shadow Work
Pluto also rules shadow work: embracing and working consciously with the disturbing parts of your psyche. What attitudes, habits and emotional wounds are blocking your happiness and stopping the fulfillment of your dreams?
Some people are afraid that it will take a lot of energy to do psychological self-work. But it actually takes a lot more energy, over a much longer period of time, to keep pushing your shadow material back into the depths. And the greatest amount of suffering often comes not from the emotional wound itself … but from the huge amount of effort it takes to keep sweeping it under the rug! (Many have found my free Healing Invocation effective for shadow work.)
This Pluto Retrograde interpretation continues after this message.
Make that amazing life you've been dreaming about real!
My unique combination of modalities, refined through more than 10,000 AstroShaman client sessions, can help you thrive in all areas of your life. And my unusual approach could help you do this faster than you might have thought possible.
Wealth and Power
Pluto also represents wealth and power. We often associate wealth with money. But wealth is actually anything that you value, tangible or intangible.
Pluto retrograde is a great time to clarify how you define wealth. Is it money? Time to pursue your passions? Deepening a relationship? Holding a certain state of consciousness? Play time with your child?
Regarding power, there are two basic types. "Power over" involves domination and control. "Power with" involve sharing power freely with others, and is easiest when you've tapped into the unlimited wellspring of your own divine power.
Impact on your natal chart
A planet's potency is extra-strong as it changes directions. As Pluto stations retrograde near 25° Capricorn, it will beam its energy strongly to all natal points between 22° and 28° in a cardinal sign. The cardinal signs are Aries, Cancer, Libra and Capricorn.
Transiting planets work first and foremost for your higher self. Are the areas of your life represented by the natal points in this range aligned with your soul purpose? If so, Pluto will shower them with wealth and power so you can take them to the next level! If not, he'll bring challenge so that you can transform or release that area of life. (Or he may take matters into his own hands.)
You can learn more about the areas in your chart being lit up by Pluto retrograde by doing an Astrology+ session with me.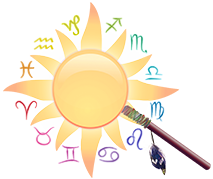 Deepen Your
Insight, Healing & Awakening
Your astrology chart reveals powerful insights into your relationships, career, soul purpose, and much more. Getting a yearly Astrology+ update can show you what's important now!
I also offer Shamanic Healing / IFS, one-of-a-kind Life Coaching, and more. All my services are equally effective in person or long distance.
Whatever your Sun Sign, my forecasts can help you make the best use of the current astrological energies.
All dates and times are in the U.S. eastern time zone. Events are most powerful on the dates listed, but their influence will be active for at least a week before and after.
Everyone is affected by these global transits. However, you'll be most powerfully impacted when moving planets activate sensitive points in your natal chart. Discover how these transits will personally affect you by booking a session with me.
Learn more about my Astrology+ sessions.
Recent Forecasts
Check back around the 1st and 16th for updated forecasts.