Jupiter turns direct and Uranus turns retrograde in the first half of August. We also have an Aquarius Full Moon loaded with relationship aspects, the Sun and Venus aspecting almost every slow planet in the sky, and two new aspect patterns!
Click astrology graphics to see larger images. Some resource links occur more than once. This is because many people link to a specific day's forecast from social media and might not see an important resource link elsewhere on this page.
8/1 (Thu)
Sage advice can be given harmoniously, and even with a touch of drama, as Leonine Venus trines Chiron (5°42′ Leo-Aries). Insights into relationship, creativity and finance are especially supported.
8/2 (Fri)
Intuitive flashes can pop in more frequently with Venus square Uranus (6°34′ Leo-Taurus). These sudden insights might focus on relationship, money, and creativity, as well as leadership and entertainment.
8/4 (Sun)
Pluto doubles down on an adjustment aspects today. The lord of the underworld first makes a Mars-Pluto quincunx, then follows up with a Juno-Pluto quincunx. The coordinates of both aspects are 21°23′ Leo-Capricorn.
The Mars-Pluto quincunx empowers adjustments in your role as a leader, pioneer, entrepreneur or sexual being. The Juno-Pluto quincunx energizes transformation in committed partnership.
If something in one of these areas is out of highest good alignment, Pluto will catalyze challenge to bring it to your attention. If something's already firing on all cylinders, Pluto can help you take it to the next level of wonderful!
8/7 (Wed)
Have you stepped out as a leader or entertainer? If so, you can enjoy balanced growth from two aspects: a Sun-Jupiter trine (14°31′ Leo-Sagittarius) and a Sun-Saturn quincunx (15°12′ Leo-Capricorn).
The Sun's harmonious aspect to Jupiter offers luck, expansion and joy. Saturn provides appropriate restraint and boundaries, and encourages adjustment where needed.
8/8 (Thu)
The two luckiest planets in ancient astrology make a harmonious aspect today. Venus (the Lesser Benefic) trines Jupiter (the Greater Benefic) at 14°30′ Leo-Sagittarius).
This aspect provides an easier flow of good fortune. It also provides smooth support for creativity, especially the performing arts. This trine can also add a sunny sparkle to your relationships!
8/9 (Fri)
Thor's Hammer Begins
Learning and communication are amped up by a Mercury-Jupiter-Neptune Thor's Hammer. It starts today (8/9), peaks on 8/12 and ends on 8/15.
With Mercury transitioning from Cancer to Leo during this aspect pattern, the information you share can be heartfelt and entertaining. Sagittarian Jupiter allows you to share meaningful wisdom. Finally, Piscean Neptune enhances your divine inspiration, and helps you operate in flow state.
---
Look for helpful adjustments in your relationships, creativity and finances as Venus quincunxes Saturn (15°7′ Leo-Capricorn).
Make that amazing life you've been dreaming about real!
My unique combination of modalities, refined through more than 10,000 AstroShaman client sessions, can help you thrive in all areas of your life. And my unusual approach could help you do this faster than you might have thought possible.
8/10 (Sat)
Yod Begins
Creativity, especially the performing arts, gets special support from a "Finger of God" that starts today. The Sun and Venus are at the tip in Leo, while inspiring Neptune and powerful Pluto hold down the back end.
This aspect pattern, formally known as a Yod, encourages helpful adjustments. While creativity gets the most obvious boost from this aspect pattern, it also supports helpful transformation in relationships, finances, and leadership. It starts today (8/10), peaks on 8/12 and ends on 8/15.
---
A Sun-Neptune quincunx (18°5′ Leo-Pisces), is part of the Yod that starts today. In addition to the meaning it contributes to the Yod, this quincunx also encourages adjustments to support spiritual awakening.
8/11 (Sun)
Two Planets Change Direction
Two slower planets station (change direction) today: Jupiter and Uranus. We'll start with Jupiter.
Jupiter turns direct today (8/11) at 9:37 am (14°30′ Sagittarius). It turned retrograde four months ago on 4/10 at 24°21′ Sagittarius.
As I said in my 4/10 forecast, Jupiter retrograde is a great time to reflect on religion, philosophy and the meaning of life. Are you satisfied with your current quest in life, or would it serve you to embark on a new one? Are you soaking in life-enhancing wisdom, or sharing your helpful insights with others?
Do you feel called to explore foreign lands, or enrich your life with the wisdom of other cultures? And are you making enough time for joy and celebration in your life?
What insights did you gain on these topics while Jupiter was retrograde? Now that he's direct, where would it serve you to start taking action?
Uranus Retrograde
Uranus turns retrograde today (8/11) at 10:27 PM EDT. He backpedals for five months starting at 6°36′ Taurus, then turns direct again on 1/10 at 2°38′ Taurus.
Planets are especially powerful when they station (change directions). As Uranus turns retrograde, take note of any sensitive points in your natal chart between 3° and 10° in the fixed signs: Taurus, Leo, Scorpio and Aquarius. These will be powerfully affected by this retrograde.
Affected how? Like all transiting planets, Uranus works first and foremost for your higher self. If it finds something that aligns with your soul purpose, it can give it a quantum leap to the next level of wonderful! If something's out of alignment, then Uranus may inject some chaos and craziness … not to be cruel, but to show what you'd be wise to paradigm-shift or release.
Uranus retrograde is also an excellent time to reflect on this quirky planet's highest expressions. Have you embraced what's unique about yourself … and are you showing that to the world to the greatest extent that serves highest good? Are you following your intuitive flashes – those "text messages from God" that are actually your most infallible guidance? And are you serving others using your special talents that you most love to use?
The more you follow these life-affirming Uranus strategies, the more wonderful your experience of this outside-the-box planet will be!
---
You can channel in extra creative inspiration with Venus quincunx Neptune (18°4′ Leo-Pisces). All that's needed is an adjustment – which could simply be you setting aside time to hang out with your muse!
With Venus in Leo, the performing arts get special emphasis. This aspect can also support blending with those you love, and intuitive guidance on financial matters. This aspect could also lead to gullibility, so give any important matters due diligence before making a commitment.
The #1 Astrology Software for Windows — at an Unbeatable Price!
SOLAR FIRE 9 is the world's leading astrology software for Windows. Earlier versions brought an unprecedented level of ease to casting and working with astrological charts. The current version adds many more calculations, extra convenience features, more interpretive text, and exciting new graphic displays.
SOLAR FIRE 9 contains something for everyone!
For advanced astrologers and professionals, it has a great variety of high-precision astrological calculations and an exceptional degree of user-customization.
For novices, its innovative point-and-click chart interpretations provide an enjoyable way to learn. Many easily explored options will encourage you to experiment with new techniques.
No one sells Solar Fire for less than AstroShaman.
Click here to learn how Solar Fire can supercharge your astrology!
8/12 (Mon)
Two Aspect Patterns Peak
Both aspect patterns that started earlier this month peak today (8/12). The Mercury-Jupiter-Neptune Thor's Hammer started on 8/9, and the Sun-Venus-Neptune-Pluto Yod started on 8/10. Both aspect patterns wrap up on 8/15
8/14 (Wed)
It only takes six minutes for today's three interwoven aspects to line up. We start with a Sun-Venus conjunction at 2:07 AM EDT (21°11′ Leo). Like several other August aspects, this supports you in the performing arts and other creative expressions.
This conjunction can also put your important relationships in the spotlight. Is either of you operating from lower Leo? This feels a gaping hole within itself, and seeks attention in a vain attempt to fill it. Or are you experiencing higher Leo – awake enough to be saturated with your own divine source, and only seeking the spotlight to bless others with your overflow?
Today's other two aspects fire off within nine seconds of each other! A Venus-Pluto quincunx lines up at 2:07:45 am EDT, while a Sun-Pluto quincunx clocks in at 2:07:54.
These quincunxes can catalyze potent transformation in you, your creativity and your relationships. Pluto can also pour down wealth (anything you value) and power.
Observe the power dynamics in your key relationships. Is there a lot of domination, control and manipulation – self-serving "power over" strategies? Or are you standing comfortably in your own power and helping your partner step more fully into theirs — the loving "power with" approach?
8/15 (Thu)
Aquarius Full Moon
Freak flags are freely flying during the August Full Moon at 8:29 AM EDT (22°24′ Aquarius).
Any Aquarius Full Moon is great for any release or adjustment that supports your authentic individual expression. This lunation also encourages modifications that can help you receive and act on your intuitive flashes. What change would help you serve others using the special talents you most love to use?
These are the main life-affirming attributes of Aquarius. But if not sufficiently expressed, all that Aquarius energy may have nowhere left to go but its low side: challenging stimulation of your nervous system. Are you feeling jittery, jangly, agitated, nervous or crazy? Then give this Aquarius Full Moon something better to do by cultivating the high side expressions above.
Aspects
T-square
This Full Moon's aspects are dominated by a powerful T-square. The Moon and Vesta each occupy their own corner. But the Sun is part of a quadruple Stellium in Leo that also includes Venus, Juno and Mars.
These last three planets make relationship a major theme of this Full Moon. Venus naturally represents relationship, and Mars is her masculine counterpart. And the asteroid goddess Juno represents committed partnership.
What adjustment or release would be appropriate in your key relationships? Is it time to evict a certain person from your life completely? Or would it be enough to minimize contact?
Is there a chance that the relationship can be healed? If so, consider using the 4-Part Nonviolent Communication Process with each other, and my free Healing Invocation to heal the pain within yourself.
Adjustment can also be joyous. If a relationship serves highest good and is doing well, you can introduce helpful changes to make it even better!
All these Leo planets also supports leadership and performing, as well as playfulness, appropriate risk and chill time. Are there adjustments that would serve you in these areas?
Adding Vesta leads us to an interpretation that incorporates every planet in the T-square. Here goes: you can use the power of your relationships (Venus), including committed partnership (Juno), as well as your creativity (Venus), to make appropriate adjustments (Full Moon). These can help you express yourself more authentically (Aquarius) in service to a higher cause (Vesta).
Other Aspects
The Full Moon also makes two standalone aspects. A semi-square to Chiron could bring up some shadow work, even as it supports your work as a healer or mentor. And a trine to Pallas Athena can smooth the way for negotiation, strategy and feminine assertiveness.
Sabian Symbol
This Full Moon's Sabian Symbol is, "A big trained bear sitting down and waving all its paws."
At first, this may look like innocent fun. But there are darker undertones. What if the bear gets no pleasure from waving its paws, but only does so because of coercive training? What if it gets punished if it doesn't perform its tricks well enough?
As noted above, this Full Moon has a strong relationship theme. Like this trained bear, are there areas in your life where you put on a contrived act designed to please someone else? All of the bear's paws are in the air. Has your people-pleasing behavior compromised your grounding?
If you're going to perform tricks, can you do them because you really want to, and in a spirit of genuine playfulness … so that everyone's having fun?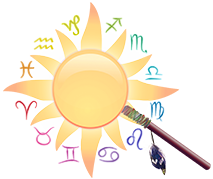 Deepen Your
Insight, Healing & Awakening
Your astrology chart reveals powerful insights into your relationships, career, soul purpose, and much more. Getting a yearly Astrology+ update can show you what's important now!
I also offer Shamanic Healing / IFS, one-of-a-kind Life Coaching, and more. All my services are equally effective in person or long distance.
Mentoring is smoothly supported by a Mercury-Chiron trine (5°20′ Leo-Aries). With Mercury in Leo, mentoring for public speaking, acting and other dramatic communication gets special support.
---
Whatever your Sun Sign, my forecasts can help you make the best use of the current astrological energies.
All dates and times are in the U.S. eastern time zone. Events are most powerful on the dates listed, but their influence will be active for at least a week before and after.
Everyone is affected by these global transits. However, you'll be most powerfully impacted when moving planets activate sensitive points in your natal chart. Discover how these transits will personally affect you by booking a session with me.
Learn more about my Astrology+ sessions.
Recent Forecasts
Check back around the 1st and 16th for updated forecasts.