Neptune is the undisputed star of this forecast. A Jupiter-Neptune square and a Saturn-Neptune sextile – two of 2019's most important aspects — are exact in the second half of June. As if that wasn't enough, Neptune also turns retrograde!
But that isn't all. We also have a potent Summer Solstice Chart, a Sagittarius Full Moon, Mercury and Mars teaming up to oppose Pluto, and more. Learn how to harness all this astrological power for your highest good!
Click astrology graphics to see larger images. Some resource links occur more than once. This is because many people link to a specific day's forecast from social media, and might not see an important resource link elsewhere on this page.
6/16 (Sun)
T-square Begins: Venus-Jupiter-Neptune
Want to supercharge your inspired creativity? Make more money? Enjoy deeper soul connection in a relationship?
All this and more is dynamically energized, thanks to a T-square featuring Venus, Jupiter and Neptune. It starts today (6/16), peaks on 6/24 and ends on 7/1.
Hard aspect patterns such as a T-square can also bring challenge. While financial opportunity is possible, so are financial scams. (Neptune's lower manifestations include illusion and deception.) Be sure to exercise due diligence in all financial matters.
Neptune's fog can also affect relationships. Even if you're enjoying an ecstatic connection with someone, think twice before moving to a deeper level of commitment.
Back to the high side! With Venus in Gemini, channeling, creative writing and flowing communication are also pumped up. This T-square can also help you deepen your connection with your higher self.
Jupiter Square Neptune
Jupiter's square with Neptune is one of the most important aspects of 2019. It's exact three times this year – 1/13, today (6/16) and 9/21. This aspect will remain in orb (close enough to have an influence) until 11/13.
This Jupiter-Neptune square is so important that it deserves a deep dive into its potentials!
Positive Expressions
religious mysticism
mystical education / spiritual teachers
amplified creative inspiration
higher education in creative expression
spirituality from other cultures
inspired creativity from other cultures
grand idealism and visionary optimism
blissful states of cosmic unity
heightened intuition
exalted dreams
forgiveness, tolerance, altruism and generosity
unconditional love and compassion
Challenging Expressions
amplified addiction
excessive escapism
muddled philosophical or religious understanding
aimless wandering
rose-colored over-optimism
excessive religious trappings and ceremony
excessive generosity
unwise financial speculation
If you're experiencing any of these challenging expressions, focus your intention and actions on the positive expressions instead. It'll give the Jupiter-Neptune square something better to do!
(Special thanks to Renn Butler's The Archetypal Universe: Astrological Patterns in Human Culture, Thought, Emotion and Dreams. I use this wonderful book for new ways to interpret planetary combinations, and – with the author's blessing – incorporate them into my forecasts when appropriate.)
The #1 Astrology Software for Windows — at an Unbeatable Price!
SOLAR FIRE 9 is the world's leading astrology software for Windows. Earlier versions brought an unprecedented level of ease to casting and working with astrological charts. The current version adds many more calculations, extra convenience features, more interpretive text, and exciting new graphic displays.
SOLAR FIRE 9 contains something for everyone!
For advanced astrologers and professionals, it has a great variety of high-precision astrological calculations and an exceptional degree of user-customization.
For novices, its innovative point-and-click chart interpretations provide an enjoyable way to learn. Many easily explored options will encourage you to experiment with new techniques.
No one sells Solar Fire for less than AstroShaman.
Click here to learn how Solar Fire can supercharge your astrology!
It's an amazing day for all things mental as Mercury aspects three slower planets! First up is a Mercury-Neptune trine (18°43′ Cancer-Pisces), followed by a Mercury-Jupiter quincunx (18°44′ Cancer-Sagittarius). A Mercury-Saturn opposition (18°50′ Cancer-Capricorn) bats cleanup.
The Neptune trine provides an easy flow of creative inspiration. The Jupiter quincunx energizes thought and helps you make mental adjustments. Finally, the Saturn opposition can help your words be organized and concise.
A possible challenge could be excessive verbosity or righteousness (Jupiter). And the Saturn opposition could inhibit your freedom to think or express yourself – until you fully step into your Saturnian authority!
6/17 (Mon)
Sagittarius Full Moon
A Full Moon illuminates the sky at 4:31 AM EDT (25°53′ Sagittarius). Any Sagittarius Full Moon is great for release and adjustment in many areas, including:
joy, celebration and enthusiasm
higher education
learning or sharing wisdom (professor, philosopher, guru)
foreign travel
publication
practices and philosophies from foreign cultures
religion, philosophy and the meaning of life
It's fitting that the most expansive zodiacal sign has so many meanings!
Notice if you're embodying a more challenging Sagittarian aspect. This could involve having too many irons in the fire, or believing with unshakable conviction that you have the one true way. (I call this "street corner preacher syndrome." These are excellent things to release or adjust!
Aspects
This Full Moon has three aspects, all of them rather loose. A Jupiter-Moon conjunction is easy enough to interpret, since Jupiter has the same keywords as Sagittarius! This simply doubles down on all the Sagittarian themes above.
This Full Moon also contains a T-square. It's on its last legs, with only two days remaining, but the Moon's energy perks it up a bit. Your mind could become fascinated by religion, spirituality and the meaning of life because of this T-square, which features the Geminian Sun, Jupiter and Neptune.
Learning or communicating could be supercharged by this aspect pattern. And a healthy flow of intuition can complement your mental activity. There's also plenty of divinely inspired creativity, especially toward mental outlets like writing.
The final aspect is a Moon-Juno quincunx. What adjustments can you make to make a committed partnership more wonderful?
Sabian Symbol
This Full Moon's Sabian Symbol is, "A flag bearer in a battle." This symbolizes proudly proclaiming your beliefs in the face of adversity.
I already cautioned you about "street corner preacher syndrome." This involves aggressively confronting others and trying to bully them into your beliefs. But a flag bearer doesn't have to get up in someone's face. It might involve wearing clothing that feels authentic, or behaving in a way that expresses your true self.
This can take a lot of courage, since a flag bearer could get shot! But history has shown that it takes a critical mass of flag bearers to shift the culture. From "uppity" American women clamoring for the vote in the early 1900s to the millions who publicly identify as LGBT+, flag bearers who embrace their authentic selves have repeatedly changed the world.
Is there a flag that's yours to bear?
Make that amazing life you've been dreaming about real!
My unique combination of modalities, refined through more than 10,000 AstroShaman client sessions, can help you thrive in all areas of your life. And my unusual approach could help you do this faster than you might have thought possible.
6/18 (Tue)
Saturn Sextile Neptune
One of 2019's most important aspects makes its second exact alignment today (6/18). This Saturn-Neptune sextile was first exact on 1/31, and will perfect again on 11/8. It's in orb (close enough to have a meaningful influence) for almost 15 months, 11/10/2018 through 2/1/2020!
Because this aspect is so important, it merits an in-depth look at the numerous ways it can express.
High Side
conscious dissolution
humble, grounded spirituality
disciplined spiritual practice
mature detachment
practical, focused compassion
concrete service to those less fortunate
putting your ideals into practice
tranquil solitude, sacred silence, and hard-earned peace
spiritual mentors
Low Side
demoralizing doubt and uncertainty
disillusionment and melancholy
withered dreams and challenged faith
unclear boundaries
craving drugs or alcohol to blur painful emotions and simulate states of mystical union
If you're experiencing any of these low manifestations, focus your energy on the high side potentials instead. It will give the Saturn-Neptune sextile something better to do! If this shift in focus isn't enough, seek whatever outside help you need.
Double Thor's Hammer Begins
Committed partnerships are the primary focus of a Double Thor's Hammer that starts today (6/18). It features Juno, Jupiter, Uranus and Neptune. It peaks on 6/24 and ends on 7/4. Each of the three slower planets in this hard aspect pattern stimulates committed partnership in its own special way.
Uranus could throw some chaos into the mix to show you where your relationship isn't serving the highest good for both of you. He might also hit you up with some intuitive flashes to help you get on track!
Neptune also serves up intuition, but it feels more like a waterfall than Uranus' unexpected lightning strikes. Neptune will support whatever flow you two already have, helping you be blissfully connected and "in the zone." But if you're experiencing foggy thinking, lack of motivation or the desire to escape, Neptune is showing you that something about the relationship needs attention.
Jupiter can bring hope, joy and enthusiasm. But his main job is to exaggerate the energies that are already there so you can't possibly miss them!
Even the most wonderful relationship can improve. How can you use this intense aspect pattern to uplevel a committed partnership​?
---
Your communication can move people's hearts and stir them to action with Mercury and Mars conjunct in Cancer (21°31′ Cancer). Just be careful not to let volatile emotions spark angry outbursts!
6/19 (Wed)
Yod Begins
Intuitively inspired, heart-aligned service to a higher cause could result in a wonderful harvest thanks to a Yod that begins today (6/19). This "Finger of God" includes the Sun, Ceres, Vesta and Uranus. It peaks on 6/22 and ends on 6/28. Another possibility is that an emotional shock could catalyze challenging emotions. If you could use a field-tested shadow work tool, try my free Healing Invocation.
Mercury and Mars both oppose Pluto today! With both personal planets in Cancer, this is a great opportunity to take powerful action that aligns with both head and heart. These aspects can help you feel what your inner guidance is calling for, think it through, and take potent, decisive action!
This is a powerful alignment, and is best handled carefully. If not, emotion could overwhelm thought, possibly leading to angry words or violence. Steer clear of dangerous people and situations as much as possible.
Coordinates: Mercury opposing Pluto (22°28′ Cancer-Capricorn), Mars opposing Pluto (22°27′ Cancer-Capricorn).
6/21 (Fri)
Summer Solstice / Sun Enters Cancer
The Sun enters Cancer at 11:54 AM EDT. The energies of home, family, security and emotion will be strong for the next month.
Of course, the Sun entering Cancer also marks the Summer Solstice. Let's look at this seasonal chart to get a sense of the energetic pattern that will strongly color the next three months. I'm not using astrological houses in this interpretation, so it will work anywhere on earth.
As it turns out, I've already interpreted everything I'll be discussing in the Summer Solstice Chart in this June 16-30 forecast. So I'll mention some highlights, then link to the detailed interpretation elsewhere on this page.
This forecast's "Neptune power" theme also holds sway in the Summer Solstice chart. Two Neptune aspects that strongly color all of 2019 – a Jupiter-Neptune square and a Saturn-Neptune sextile – are very tight in this chart. And Neptune turns retrograde less than two hours after the solstice! So any of Neptune's high side potentials that interest you – including spiritual awakening, inspired creativity, and unconditional love and compassion – are ripe for cultivation this summer!
Mercury and Mars oppose Pluto two days before the solstice, so this intense trio is prominent in the Summer Solstice chart. Mars and Pluto are an especially volatile pair. Use them mindfully to insure a positive outcome.
Three more factors are strong in the summer solstice chart. The harmonious healing of relationship wounds is supported by a month-long Ceres-Juno-Chiron Grand Trine. Relationship, creativity and financial opportunities are amplified by a Venus-Jupiter opposition. And a Uranus-Vesta conjunction can take both service to a higher cause and sex magic to the next level.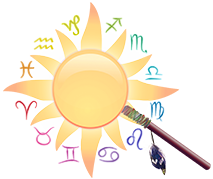 Deepen Your
Insight, Healing & Awakening
Your astrology chart reveals powerful insights into your relationships, career, soul purpose, and much more. Getting a yearly Astrology+ update can show you what's important now!
I also offer Shamanic Healing / IFS, one-of-a-kind Life Coaching, and more. All my services are equally effective in person or long distance.
Neptune Retrograde
Neptune turns retrograde today (6/21) at 18°43′ Pisces. He'll turn direct again on 11/27 at 15°55′ Pisces. Outer planets like Neptune are retrograde for about five months out of the year. They behave pretty much the same whether they're direct or retrograde.
Still, a planetary retrograde is a great time to reflect on its astrological meanings. Neptune's high expressions include divine union, inspired creativity, and unconditional love and compassion.
Also notice if any of Neptune's lower expressions are active or tempting you. These include substance abuse, excessive escapism and aimless drifting. Confusion, delusion and playing the victim are also on the low side list.
The more you cultivate a planet's high expressions, the less energy it has left to trouble you with its low side. Of course, it's not always that simple, especially when dealing with serious challenges such as addiction. Do what you can with intention … and seek help if you need it!
6/22 (Sat)
Yod Peaks
The Sun-Ceres-Vesta-Uranus Yod that started on 6/19 peaks today (6/22) and ends on 6/28.
6/23 (Sun)
T-square Begins
"Strategic emotional healing" is a strong theme of a T-square that starts today (6/23). This aspect pattern includes the Cancerian Sun, Pallas Athena and Chiron. It peaks on 7/1 and ends on 7/8.
Old emotional wounds could be catalyzed by this T-square. If so, you can call on the strategic energy of Pallas Athena in two ways.
First, use an effective shadow work tool to work with those challenging emotions … ideally one that can clear that old pain once and for all. Second, if there's conflict with someone else, use an effective relating process that can help the two of you achieve a win-win outcome. As always, I recommend the 4-Part Nonviolent Communication Process.
If you do healing or mentoring work yourself, this T-square can lend your work extra power and effectiveness.
---
A Uranus-Vesta conjunction (5°38′ Taurus) can take your selfless sacred service to a whole new level! Let your intuitive flashes guide you. This aspect can also juice up sex magic: using the energy of arousal and orgasm to superpower your Law of Attraction manifestation work.
---
Venus makes three aspects to slower planets today! She starts with a Venus-Chiron quintile (17°50′ Gemini-5°50′ Aries). Next up is a Venus-Jupiter opposition (17°50′ Gemini-Sagittarius), followed by a Venus-Saturn quincunx (18°20′ Gemini-Capricorn).
Venus rules relationships, which is likely to be her most widely experienced theme. With Venus in Gemini, are you enjoying enough variety within a given relationship? Would it serve the relationship to lighten up and inject more playfulness?
Jupiter's opposition could bring exuberant joy to a relationship. Or the planet of expansiveness could blow up the relationship's current energies to giant size, to help you see what's going on more clearly.
Saturn's quincunx can bring challenge to show you where the relationship needs work, and support helpful structural adjustments. Finally, Chiron's quintile can bring fairy dust magic to help your relationship heal and harmonize.
6/24 (Mon)
T-Square Peaks
The Venus-Jupiter-Neptune T-square that started on 6/16 peaks today (6/24) and ends on 7/1.
Double Thor's Hammer Peaks
The Juno-Jupiter-Uranus-Neptune Double Thor's Hammer that started on 6/18 peaks today (6/24) and ends on 7/4.
---
Inspired creativity, enhanced divine connection, and a greater awareness of the spiritual energy permeating everything are fired up by a Venus-Neptune square (18°43′ Gemini-Pisces). With Venus in Gemini, creative writing gets a special boost.
On a more cautionary note, this square could tempt you to put on rose-colored glasses and not see how others might be taking advantage of you. This energy could give you divine guidance in your financial dealings, but could also support deception and delusional thinking. Be sure to exercise due diligence before making a significant purchase or financial investment.
6/27 (Thu)
Venus has been busy the last few days. Today's Venus-Pluto quincunx (22°18′ Gemini-Capricorn) is the fifth Venus aspect in a row!
This aspect calls for life-affirming adjustments in your relationships, creativity and finances. Which things in these areas would be best served by a death and rebirth process? Which are already on track and ready for a Plutonian power boost?
---
The Sun does a double today: a Sun-Uranus sextile (5°47′ Cancer-Taurus) and a Sun-Chiron square (5°53′ Cancer-Aries). The Uranus sextile can electrify you with intuitive flashes and brilliant ideas. The Chiron square might catalyze old emotional wounds, but only with the intention of healing them once and for all.
6/28 (Fri)
Grand Trine Peaks
Harmonious healing of relationship wounds enjoys extended support, thanks to a Grand Trine featuring Ceres, Juno and Chiron. It started on 6/11, peaks today (6/28) and ends on 7/12. This smooth aspect pattern also supports abundance through a committed partnership that involves healing or mentoring.
---
Whatever your Sun Sign, my forecasts can help you make the best use of the current astrological energies.
All dates and times are in the U.S. eastern time zone. Events are most powerful on the dates listed, but their influence will be active for at least a week before and after.
Everyone is affected by these global transits. However, you'll be most powerfully impacted when moving planets activate sensitive points in your natal chart. Discover how these transits will personally affect you by booking a session with me.
Learn more about my Astrology+ sessions.
Recent Forecasts
Check back around the 1st and 16th for updated forecasts.