Mercury turning retrograde is the featured event in the first half of January. We also have 4 Neptune aspects in one week, a Capricorn New Moon, and a magical Mars-Jupiter quintile!
This forecast covers this half-month's most important astrological events. Also check out my award-winning This Week in Astrology audio podcast and YouTube video forecasts!
Click astrology graphics to see larger images. Some resource links may occur more than once. This is because many people link to a specific day's forecast from social media, and might not see an important resource link elsewhere on this page.
1/2 (Sun)
Capricorn New Moon
A New Moon lines up at 1:34 pm EST (12°20′ Capricorn). Any Capricorn New Moon is great for new beginnings or fresh energy in several areas. You can choose to be more mature, responsible and productive. You can set boundaries better and use time more efficiently. You can plan the work and work the plan. And you can play the role of the wise elder.
Aspects
The Moon and Sun are conjunct Juno. Are your committed partnerships giving you the results you want? Do you have enough committed partnerships that are specifically about accomplishment? Is it time to start some new ones that will help you meet your goals?
The luminaries are square Chiron, which brings in the theme of trauma healing. Do you have practical shadow work tools that can help you with this? If not, check out my field-tested Healing Invocation, included in my Free Invocation Masterclass.
Chiron's mentor theme ties in with the Capricorn wise elder theme. Are you getting the sage counsel that you need, or providing it to others?
The trauma healing theme is reinforced by Ceres' sesquare to the Sun and Moon. Being the grain goddess, Ceres also opens the door to abundance – especially since she's in Taurus, the sign of money!
Uranus forms a tight trine with the luminaries. Rather than doing things as they've always been done, this smooth aspect encourages you to innovate. Trust your intuitive hits! Uranus and Capricorn play well together if you lead with your flashes of inner guidance, then follow a practical plan to implement them.
This New Moon's tightest aspect is a semi-sextile with Aquarian Saturn. Aquarius has the same keywords as Uranus, while Saturn's interpretation is the same as Capricorn's. So this minor hard aspect adds energy to what I've already said about Uranus and Capricorn.
Sabian Symbol
This New Moon's Sabian Symbol is, "A fire worshipper meditates on the ultimate realities of existence."
Action (fire) taken without deeper understanding can, as Shakespeare wrote in Macbeth, lead to life being "a tale told by an idiot, full of sound and fury, signifying nothing." Balancing action and meditation makes it more likely that what you do will lead to a harmonious and life-affirming outcome.
Awaken, Heal, and Thrive!
Kick your personal evolution into high gear! Awakening Plus offers you online spiritual and shamanic experiences … 500+ consciousness-shifting recordings … and life-transforming courses. This extraordinary membership also gives you community connection and personal support.
Ready to awaken, heal, and thrive like never before? Click to learn more!
1/5-11 (Wed-Tue)
4 Neptune Aspects
Neptune makes 4 aspects in one week! They are:
1/5: Venus sextile Neptune (20°45′ Capricorn-Pisces)
1/9: Juno sextile Neptune (20°50′ Capricorn-Pisces)
1/10: Sun sextile Neptune (20°52′ Capricorn-Pisces)
1/11: Mars Square Neptune (20°53′ Sagittarius-Pisces)
For starters, this is a lot of Neptune! Its life-affirming uses include spiritual awakening, inspired creativity, and functioning in flow state. Neptune also supports dream interpretation, conscious dreaming, and unconditional love and compassion.
Three of these aspects are soft, so it will be easiest to connect with these positive manifestations. But, with a hard aspect in the mix – a Mars-Neptune square – Neptune's low side could also emerge. This could include addiction, substance abuse, excessive escapism, aimless drifting, or playing the victim in a relationship.
Each aspect can bring out Neptune in a different way. We'll start with the three soft aspects, since they come first. They tend to express with ease and flow.
The Venus-Neptune sextile energizes inspired creativity and harmonious relating. It can also help you perceive the divine in everything around you.
The Juno-Neptune sextile can help you merge more deeply in your committed partnerships. The Sun-Neptune sextile can make it easier for you to embody divine consciousness in your daily activities.
Venus, Juno and the Sun all sextile Neptune from Capricorn. This Neptune-Capricorn synergy supports Law of Attraction manifestation and embodied awakening, as well as conscious dissolution.
Finally, we have the Mars-Neptune square. Neptune can have a "fog factor". So be careful not to leap into gear if you're confused, and try to be sure you're not acting based on misinformation.
This square also has positive potentials. These include inspired leadership, sacred sex, and athletic flow state.
The #1 Astrology Software for Windows — at an Unbeatable Price!
SOLAR FIRE 9 is the world's leading astrology software for Windows. Earlier versions brought an unprecedented level of ease to casting and working with astrological charts. The current version adds many more calculations, extra convenience features, more interpretive text, and exciting new graphic displays.
SOLAR FIRE 9 contains something for everyone!
For advanced astrologers and professionals, it has a great variety of high-precision astrological calculations and an exceptional degree of user-customization.
For novices, its innovative point-and-click chart interpretations provide an enjoyable way to learn. Many easily explored options will encourage you to experiment with new techniques.
No one sells Solar Fire for less than AstroShaman.
Click here to learn how Solar Fire can supercharge your astrology!
1/11 (Tue)
Ready to leap into inspired, expansive action? The stars are supporting you with a Mars-Jupiter quintile (20°42′ Sagittarius-2°42′ Pisces).
This 72° quintile aspect – 1/5 of the circle – supports inspired creativity and divine connection. Mars is eager to be a leader, warrior, pioneer or sexual being.
The 9th astrological archetype gets double emphasis, since Mars is in Sagittarius and aspects Jupiter. This energy is adventurous and expansive. It wants to understand the meaning of life better, and loves to travel (outside and inside). And it's excited to share its accumulated wisdom with others.
Finally, Jupiter is in Pisces. If you're so inclined, this supports focusing some of that Martian energy into spirituality or expressing your inspired creativity. It can also help all your actions happen "in the zone".
Make that amazing life you've been dreaming about real!
My unique combination of modalities, refined through more than 10,000 AstroShaman client sessions, can help you thrive in all areas of your life. And my unusual approach could help you do this faster than you might have thought possible.
1/14 (Fri)
Mercury Retrograde
Mercury turns retrograde at 6:41 am EST (10°20′ Aquarius). The winged messenger will turn direct again on 2/3 at 11:13 pm EST (24°22′ Capricorn).
Mercury retrograde is better suited for reflection than action. (With Venus also retrograde through 1/29, this is doubly true!) Wait if you can, act if you must.
I'll start with factors that are unique to this Mercury retrograde. Then I'll close with advice that applies to any Mercury retrograde period.
Aquarius and Capricorn
Retrograde Mercury spend its first 12 days, through 1/25, backpedaling through Aquarius. This is a great time to contemplate how well you're embracing what's unique about yourself, and sharing it with the world as appropriate. Are you taking action on your intuitive hits? And are you serving others using your special gifts and talents that you most love to use?
Mercury completes its retrograde with 9 days in Capricorn, 1/26 through 2/3. This period is ideal for pondering how happy you are with your current level of maturity, responsibility and efficiency. Are you taking care of business, both personally and professionally? Are you using time well? Are you planning the work and working the plan?
Aspects
Mercury is conjunct Saturn. Saturn has the same meaning as Capricorn, so this reinforces all the Capricorn themes just mentioned. Since Saturn is in Aquarius, it subtly reinforces the Aquarian themes too!
But the Aquarian themes are much more potently energized by a very tight Mercury-Uranus square. This is a hard aspect, so be especially sensitive to any challenges you're experiencing with the Aquarian themes previously discussed.
If you don't embody the high side of Uranus/Aquarius during this Mercury retrograde, you might experience increased agitation, nervousness or irritability. Things could become more chaotic in your internal and external worlds. Focus on the life-affirming expressions of this archetype and give it something better to do!
Since Saturn and Uranus are square, this Mercury retrograde also activates the many themes of this square. As you may know, this has been 2021's biggest astrological event! Click here to learn more about the Saturn-Uranus square.
Mercury is also sextile Chiron as it reverses course. This gives harmonious, energetic support to healing and mentoring.
Finally, Mercury is trine the Moon … which is in Gemini, the sign with the same meaning as Mercury. This gives easy-flowing support for reflection, learning and communication that promote your emotional well-being.
This aspect is a reminder that your thoughts potently influence your emotions. Do your best to choose thoughts that are helpful and life-affirming!
The Usual Advice
As with all Mercury retrogrades, if possible, delay major new beginnings until Mercury is direct again. If a major purchase or contract signing can be postponed without major negative consequences, do so. Double check any travel plans, and make sure you're understanding and being understood.
Finally, Mercury retrograde is an excellent time to complete things you've already started, get things repaired, and engage in reflection and introspection.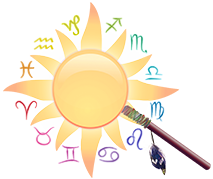 Deepen Your
Insight, Healing & Awakening
Your astrology chart reveals powerful insights into your relationships, career, soul purpose, and much more. Getting a yearly Astrology+ update can show you what's important now!
I also offer Shamanic Healing / IFS, one-of-a-kind Life Coaching, and more. All my services are equally effective in person or long distance.
Whatever your Sun Sign, my forecasts can help you make the best use of the current astrological energies.
All dates and times are in the U.S. eastern time zone. Events are most powerful on the dates listed, but their influence will be active for at least a week before and after.
Everyone is affected by these global transits. However, you'll be most powerfully impacted when moving planets activate sensitive points in your natal chart. Discover how these transits will personally affect you by booking a session with me.
Learn more about my Astrology+ sessions.
Recent Forecasts
Check back around the 1st and 16th for updated forecasts.