Venus and Uranus turning direct highlight the second half of January. We also have a Cancer Full Moon featuring a Plutonian Mystic Rectangle, the lunar nodes changing signs,  and the closest approach of the Saturn-Uranus square in the first half of 2022!
This forecast covers this half-month's most important astrological events. Also check out my award-winning This Week in Astrology audio podcast and YouTube video forecasts!
Click astrology graphics to see larger images. Some resource links may occur more than once. This is because many people link to a specific day's forecast from social media, and might not see an important resource link elsewhere on this page.
1/17 (Mon)
Cancer Full Moon w/ Plutonian Mystic Rectangle
A Full Moon lights up the sky at 6:48 pm EST (27°50′ Cancer). Any Cancer Full Moon is great for release or adjustment in the areas of home and family. Ditto for security, emotions, and healing old traumas with shadow work.
Aspects
All the planets that aspect this Full Moon come together to form a Mystic Rectangle! This is a harmonious aspect pattern which facilitates planetary cooperation.
Pluto
The most powerful planet in this Mystic Rectangle is Pluto. He tightly opposes the Moon and conjoins the Sun. In fact, Pluto made an exact conjunction with the Sun yesterday (1/16)!
Pluto and Full Moons share the themes of release and adjustment. This is a good time to implement the four releases and adjustments of my "Pluto Prescription":
Release all material possessions that aren't necessary, or don't make your life more wonderful.
Release or deemphasize relationships that are consistently negative, or which don't meaningfully support your personal evolution.
Release habits that give you no meaningful benefit, or tweak them so they become genuinely helpful.
Imagine your most awesome possible life … then do shadow work to heal the parts of you that say you can't have it!
Moon-Pluto aspects can catalyze old wounds and traumas. This can be a wonderful opportunity to heal these old traumas once and for all.
Of course, you'll need an effective shadow work technique for this. Thousands have found my do-it-yourself Healing Invocation quick and effective. It's part of my Free Invocation Masterclass.
Ultimately, Pluto is rooting for you to step fully into your personal power. When necessary, he lights the way by stirring up the unhealed traumas that are preventing you from blossoming into your most magnificent self.
This process can be challenging. But it's only by striking out on your personal hero's journey that you'll develop your highest potential!
Pluto's other great gift is wealth. This can be money, but wealth can be anything that improves your life. For example, my most rewarding wealth comes when I increase my service capacity … by opening to deeper spiritual awakening. This Full Moon is a great time to decide what kinds of wealth matter most to you!
Other Planets in the Mystic Rectangle
Juno, huddled up with Pluto in Capricorn, also opposes the Moon. This asteroid goddess represents committed partnerships. Which of your relationships could benefit from some type of release or adjustment, so they can play a more productive role in your life?
The final physical body aspecting this Full Moon is Ceres. She sextiles the Moon. She can help your shadow work proceed more smoothly, and also offers abundance. This is because Ceres is the grain goddess, and is associated with a bountiful harvest.
Finally, the Moon makes harmonious aspects to the lunar nodes. All of the above will go more smoothly when your actions align with your life purpose.
Awaken, Heal, and Thrive!
Kick your personal evolution into high gear! Awakening Plus offers you online spiritual and shamanic experiences … 500+ consciousness-shifting recordings … and life-transforming courses. This extraordinary membership also gives you community connection and personal support.
Ready to awaken, heal, and thrive like never before? Click to learn more!
You can enjoy more flowing feminine assertiveness as Neptune conjoins Pallas Athena (21°1′ Pisces) today (1/17). You can also receive more divine inspiration if you're acting as a diplomat, negotiator or mediator. If open conflict can't be avoided, call on this duo to help you fight with the grace of a tai chi master!
1/18 (Tue)
Uranus Direct
Uranus turns direct today at 10:26 am (10°49′ Taurus). The most eccentric planet turned retrograde 5 months ago, on 8/19 (14°47′ Taurus).
Uranus Retrograde has been a great time to reflect on how well you embody the high side of the strangest planet. Have you fully accepted what's unique and different about yourself? Are you blessing the world with these distinctive parts of you, to the greatest extent that serves highest good?
Are you following the guidance of your intuitive hits? (They come from your higher self, your most reliable source of information.) Finally, are you serving others with your special gifts and talents that you most love to use?
Planets are most powerful when they change direction. Check your natal chart for sensitive points between 8° and 14° in the fixed signs (Taurus, Leo, Scorpio and Aquarius).
Whatever these points represent, Uranus can give them a quantum leap forward if you're using them in alignment with your life purpose. If something about these areas of life is out of sync, Uranus might throw some chaos or challenging surprise into the mix.
He does this to draw your attention to any misaligned areas. Because Uranus can work at lightning speed, his influence can help you resolve any challenges faster than you might have thought possible!
The Lunar Nodes Shift Signs
The lunar nodes shift signs in retrograde motion about every 19 months, and they do it again today at 1:50 pm EST. The North Node moves from Gemini to Taurus, while the South Node transitions from Sagittarius to Scorpio. (I'm using True Node calculations.)
This heightened focus on the Scorpio/Taurus axis puts less emphasis on the mind, and more on the body. You can work with any or all of the following themes:
Be fully present with the pleasure of your five senses. Give yourself delightful things to see, hear, smell, taste, and touch.
Cultivate the ecstatic pleasures of sexuality and sacred sex.
Engage in life-affirming transformations that lead to better physical structures.
Do shadow work which, when complete, lets you enjoy more comfortable physical embodiment.
Take retreat time to relax in nature.
Transform the earth through environmental healing.
Engage in body-based death and rebirth healing processes. These could include breathwork, plant spirit ceremonies, and ecstatic dance. You could also do somatic experiencing, or the Healing Invocation in my Free Invocation Masterclass.
Amplify your wealth! This could be money, or anything (tangible or intangible) that brings value to your life.
Use your power to manifest what you desire.
The #1 Astrology Software for Windows — at an Unbeatable Price!
SOLAR FIRE 9 is the world's leading astrology software for Windows. Earlier versions brought an unprecedented level of ease to casting and working with astrological charts. The current version adds many more calculations, extra convenience features, more interpretive text, and exciting new graphic displays.
SOLAR FIRE 9 contains something for everyone!
For advanced astrologers and professionals, it has a great variety of high-precision astrological calculations and an exceptional degree of user-customization.
For novices, its innovative point-and-click chart interpretations provide an enjoyable way to learn. Many easily explored options will encourage you to experiment with new techniques.
No one sells Solar Fire for less than AstroShaman.
Click here to learn how Solar Fire can supercharge your astrology!
Saturn Square Uranus: Closest Approach in the First Half of 2022
There aren't any exact Saturn-Uranus squares this year. But this powerhouse aspect was 2021's most important aspect, and continues to be a formidable influence in 2022.
These two planets are about 3° apart as they make their closest approach in the first half of 2022 today (1/18). Saturn is at 13°53′ Aquarius, while Uranus is at 10°49′ as it stations direct. (They'll come much closer on 10/1, when they'll only be half a degree apart!)
For a deep-dive interpretation of this important aspect, see my 12/24 interpretation of the Saturn-Uranus square.
Make that amazing life you've been dreaming about real!
My unique combination of modalities, refined through more than 10,000 AstroShaman client sessions, can help you thrive in all areas of your life. And my unusual approach could help you do this faster than you might have thought possible.
1/19 (Wed)
The Sun enters Aquarius
The Sun enters Aquarius at 9:39 pm EST. This gives you a month to focus on the highest expressions of this sign. These include embodying and expressing your unique human self, following your intuitive hits, and serving others using your special gifts and talents that you most love to use.
1/24 (Mon)
A Pluto-Juno conjunction (26°42′ Capricorn) isn't that common. Over four years go by between them. So when we have one like today's, it's significant.
Pluto and Juno were part of my 1/17 Full Moon forecast, so some of this may sound familiar. To the degree that a committed partnership is on track, Pluto will bless it with wealth and power. See my Full Moon forecast for more on how best to work with these themes.
To the extent that things aren't copacetic, Pluto is likely to stir up challenge. Then the two of you can decide if you want to ignore the issue, work together to heal it, or release the relationship if that serves highest good.
1/29 (Sat)
Venus Direct
Venus turns direct at 3:50 am (11°4 Capricorn). She's been retrograde since 12/19 (26°29′ Capricorn).
Now that Venus is direct, you can start taking action on the insights you gained while she was retrograde.
For starters, what new actions, adjustments, or releases would serve you in these areas?
Relationship
Creativity
Money
Aesthetics
Harmony
Justice.
Venus retrograded entirely within Capricorn. What changes would serve highest good in your business relationships, earned income, and the role creativity plays in your work? Is your work situation fair and harmonious?
Going deeper, are all your relationships as productive as you would like? If you're doing creative things, are you sharing them so that they can serve others?
The Venus-Pluto Conjunction
Venus was energetically conjunct Pluto in Capricorn for 7+ weeks, 11/22 through 1/12. (They'll join forces again for another month, 2/17 thru 3/14.) Their exact conjunctions are 12/11/21, 12/25/21 and 3/3/22. This extended dance included the first 3-1/2 weeks of Venus retrograde.
Relationships
Pluto likes to reveal the hidden truth, so make appropriate changes in your important relationships when such information comes to light. The energies of Pluto and Capricorn can help you more easily see your relationship dynamics unflinchingly, from a more objective perspective.
Is a specific relationship helping you move toward your goals? Is it making you wealthier? (Wealth can be anything you value, not just money.) Is it helping you stand more fully in your power?
If a relationship isn't firing on all cylinders, this Venus-Pluto conjunction could have stimulated challenge to show you what needs your attention. As always in such situations, you'll need to decide whether release or repair is the best strategy.
As usual, I recommend Nonviolent Communication to help you work through relationship issues. Try my Healing Invocation (part of my Free Invocation Masterclass) to process your internal emotional wounds.
Career and Creativity
This Venus-Pluto conjunction, which recurs 2/17 thru 3/14, is also tailor-made for career success! Venus is the planet of money, Pluto is the planet of wealth, and Capricorn is the sign of business. But be sure to exercise due diligence, since Pluto can bring both jackpots and wipeouts.
Finally, Pluto can supercharge Venus' creativity. It's a great time to dive into your artistic expression!
Pluto isn't squeamish, so don't censor yourself. It might be helpful to decide that your initial creation is for your eyes only. If your work wants to go in shocking or taboo directions, let it rip! You can decide later if anyone else gets to see it … or if you need to tone it down before it reaches a broader audience.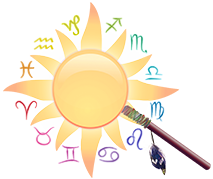 Deepen Your
Insight, Healing & Awakening
Your astrology chart reveals powerful insights into your relationships, career, soul purpose, and much more. Getting a yearly Astrology+ update can show you what's important now!
I also offer Shamanic Healing / IFS, one-of-a-kind Life Coaching, and more. All my services are equally effective in person or long distance.
Whatever your Sun Sign, my forecasts can help you make the best use of the current astrological energies.
All dates and times are in the U.S. eastern time zone. Events are most powerful on the dates listed, but their influence will be active for at least a week before and after.
Everyone is affected by these global transits. However, you'll be most powerfully impacted when moving planets activate sensitive points in your natal chart. Discover how these transits will personally affect you by booking a session with me.
Learn more about my Astrology+ sessions.
Recent Forecasts
Check back around the 1st and 16th for updated forecasts.