Not only does Saturn turn direct in the second half of September, we also have the third and final occurrence of one of 2019's most powerful aspects: a Jupiter-Neptune square. We also go deep on the Fall Equinox chart, a Libra New Moon, and three new T-squares featuring Saturn, Pluto and the lunar nodes.
Note: this forecast only includes the most important astrological events in the second half of September. I'm extra busy right now – I'm hoping to launch my new online memberships — group astrology mentoring and "Awakening Plus" — on October 1. Because of this, I honestly don't have time to forecast the less important events this time. But I believe that the major events in this forecast will give you more than enough to chew on! :-)
Click astrology graphics to see larger images. Some resource links occur more than once. This is because many people link to a specific day's forecast from social media, and might not see an important link elsewhere on this page.
9/16 (Mon)
T-square Begins: Mercury-Saturn-Lunar Nodes
Saturn and the lunar nodes form the foundation for three new T-squares in the second half of September. The meanings of these T-squares change as Mercury, Venus and the Sun takes turns holding down the third corner in Libra.
To make matters even more interesting, a few days into each T-square, Pluto joins the party! This powerhouse planet adds his influence for most of each T-square's run.
Life Purpose Misalignments
Many things will be true about all three T-squares. First, whatever's represented by the personal planet and Libra could be strongly tested if it doesn't align with your life purpose. Saturn will alert you to this with delays and roadblocks.
You can deal with this by releasing or restructuring whatever's being challenged. You can meet this challenge more effectively by embodying Saturn's life-affirming qualities. These include maturity, responsibility, good time management, and well-organized planning and implementation.
Pluto can have a similar response to something that isn't life purpose-aligned. If it can be transformed, some kind of death and rebirth process can be effective. If there's no more good to be had from the situation, complete release is optimal.
Life-Purpose Aligned
What if the personal planet represents something that does align with your highest good? Even though a T-square is a traditionally challenging aspect pattern, life-purpose alignment causes Saturn and Pluto to behave more harmoniously.
Saturn applauds your excellent structure, and invites you to augment it if appropriate. Pluto can reward you with wealth and power. We normally associate wealth with money, but wealth can be anything you value – tangible or intangible.
"Power over" can be used to dominate and control others, but I prefer "power with." In this higher-vibration expression, you've awakened to your internal divine power. There's no need to source it externally by keeping people under your thumb. At this level of consciousness, your greatest joy is helping other people step into their power!
The Mercury T-square
Fleet-footed Mercury kicks off the first T-square, which includes Mercury, Saturn and the lunar nodes. It starts today (9/16), peaks on 9/22 and ends on 9/29. Pluto adds power to this T-square 9/20 through 9/27.
Notice how people are responding to your communications. Is there something about your word choices, tone of voice or body language that are causing negative responses? If you're having issues, but can't figure out what you might be doing to cause them, ask people you know and trust for feedback.
On a more subtle level, notice how you're responding to your own thoughts. Is what you're thinking making you happy or miserable? To learn how to manage your thoughts more skillfully, read my "Managing Everyday Thought Infiltration" post.
This T-square, used consciously, can add discipline, focus and depth to your thoughts and communication. It can also empower research and investigation. Use it for all it's worth!
Grand Trine Peaks: Juno-Saturn-Uranus-South Node
You have a special opportunity to improve your committed partnerships, thanks to a Grand Trine that includes Juno, Saturn, Uranus and the South Node. It started on 9/5, peaks today (9/16) and ends on 9/28.
Let Uranus lead with its intuitive flashes – those sudden insights where you just "know it in your bones." No flashes? Then think outside the box, daring to contemplate bold new relationship improvement strategies. (One of my favorites is the 4-Part Nonviolent Communication Process.) Make sure that both your soul purposes are truly served by these changes (Juno in Virgo, South Node of the Moon).
Once you've captured a strategy, call on Saturn to craft it into a well-structured plan … and stick to it unless a change is clearly called for.
9/18 (Wed)
Saturn Direct
Saturn went retrograde on 4/29, about four and a half months ago. He turns direct today at 4:47 AM EDT (13°54′ Capricorn).
As I wrote in my 4/29 forecast, Saturn's retrograde was a good time to reflect on how well you're embodying maturity, responsibility, and good time management, as well as planning and implementation. Do you need to wean yourself from Saturn's darker qualities, such as being a workaholic or believing that the ends justify the means?
Saturn's direct station is a great time to start taking action on any decisions you've made regarding these themes. Saturn is the Time Lord, so developing his life-affirming qualities doesn't happen overnight. Persevere and you'll be rewarded. Saturn work is a marathon, not a sprint!
Effects on Your Natal Chart
A transiting planet's power can be significantly amplified when it stations. Any sensitive points that transiting Saturn aspects in your natal chart as it turns direct could feel a strong impact. The "power zone" for this Saturn station is 11°-17° in the cardinal signs: Aries, Cancer, Libra, and Capricorn.
As I noted in my 9/16 forecast, Saturn can give you delays and roadblocks when you're out of alignment with your life purpose. But he supports your current structures, and might invite you to augment them, when you are properly aligned.
The #1 Astrology Software for Windows — at an Unbeatable Price!
SOLAR FIRE 9 is the world's leading astrology software for Windows. Earlier versions brought an unprecedented level of ease to casting and working with astrological charts. The current version adds many more calculations, extra convenience features, more interpretive text, and exciting new graphic displays.
SOLAR FIRE 9 contains something for everyone!
For advanced astrologers and professionals, it has a great variety of high-precision astrological calculations and an exceptional degree of user-customization.
For novices, its innovative point-and-click chart interpretations provide an enjoyable way to learn. Many easily explored options will encourage you to experiment with new techniques.
No one sells Solar Fire for less than AstroShaman.
Click here to learn how Solar Fire can supercharge your astrology!
T-square Begins: Venus-Saturn-Lunar Nodes
As I also wrote in my 9/16 forecast, there are three T-squares in the second half of September that include Saturn, Pluto and the lunar nodes. If that information isn't fresh in your mind, please read it now.
Once you understand what these three T-squares have in common, you'll be able to understand the possibilities presented by Venus. Her Venus-Saturn-Lunar Nodes T-square begins today (9/18), peaks on 9/25 and ends on 10/3. Pluto amps up this T-square from 9/22 until it ends on 10/3.
Venus, like Libra, represents relationships and creativity. She also represents money. Be ready to respond to any challenging catalyst in these areas. You can also cultivate any of these themes to create new life-affirming structures and cultivate more wealth and power.
9/19 (Thu)
Mars-Pluto Trine
Saturn turning direct yesterday is great for productivity, and so is today's Mars-Pluto trine in earth signs (20°40′ Virgo-Capricorn). The effects of this flowing aspect started on 9/4 and will continue through 10/5.
This trine can also bring harmony, precision and endurance in other areas. These can include your activities as a leader, warrior, athlete and entrepreneur.
WARNING: the following two paragraphs contain sexually explicit information. If you prefer to skip past them, click here.
Mars and Pluto are the two planets that carry erotic energy, so sex and sacred sex are also supported. This trine gives special support to the practice of multiple male orgasm. This lets a man have several energetic climaxes without physically ejaculating. This feels awesome, can significantly increase the duration of your lovemaking, and could dramatically improve the quality of your sex life.
You'll find lots of great posts on this subject by googling "multiple male orgasm." One final thought: the common method for delaying ejaculation is squeezing the PC muscle. But complete full-body relaxation at that crucial moment works better for me.
9/21 (Sat)
Jupiter Square Neptune
Jupiter's square with Neptune is one of the most important aspects of 2019. It was exact on 1/13 and 6/16, and lines up one last time today (9/21). This aspect will remain in orb (close enough to have an influence) until 11/13.
This Jupiter-Neptune square is so important that it deserves a deep dive into its potentials!
Positive Expressions
religious mysticism
mystical education / spiritual teachers
amplified creative inspiration
higher education in creative expression
spirituality from other cultures
inspired creativity from other cultures
grand idealism and visionary optimism
blissful states of cosmic unity
heightened intuition
exalted dreams
forgiveness, tolerance, altruism and generosity
unconditional love and compassion
Challenging Expressions
amplified addiction
excessive escapism
muddled philosophical or religious understanding
aimless wandering
rose-colored over-optimism
excessive religious trappings and ceremony
excessive generosity
unwise financial speculation
If you're experiencing any of these challenging expressions, focus your intention and actions on the positive expressions instead. It'll give the Jupiter-Neptune square something better to do!
(Special thanks to Renn Butler's The Archetypal Universe: Astrological Patterns in Human Culture, Thought, Emotion and Dreams. I use this wonderful book for new ways to interpret planetary combinations. With the author's blessing, I incorporate them into my forecasts when appropriate.)
9/23 (Mon)
Fall Equinox
The Sun enters Libra at 3:50 am EDT. For the next month, relationships and creativity are energized.
The Sun entering Libra also marks the Fall Equinox. The astrology chart calculated for this moment gives a sense of this season's energies. This interpretation doesn't use houses, so you can use it no matter where in the world you live.
Aspect Patterns
The Big Kahuna
The most potent factor in the Fall Equinox chart is a heavily populated T-square. It includes most of the personal planets – Moon, Mercury, and Venus – as well as Saturn, Pluto and the lunar nodes.
I covered the primary effects of this powerhouse aspect pattern earlier in this forecast, in the T-square interpretations on 9/16 and 9/18. Please read those now if that information isn't fresh in your mind.
The only new factor is the Moon, sensitized in its own sign of Cancer. This increases the likelihood of emotional triggering. (If you experience this, my free Healing Invocation might help.) The Moon's presence also makes it easier to experience happiness and emotional satisfaction while cultivating this T-square's life-affirming opportunities.
Other Equinox Aspect Patterns
Your committed partnerships (any kind, not just romantic) could experience intense challenge or flowing expansion, thanks to a Ceres-Juno-Jupiter-Neptune T-square. Click here for its detailed interpretation.
The final aspect pattern that strongly colors the fall equinox is an Envelope. It includes the Moon, Juno, Pallas Athena, Saturn, Neptune and the lunar nodes. Click here to learn more about it.
(My Envelope interpretation doesn't include the Moon. As with the T-square above, the Moon's presence adds two contrasting possibilities: more emotional challenge … or more happiness and emotional satisfaction when cultivating the aspect pattern's life-affirming opportunities.)
Individual Aspects
Slower planets and points have more impact in a horoscope when they make several important aspects to personal planets. The Fall Equinox chart has five examples of this.
Saturn makes tight hard aspects to the Moon, Mercury and Venus. These aspects are included in the Equinox T-square mentioned above, but are so powerful that they deserve extra emphasis. Take note if you keep hitting roadblocks or delays in a particular area. It could be because you're moving in the wrong direction and should change course. Or you might need to activate more of Saturn's positive qualities, such as discipline and persistence.
When I'm not sure whether to release or persevere, I check with my inner guidance. This isn't a Saturnian strategy, because that time-bound planet doesn't recognize anything beyond the physical world. But it's a valid strategy for this Fall Equinox chart … its two other aspect patterns include Neptune, ruler of intuition!
Pluto also deserves special mention, since he aspects the Moon, Mercury and Mars. As noted above, Pluto brings challenge when something in your life needs to be transformed or released. He adds wealth and power when you're on track.
The asteroid goddess Vesta is the only slower planet that aspects all five personal planets! She represents selfless service to a higher cause. Are you ready to contribute some time and energy to a cause that resonates for you?
Finally, the lunar nodes aspect the Moon, Mercury and Venus. Are you living in alignment with your life purpose? Are you giving enough attention to your emotions and home life (North node in Cancer)? Or are you going overboard on work and productivity (South Node in Capricorn)?
P.S. the Fall Equinox Chart has a "splay" pattern. This means that the planets are distributed fairly evenly around the circle. A splay chart's interpretation encourages a variety of activities: "So many cool things to do, so little time to do them!"
Make that amazing life you've been dreaming about real!
My unique combination of modalities, refined through more than 10,000 AstroShaman client sessions, can help you thrive in all areas of your life. And my unusual approach could help you do this faster than you might have thought possible.
9/27 (Fri)
T-square Begins: Sun-Saturn-Lunar Nodes
Our third and final T-square that includes Saturn, Pluto and the lunar nodes starts today (9/27). If my 9/16 forecast on the collective meaning of these T-squares isn't fresh in your mind, please read that before continuing.
The meaning of this Sun-focused T-square has a lot in common with the Venus-focused T-square that started on 9/18. This is because the Sun's in Libra, which is ruled by Venus. The themes shared between these two T-squares are relationships and creativity.
What does the Sun uniquely bring to its T-square? The ability to shine out to the world, harmoniously embodying the energies of the other planets and points. Embody the lunar nodes by acting in alignment with your life purpose. Embody Saturn by being mature, organized and productive. Embody Pluto by standing in your divine power and encouraging others to stand in theirs.
9/28 (Sat)
Libra New Moon
A New Moon lines up at 2:26 PM EDT (5°20′ Libra). Any Libra New Moon is great for new beginnings or renewed energy in relationships and creativity, as well as harmony, balance and aesthetic appreciation.
Aspects
This is one of the least aspected lunations of 2019. There are only two notable aspects: a Chiron opposition and a Uranus quincunx. But both aspects are tight and significant!
Chiron Opposition
The opposition of Chiron, the wounded healer, to the luminaries could bring up old psychological wounds to be healed. A lot of people will do just about anything to avoid facing such challenging emotions. They'll distract themselves, numb out, or otherwise refuse to face the music.
The shortcoming of this "look the other way" approach is that the problem won't retreat for long. You might get some temporary relief. But that painful emotion will haunt you again and again until you do finally heal it once and for all.
There are many wonderful tools out there for doing "shadow work," the term Carl Jung used for this internal healing process. Way back in 2011, information about a wonderful shadow work tool popped into my head in the middle of a shamanic ceremony. Thousands of people have used this tool since then, and hundreds have told me how easy, quick and effective it is for them.
Fortunately, this tool is absolutely free. Learn how my Healing Invocation delegates your healing to your higher self!
This Chiron opposition can also empower you to step up and help others. Are you a healer or a mentor? A shaman or an awakener? Chiron invites you to step more fully into these roles!
Uranus Quincunx
This New Moon's other aspect is a Uranus quincunx. This invites you to make whatever adjustment is needed to step more fully into your authentic human self.
The first step is to internally embrace what's different about you. The next step is to show that uniqueness to the world around you, to the greatest degree that serves highest good.
This Uranus aspect can also help you receive more intuitive flashes. When these special thoughts hit, you just "know in your bones" that certain information is true, or that you'd be better off doing certain things. This is the most reliable guidance I've ever found, since it comes direct from the higher self that created you!
Following your intuition takes courage. It often leads away from conventional reality into unknown territory. It can radically upset your status quo.
I'm supremely grateful that I follow my inner guidance – a sentiment I've also heard from hundreds of clients. The surprising, amazing life my intuition has led me to is so much better than the one I'd originally planned!
Finally, Uranus would love you to serve others using your special talents that you most love to use. Why serve in an ordinary way, when you have something special that few others can offer? These talents blossom most beautifully when used with humility.
Sabian Symbol
This New Moon's Sabian Symbol is, "A man watches his ideals taking a concrete form before his inner vision." With this symbol, how can I not talk about the Law of Attraction? This is exactly how so many successful people shape their reality: they visualize what they want in their mind's eye so powerfully that it manifests in the physical world.
To learn the basics of manifestation, read my Law of Attraction how-to post. Better yet, get the wonderful book Creating Money: Attracting Abundance by Sanaya Roman and Duane Packer. It's the best Law of Attraction book I've ever read. And I'm not the only one who thinks so: it's sold over 500,000 copies!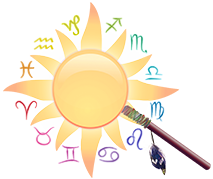 Deepen Your
Insight, Healing & Awakening
Your astrology chart reveals powerful insights into your relationships, career, soul purpose, and much more. Getting a yearly Astrology+ update can show you what's important now!
I also offer Shamanic Healing / IFS, one-of-a-kind Life Coaching, and more. All my services are equally effective in person or long distance.
Thor's Hammer Begins
A Thor's Hammer featuring Juno, Jupiter and Uranus begins today (9/28), peaks on 10/11 and ends on 10/21. Here are three ways this dynamic aspect pattern could show up for you:
Adventuring with a committed partner into uncharted territory
Increased triggering, chaos or instability in a committed partnership, highlighting a need for the relationship to heal or end
You and your committed partner interfacing more dynamically with a like-minded group or "tribe"
9/29 (Sun)
Envelope Peaks
Are you ready to make your committed partnerships more flowing, productive, and life-purpose aligned? Win-win strategy and diplomacy will help you accomplish this, thanks to an Envelope aspect pattern. It includes Juno, Pallas Athena, Saturn, Neptune and the lunar nodes. It started on 9/14, peaks today (9/29) and ends on 10/11.
This pattern can also help you deepen a committed partnership's spiritual connection, and use the Law of Attraction more productively with your partner.
Whatever your Sun Sign, my forecasts can help you make the best use of the current astrological energies.
All dates and times are in the U.S. eastern time zone. Events are most powerful on the dates listed, but their influence will be active for at least a week before and after.
Everyone is affected by these global transits. However, you'll be most powerfully impacted when moving planets activate sensitive points in your natal chart. Discover how these transits will personally affect you by booking a session with me.
Learn more about my Astrology+ sessions.
Recent Forecasts
Check back around the 1st and 16th for updated forecasts.