You can now enjoy my forecasts more frequently – and with less overwhelm! Starting now, I'm posting my forecasts around the 1st and 16th of each month.
The first half of July features a Capricorn Full Moon. The Moon is conjunct Pluto and opposes Mercury – which itself is supercharged with four aspects that day! This Full Moon also has an intriguing Sabian Symbol, which hints at how you can lose a battle but still win the war.
We also have a volatile Mars-Pluto square kicking off July, whose high-voltage power can serve you if you use it skillfully. We also have Venus square Neptune, an aspect full of spiritual and creative possibilities!
This forecast covers this half-month's most important astrological events. Also check out my award-winning This Week in Astrology audio podcast and YouTube video forecasts!
Click astrology graphics to see larger images. Some resource links may occur more than once. This is because many people link to a specific day's forecast from social media, and might not see an important resource link elsewhere on this page.
As July Begins …
The Moon is waxing (there was a Cancer New Moon on 6/28),
Pluto is retrograde thru 10/8,
Two T-Squares are active:
The Supreme Court's sharp turn to the right – which includes overturning Roe v Wade, making it easier to carry a firearm in public, and limiting the EPA's ability to enforce environmental regulations – shows Saturn's continued strength in the 2021-22 Saturn-Uranus square.
7/1 (Fri)
Mars Square Pluto
You can act with tremendous potency as Mars squares Pluto (27°46′ Aries-Capricorn). Mars is the "Just do it!" planet. He chomps at the bit to take immediate action, while powerhouse Pluto dangles the keys to wealth and power.
This supercharged aspect doesn't guarantee success, since Pluto can bring feast or famine. Exercise due diligence and appropriate caution. So much power must be managed mindfully, or it could go off the rails and manifest as impulsiveness, cruelty or violence.
This is especially true with Mars in Aries, a sign that it rules. This also highlights your enhanced opportunities in the meanings shared by Mars and Aries: warrior, pioneer, entrepreneur and sexual being.
Pluto rules unhealed emotional trauma, which Mars can trigger, so have a good shadow work technique ready. (Thousands have benefitted from my Healing Invocation. This delegates your healing to your higher self, and is featured in Instant Divine Assistance: Your Free Guide to Fast and Easy Awakening and Healing.)
As mentioned above, this opposition also has erotic possibilities. Mars is raw lust, while Pluto revels in sacred sex. Pluto invites you to merge your souls as well as your bodies, which can catapult you to an entirely new level of ecstasy!
Awaken, Heal, and Thrive!
Kick your personal evolution into high gear! Awakening Plus offers you online spiritual and shamanic experiences … 500+ consciousness-shifting recordings … and life-transforming courses. This extraordinary membership also gives you community connection and personal support.
Ready to awaken, heal, and thrive like never before? Click to learn more!
7/2 (Sat)
Law of Attraction Opportunity
Your Law of Attraction juju gets a boost today with Mercury trine Saturn (24°39′ Gemini-Aquarius) and Mercury square Neptune (25°26′ Gemini-Pisces).
Mercury represents human mind. In Law of Attraction work, its job is to hold the vision of what you want to manifest, as precisely and vividly as possible. Mercury is especially powerful because it's in Gemini, a sign that it rules.
The Law of Attraction magic of Saturn and Neptune is activated because they both make major aspects to Mercury. (And because they semi-sextile each other.) In this context, Neptune represents visualization and imagination. Saturn represents concrete manifestation. If you want something, it's a good time to call it in!
7/8 (Fri)
A Sun-Chiron square (16°22′ Cancer-Aries) could stir up old traumas, so have a good shadow work technique handy. But this square can also energize you to evolve to your next level as a healer or wisdom-giver!
7/9 (Sat)
Two Jupiter aspects open expansive possibilities today. A Mercury-Jupiter square (8°5′ Cancer-Aries) can amplify your ability to learn, teach and communicate. With Mercury in Cancer, your communication can stir people's hearts more powerfully.
A Venus-Jupiter quintile (20°7′ Gemini-8°7′ Aries) can give you magical inspiration, especially in your relationships and creative expression. With Venus in Gemini, this aspect also supports creative writing and harmonious communication.
The #1 Astrology Software for Windows — at an Unbeatable Price!
SOLAR FIRE 9 is the world's leading astrology software for Windows. Earlier versions brought an unprecedented level of ease to casting and working with astrological charts. The current version adds many more calculations, extra convenience features, more interpretive text, and exciting new graphic displays.
SOLAR FIRE 9 contains something for everyone!
For advanced astrologers and professionals, it has a great variety of high-precision astrological calculations and an exceptional degree of user-customization.
For novices, its innovative point-and-click chart interpretations provide an enjoyable way to learn. Many easily explored options will encourage you to experiment with new techniques.
No one sells Solar Fire for less than AstroShaman.
Click here to learn how Solar Fire can supercharge your astrology!
7/13 (Wed)
Capricorn Full Moon Conjunct Pluto
A Full Moon shines forth at 2:38 pm EDT (21°21′ Capricorn). Any Capricorn Full Moon is ideal for release or adjustment in the areas of career and reputation. Other areas ripe for change include maturity, responsibility, and time management, as well as planning and implementation and being the Wise Elder.
Aspects
Pluto Conjunction
This Full Moon's strongest aspect is a Pluto conjunction with a 6-degree orb. ("Orb" measures how precise an aspect is.) For starters, this reinforces a Full Moon theme: release and transformation of that which no longer serves highest good.
Pluto also represents wealth and power. Wealth can be anything, tangible or intangible, that adds value to your life in any way. What wealth do you desire, and in what ways do you want it to increase? What are you willing to change or release to help make that happen?
Pluto also represents power. Do you want your power to increase? In what ways? What do you need to release or adjust to embody that power? (Self-limiting thoughts and unhealed traumas are the usual suspects in this type of shadow work.)
Pluto also represents soul-blended sex, and the entire range of occult practices. If you want to move more deeply into any of these, what change is needed to make room?
On a more worldly level, Pluto represents taxes, insurance and inheritance. Any changes needed here?
Other Aspects
Mercury's opposition to the Moon asks what ideas you need to change or let go to achieve your Full Moon goals. The Moon's other opposition, to Ceres, echoes the Plutonian themes of shadow work and wealth.
We've saved the Moon's two tightest aspects for last. One is a sextile to Juno, the asteroid goddess of committed partnership. If such a relationship is going well, you should feel that solid foundation under this energizing and harmonious aspect. If such a relationship needs healing or release, that will be easier under this soft aspect.
There's also a tight semi-square between the Moon and the asteroid goddess Vesta. Do you need to "turn a corner" – even subtly – in how you're selflessly supporting a higher cause?
Sabian Symbol
This Full Moon's Sabian Symbol is, "A general accepting defeat gracefully."
You can lose a battle but still win the war. A critical insight from this symbol is: don't waste energy stewing and fuming over a loss. This accomplishes nothing productive, wastes valuable energy, and can even harm your health.
Instead, you can tell yourself, "It is what it is." Or you can inspire yourself with my favorite Stoic saying: "The obstacle is the way." We build the most character, and achieve the fastest personal growth, when we rally to face challenge and defeat head-on.
If a war is completely and utterly lost, it's time to give up. Move on to another cause that has a chance of victory. But if you've only lost a battle, and the ultimate victory is still attainable, accept this smaller defeat gracefully. This will leave you more energy to plan and implement your next campaign … and emerge victorious in the end!
Make that amazing life you've been dreaming about real!
My unique combination of modalities, refined through more than 10,000 AstroShaman client sessions, can help you thrive in all areas of your life. And my unusual approach could help you do this faster than you might have thought possible.
Three More Mercury Aspects
Mercury doesn't just oppose the Full Moon today. It's also involved in three other aspects: A Mercury-Chiron square (16°24′ Cancer-Aries), a Mercury-Mars quintile (18°0′ Cancer-6°0′ Taurus), and a Mercury-Uranus sextile (18°13′ Cancer-Taurus). To keep it simple, let's just say that there's abundant energy available for learning, teaching and communication!
---
What aspect gives you the persistence of a marathon runner, combined with inspiration on where to focus all that long-lasting energy? A Mars-Saturn quintile! (6°4′ Taurus-24°4′ Aquarius) This is true just because of the planets and their aspect. But the effect is even stronger with Mars in Energizer Bunny Taurus, and Saturn in inspired Aquarius!
7/14 (Thu)
Venus Square Neptune
Boatloads of creative inspiration are available for your creative projects with Venus square Neptune (25°22′ Gemini-Pisces). This aspect is also great for perceiving divine energy in everything around you, and for cultivating a more conscious connection with your higher self. (My Embodied Awakening Invocation has helped thousands of people do this quickly and easily.)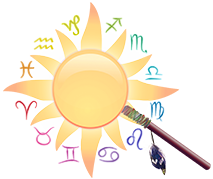 Deepen Your
Insight, Healing & Awakening
Your astrology chart reveals powerful insights into your relationships, career, soul purpose, and much more. Getting a yearly Astrology+ update can show you what's important now!
I also offer Shamanic Healing / IFS, one-of-a-kind Life Coaching, and more. All my services are equally effective in person or long distance.
Whatever your Sun Sign, my forecasts can help you make the best use of the current astrological energies.
All dates and times are in the U.S. eastern time zone. Events are most powerful on the dates listed, but their influence will be active for at least a week before and after.
Everyone is affected by these global transits. However, you'll be most powerfully impacted when moving planets activate sensitive points in your natal chart. Discover how these transits will personally affect you by booking a session with me.
Learn more about my Astrology+ sessions.
Recent Forecasts
Check back around the 1st and 16th for updated forecasts.