Relationships and creative expression are harmoniously energized by a Kite aspect pattern. It includes a powerful Mars-Uranus-North Node Triple Conjunction, ideal for taking immediate soul-aligned action on your intuitive hits.
The second half of July also features Chiron turning retrograde, perfect for emotional healing. We also have Jupiter retrograde, an intense T-Square, and a mentally stimulating Grand Cross. This half-month also includes the Sun entering Leo, a Leo New Moon, and more!
This forecast covers this half-month's most important astrological events. Also check out my award-winning This Week in Astrology audio podcast and YouTube video forecasts!
Click astrology graphics to see larger images. Some resource links may occur more than once. This is because many people link to a specific day's forecast from social media, and might not see an important resource link elsewhere on this page.
As of July 16 …
7/17 (Sun)
Pluto Opposing Ceres
How could an outer planet and an asteroid goddess have so much in common?
This Pluto-Ceres opposition (27°24′ Capricorn-Cancer) highlights these planets' shared themes. For starters, they can both amplify abundance and prosperity.
Pluto is lord of the underworld, where valuable resources like fossil fuels, gems and minerals are found. Ceres is the grain goddess, who blesses us with harvest and abundance.
So you can use this opposition to amplify your wealth. This could be money, as well as anything – tangible or intangible – that adds value to your life.
These two planets also rule trauma and emotional healing. Pluto rules psychology, as well as anything that's hidden or buried. Ceres was traumatized by the rape and abduction of her daughter Persephone. This forced her into into a harrowing "dark night of the soul" experience. And Pluto was the perpetrator!
Therefore, this opposition might trigger unhealed trauma. If so, you'd be well served by an effective shadow work technique.
The opportunities and challenges of this Pluto-Ceres opposition remain in effect through 8/8.
7/19 (Tue)
Chiron Retrograde
Chiron turns retrograde at 11:21 am (16°26′ Aries). It will turn direct again on 12/23 (11°66′ Aries). This is a great time for trauma healing.
A planetary retrograde is usually a better time to reflect and plan then take action. But shadow work, like a retrograde, is an internal, reflective process. So Chiron retrograde a great time to do your emotional healing work, not just think about it.
This is also good time to reflect on how you can step up your work as a healer or wisdom-giver.
7/20 (Wed)
Triple Conjunction Starts: Mars-Uranus-North Node
You have almost a month to take advantage of a Mars-Uranus-North Node Triple Conjunction! It starts today (7/20), peaks on 8/1 and ends on 8/15.
This powerful aspect is great for getting an intuitive hit, then taking immediate action on it that aligns with your life purpose. Its placement in Taurus can give you Energizer Bunny endurance to carry your efforts through to completion.
But steer clear of a more destructive manifestation of this Triple Conjunction. Don't act rashly and impulsively, especially if tempted by sensuality. If you do, you could face unpleasant karmic consequences later.
Awaken, Heal and Thrive!
Kick your personal evolution into high gear! Awakening Plus offers you online spiritual and shamanic experiences … 450+ consciousness-shifting recordings … and life-transforming courses. This extraordinary membership also gives you community connection and personal support.
Ready to awaken, heal and thrive like never before? Click to learn more!
7/22 (Fri)
Sun Enters Leo
The Sun enters Leo at 4:07 pm EDT. For the next month, it's easier to step out as a leader or entertainer. Your creativity can get a boost, and you can enjoy more playfulness, rest and relaxation. Enjoy time with kids, or connect with your inner children.
Watch out for the lower expressions of Leo. These include vanity, egotism and self-centeredness. Don't be like the less evolved Leo who says, "Oh, but I've talked enough about myself. Why don't you talk about me for a while?"
7/24 (Sun)
T Square Begins: Mars-Saturn-Uranus-Lunar Nodes
A T-Square featuring Mars, Saturn, Uranus, and the lunar nodes starts today (7/24), peaks on 8/5 and ends on 8/15. It has several layers, which we'll interpret one at a time. (The following is adapted from the T-Square interpretations in my June 2022 forecast.)
Let's start with the foundational T-Square that all the others are built on: Saturn square the lunar nodes. It carries a simple message: get on track with your life purpose!
Saturn can bring challenge, but only when it's needed. To the degree that you've deviated from your life purpose, Saturn will roil the waters to let you know. Release or adjust accordingly! But if you're on track, he'll be a steady wind in your sails.
The South Node is in Scorpio, while the North Node is in Taurus. So some of this reality checking on life purpose might involve material resources, wealth and abundance. Are you wielding power skillfully to achieve clear, desirable outcomes? And do you have an appropriate amount of sensuality and sexuality in your life?
Now let's add Uranus. The Saturn-Uranus square was 2021's strongest aspect. While it isn't exact this year, it's still 2022's most powerful astrological influence!
Many of 2022's biggest news stories fit the Saturn-Uranus archetype:
The Supreme Court overturning Roe v Wade, restricting the E.P.A.'s ability to regulate the energy sector, making it easier to carry guns in public, and blurring the division between church and state.
Russia's invasion of Ukraine, resulting in major unexpected changes in the geopolitical world order.
Fast-rising inflation in the global economy.
The school shooting in Uvalde, Texas.
The surprising passage of national legislation that adds some restrictions on guns.
And this just in: the collapse of the government and economy in Sri Lanka.
These tie into the Saturn-Uranus themes that are most important now:
Limitations on freedom.
Acute tension between liberal and conservative elements.
Polarized extremes between reactionary and progressive impulses.
Unexpected problems and disruptions.
Severe shocks.
Rude awakenings.
Irresponsible or harmful forms of rebellion.
Authority versus rebellion.
Conservatism versus change.
Challenging the bedrock assumptions of a worldview.
Personal suffering becomes archetypal suffering.
Global breakdown of antiquated structures.
For a deep dive on Saturn square Uranus, read my 12/24/2021 interpretation.
In this T-Square, Mars mainly acts to catalyze these energies thru 8/15. Used positively, Mars can add energy, vitality and positive assertiveness to actions that resonate with these archetypes.
On the low side, Mars could stir up destructive impulsiveness, violence or inappropriate sexuality. Try to avoid dangerous people and situations, and harness these powerful energies mindfully!
The #1 Astrology Software for Windows — at an Unbeatable Price!
SOLAR FIRE 9 is the world's leading astrology software for Windows. Earlier versions brought an unprecedented level of ease to casting and working with astrological charts. The current version adds many more calculations, extra convenience features, more interpretive text, and exciting new graphic displays.
SOLAR FIRE 9 contains something for everyone!
For advanced astrologers and professionals, it has a great variety of high-precision astrological calculations and an exceptional degree of user-customization.
For novices, its innovative point-and-click chart interpretations provide an enjoyable way to learn. Many easily explored options will encourage you to experiment with new techniques.
No one sells Solar Fire for less than AstroShaman.
Click here to learn how Solar Fire can supercharge your astrology!
7/25 (Mon)
Grand Cross Begins: Mercury-Mars-Saturn-Uranus-Lunar Nodes
A Mercury-Mars-Saturn-Uranus-Lunar Nodes Grand Cross starts today (7/25), peaks on 7/30 and ends on 8/3.
This adds Mercury to the previously empty corner of the Mars-Saturn-Uranus-Lunar Nodes Grand Cross T-Square that started yesterday (7/24). Fortunately, today's aspect pattern is much more quick and simple to interpret!
In a nutshell, this Grand Cross supercharges learning, teaching and communication. Get behind whatever uses your mind!
7/27 (Wed)
Relationship-Enhancing Kite Begins
Relationships aligned with your highest good receive powerful, flowing support from a Kite that starts today (7/27), peaks on 8/3 and ends on 8/10. It includes Venus, Mars, Juno, Uranus, and the lunar nodes.
The relationship theme comes from Venus, natural ruler of relationships, and the asteroid goddess Juno, who represents committed partnerships. A Venus-Mars sextile also carries relational energy.
The theme of harmony comes from the Kite aspect pattern, since four of its five aspects are soft. A relationship aligning with your life purpose comes from the North Node – the destiny point – at the tip of the Kite.
Mars and Uranus join the North Node to form a Triple Conjunction at the tip of the Kite. (I interpreted this Triple Conjunction on 7/20, the date it started). Let's customize part of that interpretation for this Kite:
If you get an intuitive hit about an important relationship, consider taking immediate action on it that aligns with your life purpose. The Triple Conjunction's placement in Taurus can give you Energizer Bunny endurance to carry your plan through to completion.
There's also an alternative interpretation. You could use this Kite to partner with someone on a creative project. This Kite especially supports projects that are bold, original, and aligned with your life purpose!
Make that amazing life you've been dreaming about real!
My unique combination of modalities, refined through more than 10,000 AstroShaman client sessions, can help you thrive in all areas of your life. And my unusual approach could help you do this faster than you might have thought possible.
7/28 (Thu)
Leo New Moon
A New Moon lines up at 1:55 pm EDT (5°38′ Leo). Any Leo New Moon is great for new energy for your role as a leader or entertainer. It can also fuel anything to do with creative expression, children, and inner children, as well as fun, rest and relaxation.
Aspects
Jupiter Trine
Jupiter trines the Sun and Moon. This flowing aspect makes it easy for Jupiter to support your New Moon goals harmoniously.
Jupiter can give you luck, expansion and abundance. If you use this Leo energy to step into the spotlight, Jupiter can help you share your message with greater impact.
Jupiter rules publication, which includes audio and video. If your message involves philosophy, religion or the meaning of life, Jupiter supports these too!
Does your message include content from other cultures? Are you broadcasting this message beyond the borders of your own country? Jupiter has your back for all this as well.
Jupiter's placement in fiery Aries gives it plenty of gusto to support you. And Jupiter turning retrograde less than three hours after this New Moon gives it bonus juju. A planet has extra power when it changes directions!
Other Aspects
This Leo New Moon also conjoins Ceres, the grain goddess. This asteroid goddess is associated with harvest and abundance. This amplifies the prosperous potential of the Jupiter trine.
Ceres is also associated with sorrow, loss and shadow work. Her abundant side should be stronger under this New Moon, but some psychological processing could also be catalyzed.
If so, you should be able to do your inner healing work more easily than usual – especially if you use an effective shadow work technique. (My Healing Invocation has helped thousands heal old emotional traumas quickly and easily. Learn more at "Instant Divine Assistance: Your Free Guide to Fast and Easy Awakening and Healing.")
This New Moon also features a tight Juno sesquare. This is a minor hard aspect with the asteroid goddess of committed partnership. If you do get a challenging emotional catalyst, this aspect hints where it might come from! This New Moon's Leo energy can also shine light on your important relationships, spotlighting how to improve them.
The final significant New Moon aspect is a tight Vesta quincunx. This aspect of adjustment invites you to take a look at any worthy causes you're selflessly supporting. Is there anything you should modify regarding your involvement?
Sabian Symbol
This New Moon's Sabian Symbol is, "An old-fashioned conservative woman is confronted by an up-to-date girl." This symbol poses the same question as the current two-year square between Saturn and Uranus.
On the Saturn/old-fashioned conservative woman side, which existing structures does it serve highest good to carry forward? Which need to be released or updated?
On the Uranus/up-to-date girl side, are you acting on your intuitive hits – even if they're radical and shake up the status quo? Are you showing the world your authentic self, even if it raises some eyebrows?
Synchronistically, Spiritsong and I are currently watching the wonderful comedy series Hacks on HBO Max. Its female odd couple pairing — a crusty older comedian and her young writing partner — is a delightful take on this Sabian Symbol's theme!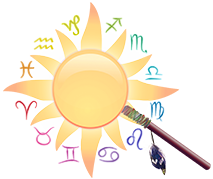 Deepen Your
Insight, Healing & Awakening
Your astrology chart reveals powerful insights into your relationships, career, soul purpose and much more. Getting a yearly Astrology+ update can show you what's important now!
I also offer Shamanic Healing / IFS, one-of-a-kind Life Coaching, and more. All my services are equally effective in person or long distance.
Jupiter Retrograde
Jupiter turns retrograde at 4:38 p.m. EDT (8°43′ Aries). As I mentioned above, this happens less than three hours after the Leo New Moon. Jupiter will turn direct again on 11/23 (28°47′ Pisces).
This is a great time to reflect on how you're working with these themes:
expansion
overextending yourself
quests and adventures
philosophy, religion, or the meaning of life
higher education (formal or self-guided)
being a professor, philosopher, guru or other wisdom-giver
publishing
believing you have the one true way, and its associated proselytizing
foreign travel or influences
celebration and euphoria!
7/30 (Sat)
Grand Cross Peaks
The Mercury-Mars-Saturn-Uranus-Lunar Nodes Grand Cross that started on 7/25 peaks today (7/30) and ends on 8/3.
Whatever your Sun Sign, my forecasts can help you make the best use of the current astrological energies.
All dates and times are in the U.S. eastern time zone. Events are most powerful on the dates listed, but their influence will be active for at least a week before and after.
Everyone is affected by these global transits. However, you'll be most powerfully impacted when moving planets activate sensitive points in your natal chart. Discover how these transits will personally affect you by booking a session with me.
Learn more about my Astrology+ sessions.
Recent Forecasts
Check back around the 1st and 16th for updated forecasts.