An intense "Grand Crossed" Aquarius Full Moon highlights the first half of August. This Grand Cross is based on the Saturn-Uranus square that's given us such a tumultuous year and a half.
There's also harmonious potential as a Mercury Kite stimulates this decade's most important aspect pattern: a Uranus-Neptune-Pluto Mini Grand Trine. This outer planet trio is just warming up, but will empower the Aquarian Age as it strengthens.
We also have more aspect patterns. These include a peaking Triple Conjunction, a new "Finger of God" for trauma healing, a Mystic Rectangle, and more. Let's explore!
This forecast covers this half-month's most important astrological events. Also check out my award-winning This Week in Astrology audio podcast and YouTube video forecasts!
Click astrology graphics to see larger images. Some resource links may occur more than once. This is because many people link to a specific day's forecast from social media, and might not see an important resource link elsewhere on this page.
As August begins …
8/1 (Mon)
Triple Conjunction Peaks: Mars-Uranus-North Node
You have about two more weeks to take advantage of a Mars-Uranus-North Node Triple Conjunction! It started on 7/20, peaks today (8/1) and ends on 8/15.
This powerful aspect is great for getting an intuitive hit, then taking immediate action on it that aligns with your life purpose. Its placement in Taurus can give you Energizer Bunny endurance to carry your efforts through to completion.
But steer clear of a more destructive manifestation of this Triple Conjunction. Don't act rashly and impulsively, especially if tempted by sensuality. If you do, you could face unpleasant karmic consequences later.
The peak of this aspect pattern coincides with its two planets coming together. This is a Mars-Uranus conjunction today (8/1) at 18°42′ Taurus.
8/2 (Tue)
New "Finger of God" Points to Trauma Healing
A Yod – also known as a "Finger of God" – starts today (8/2), peaks on 8/10, and ends on 8/20. It includes Pallas Athena, Chiron and the South Node.
This aspect pattern can help you strategically heal your psychological wounds. The strategic energy comes from Pallas Athena in clever Gemini. Chiron, her partner at the back of the Yod, is the Wounded Healer archetype. He contributes some of the healing and shadow work energy.
The rest comes from the South Node. It holds unhealed traumas you brought in from past lives. (The idea is to heal them in this one!) The South Node is in Scorpio, the sign associated with psychology and transformative inner healing.
This Yod can also be positively externalized. You can use it to strategically use your healing and mentoring gifts to help others.
In this case, we would think of this as a "Bounce-Back Yod." Its energy wouldn't stop at the South Node. Instead, it would bounce back to the North Node (not pictured), which is directly across from the South Node. The North Node is the "destiny point," where you express your life purpose into the world.
---
Relationships and creativity get a strong, harmonious boost with Venus sextile Mars (19°24′ Cancer-Taurus). With Venus in Cancer, you can bring more authentic heartfelt energy into your relating and artistry. Mars in Taurus supports extended erotic loveplay, or long-lasting productivity in your creative work.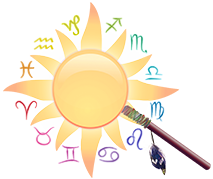 Deepen Your
Insight, Healing & Awakening
Your astrology chart reveals powerful insights into your relationships, career, soul purpose and much more. Getting a yearly Astrology+ update can show you what's important now!
I also offer Shamanic Healing / IFS, one-of-a-kind Life Coaching, and more. All my services are equally effective in person or long distance.
8/3 (Wed)
Relationship-Enhancing Kite Peaks
Relationships aligned with your highest good receive powerful, flowing support from a Kite that started on 7/27, peaks today (8/3) and ends on 8/10. It includes Venus, Mars, Juno, Uranus, and the lunar nodes.
The relationship theme comes from Venus, natural ruler of relationships, and the asteroid goddess Juno. She represents committed partnerships. A Venus-Mars sextile also carries relational energy.
The theme of harmony comes from the Kite aspect pattern, since four of its five aspects are soft. A relationship aligning with your life purpose comes from the North Node – the destiny point – at the tip of the Kite.
Mars and Uranus join the North Node to form a Triple Conjunction at the tip of the Kite. (I interpreted this Triple Conjunction on 8/1, the date it peaked). Let's customize part of that interpretation for this Kite:
If you get an intuitive hit about an important relationship, consider taking immediate action on it that aligns with your life purpose. The Triple Conjunction's placement in Taurus can give you Energizer Bunny endurance to carry your plan through to completion.
There's also an alternative interpretation. You could use this Kite to partner with someone on a creative project. This Kite especially supports projects that are bold, original, and aligned with your life purpose!
8/4 (Thu)
Grand Cross Begins
A Grand Cross begins today, peaks on 8/12 and ends on 8/20. It adds the Sun to the previously existing T-Square with Saturn, Uranus and the lunar nodes. The Sun is dignified in Leo, the sign it rules, which gives it extra power.
The Sun radiates heat and light to the T-Square, amplifying its energy. (This T-Square's interpretation is included in tomorrow's interpretation of the Mars-Saturn-Uranus-Lunar Nodes T-Square.)
The T-Square returns the favor by energizing the Sun. For starters, this lets you step out as a leader or entertainer. The T-Square electrifies you to do this in your own unique way (Uranus). You can lead or entertain with maturity, discipline and wisdom (Saturn) – and in alignment with your life purpose (lunar nodes).
If challenge (Saturn) arises, face it with courage (Leo). And be guided by your intuitive flashes (Uranus)!
8/5 (Fri)
T Square Peaks: Mars-Saturn-Uranus-Lunar Nodes
A Mars-Saturn-Uranus-Lunar Nodes T-Square started on 7/24, peaks today (8/5) and ends on 8/15. There are several layers to it, which we'll interpret one at a time.
Saturn Square the Lunar Nodes
Let's start with the foundational T-Square that all the others are built on: Saturn square the lunar nodes. It carries a simple message: get on track with your life purpose!
Saturn can bring challenge, but only when needed. To the degree that you've deviated from your life purpose, Saturn will roil the waters to let you know. Release or adjust accordingly! But if you're on track, he'll be a steady wind in your sails.
The South Node is in Scorpio, while the North Node is in Taurus. So some of this reality checking on life purpose might involve material resources, wealth and abundance. Are you wielding power skillfully to achieve clear, desirable outcomes? And do you have an appropriate amount of sensuality and sexuality in your life?
Saturn Square Uranus
Now let's add Uranus. The Saturn-Uranus square was 2021's strongest aspect. While it isn't exact this year, it's still 2022's most powerful astrological influence!
Many of 2022's biggest news stories fit the Saturn-Uranus archetype:
Joe Manchin throwing a monkey wrench into President Biden's environmental legislation.
The Supreme Court overturning Roe v Wade, restricting the E.P.A.'s ability to regulate the energy sector, making it easier to carry guns in public, and blurring the division between church and state.
Russia's invasion of Ukraine, resulting in major unexpected changes in the geopolitical world order.
Fast-rising inflation in the US economy.
The school shooting in Uvalde, Texas.
Actual passage of national legislation adding some restrictions on firearms.
The collapse of the government in Sri Lanka.
These tie into the Saturn-Uranus themes that are most important now:
Limitations on freedom.
Acute tension between liberal and conservative elements.
Polarized extremes between reactionary and progressive impulses.
Unexpected problems and disruptions.
Severe shocks.
Rude awakenings.
Irresponsible or harmful forms of rebellion.
Authority versus rebellion.
Conservatism versus change.
Challenging the bedrock assumptions of a worldview.
Personal suffering becomes archetypal suffering.
Global breakdown of antiquated structures.
For a deep dive on Saturn square Uranus, read my 12/24/2021 interpretation.
And Finally, Mars
In this T-Square, Mars mainly acts to catalyze these energies thru 8/15. Used positively, Mars can add energy, vitality and positive assertiveness to actions that resonate with these archetypes.
On the low side, Mars could stir up destructive impulsiveness, violence or inappropriate sexuality. Try to avoid dangerous people and situations, and harness these powerful energies mindfully!
Make that amazing life you've been dreaming about real!
My unique combination of modalities, refined through more than 10,000 AstroShaman client sessions, can help you thrive in all areas of your life. And my unusual approach could help you do this faster than you might have thought possible.
8/7 (Sun)
A Venus-Neptune trine (25°1′ Cancer-Pisces) lets you express your inspired creativity in a way that moves people's hearts. It can also help you merge your heart with someone else's, be they human or divine!
---
Today's Mars-Saturn square (22°24′ Taurus-Aquarius) is part of the Mars-Saturn-Uranus-Lunar Nodes T-Square that peaked on 8/5.
On its own, it can give you significantly enhanced perseverance. With Saturn in Aquarius, you might be working on some sort of breakthrough! This square is also great for taking erotic loveplay in exciting new directions.
8/9 (Tue)
A Venus-Pluto opposition (26°53′ Cancer-Capricorn) can supercharge any of Venus' core meanings: relationship, creativity or money. If challenge arises, Pluto can help you make appropriate release, adjustment or healing. But if something is moving in the right direction, Pluto can shower down the power!
8/10 (Wed)
Mystic Rectangle Begins
A mentally stimulating Mystic Rectangle begins today (8/10), peaks on 8/16 and ends on 8/21. It includes Mercury, Juno, Uranus, and the lunar nodes.
Mercury, dignified in Virgo, is energized to help you learn, think, and teach with an enhanced eye for detail. Uranus (divine mind) trines Mercury (human mind), easing the way for intuitive hits and fresh insights.
Juno invites you to do this mentally focused work in some type of committed partnership. And the lunar nodes would love it if all this aligns with your life purpose.
"Finger of God" Peaks
The Pallas-Chiron-South Node Yod ("Finger of God") that started on 8/2 peaks today (8/10) and ends on 8/20.
8/11 (Thu)
Aquarius Full Moon
A Full Moon shines forth at 9:36 pm (19°21′ Aquarius). Any Aquarius Full Moon is great for a release or adjustment in these areas:
making optimal use of your intelligence and originality,
internally embracing your unique qualities and showing them to the world, as appropriate,
recognizing and acting on your intuitive hits, and
serving others with your special talents that you most love to use.
On the challenging side, avoid being too impulsive, erratic or extreme in ways that don't serve highest good.
Aspects
This Full Moon's aspects make it one of the most powerful lunations of the year!
Grand Cross
The luminaries align with the Mars-Saturn-Uranus-Lunar Nodes T-Square, which I interpreted on 8/5. The addition of the Sun and Moon expand this T-Square into astrology's most intense aspect pattern: a Grand Cross!
The Moon is conjunct Saturn, while Mars, Uranus and the lunar nodes square the luminaries. With the sole exception of Mars, all these aspects are tight and powerful.
On one hand, for the next two weeks, this Full Moon adds even more power to what the T-Square is already doing. The T-square/Grand Cross returns the favor by supercharging the inherent potentials of the Aquarius Full Moon!
Please see my T-Square interpretation for more insights on its effects, all of which color this Full Moon.
Cradle
This Full Moon's other aspect pattern is a Cradle. It includes the Moon, Sun, Pallas Athena, Saturn, and Chiron.
With Chiron, this flowing configuration smoothly supports healing. Pallas Athena in Gemini lets you do this strategically, with plenty of forethought. Saturn helps you persevere through the challenges. Finally, the Aquarian energy (Saturn and the Moon) support an innovative approach that can speed up the healing process.
Speaking of which, my Healing Invocation has helped thousands accelerate their personal healing work. Learn how to do it at Instant Divine Assistance: Your Free Guide to Fast and Easy Awakening and Healing.
One More Aspect
Finally, the Full Moon is tightly semi-sextile Juno. Are there any releases or adjustments that would help your committed partnerships?
Sabian Symbol
This Full Moon's Sabian Symbol is, "A large white dove bearing a message."
What's the message most universally attributed to a white dove? Peace. White doves are also associated with unity, spirituality, love, and joy.
You could direct the massive power of this Full Moon high or low. What do you suppose this white dove would prefer?
The #1 Astrology Software for Windows — at an Unbeatable Price!
SOLAR FIRE 9 is the world's leading astrology software for Windows. Earlier versions brought an unprecedented level of ease to casting and working with astrological charts. The current version adds many more calculations, extra convenience features, more interpretive text, and exciting new graphic displays.
SOLAR FIRE 9 contains something for everyone!
For advanced astrologers and professionals, it has a great variety of high-precision astrological calculations and an exceptional degree of user-customization.
For novices, its innovative point-and-click chart interpretations provide an enjoyable way to learn. Many easily explored options will encourage you to experiment with new techniques.
No one sells Solar Fire for less than AstroShaman.
Click here to learn how Solar Fire can supercharge your astrology!
8/12 (Fri)
T-Square Peaks
The Sun-Saturn-Uranus-lunar nodes Grand Cross that started on 8/4 peaks today (8/12) and ends on 8/20.
8/14 (Sun)
You can enjoy a smooth flow of abundant vitality with Mars trine Pluto (26°45′ Taurus-Capricorn). Pluto can also empower your Martian potential as a leader, pioneer, entrepreneur or sexual being.
You can enjoy extended endurance with Mars in Taurus. This placement also supports slow sensuality, while the Pluto-Mars-Taurus combo is ideal for sacred sex.
8/15 (Mon)
Mercury Stimulates This Decade's Most Important Aspect Pattern
Mercury forms the tip of a Kite with Uranus, Neptune, and Pluto today. This harmonious aspect pattern peaks on 8/19 and ends on 8/24.
Let's explore what the outer planets are doing. Then we'll integrate Mercury.
Uranus, Neptune, and Pluto are just starting to form the decade's most important aspect pattern. This Mini Grand Trine is just starting to turn on this year, 7/1 through 11/18.
This Mini Grand Trine will help us bring in the Aquarian Age. (Astrology virtuoso Eric Meyers eloquently explains this in my 2022 astrology forecast video. The Mini Grand Trine segment, featuring Eric's guest appearance, starts at 1:30:33.)
Uranus, Neptune, and Pluto will form this aspect pattern for most of 2023, then seriously turn on the juice through the end of the decade. The global opportunities for accelerated awakening, inspired creativity, eco-friendly power breakthroughs, enhanced unity, and much more are off the charts!
As Eric says, it's encouraging to know that such a world-changing astrological opportunity is coming. It can help us keep the faith during these challenging times!
What About Mercury?
The Kite that Mercury forms with the outer planets can't hope to operate on such a grand scale. But Mercury gives a bit of stimulation to the Mini Grand Trine. And the outer planets juice up Mercury big time!
Some of the effects are the same as with Mercury's Mystic Rectangle, which peaks tomorrow (8/16) and ends on 8/21. Mercury, dignified in Virgo, is energized to help you learn, think, and teach with an enhanced eye for detail. Uranus (divine mind) trines Mercury (human mind), easing the way for intuitive hits and fresh insights.
Instead of a flash, Neptune can give your mind a constant flow of intuition. This can help you operate "in the zone." You can also receive a lot more inspired creativity.
Pluto can give a big power-up to your thinking. It can also help you think more deeply, and with greater focus.
As lord of the underworld, Pluto can help you focus your thoughts on healing emotional traumas. (As I mentioned in the Full Moon forecast, my free Healing Invocation can help speed up this process!)
Awaken, Heal and Thrive!
Kick your personal evolution into high gear! Awakening Plus offers you online spiritual and shamanic experiences … 450+ consciousness-shifting recordings … and life-transforming courses. This extraordinary membership also gives you community connection and personal support.
Ready to awaken, heal and thrive like never before? Click to learn more!
Whatever your Sun Sign, my forecasts can help you make the best use of the current astrological energies.
All dates and times are in the U.S. eastern time zone. Events are most powerful on the dates listed, but their influence will be active for at least a week before and after.
Everyone is affected by these global transits. However, you'll be most powerfully impacted when moving planets activate sensitive points in your natal chart. Discover how these transits will personally affect you by booking a session with me.
Learn more about my Astrology+ sessions.
Recent Forecasts
Check back around the 1st and 16th for updated forecasts.