The first half of October features Mercury and Pluto turning direct, the 2022 peak of the Saturn-Uranus square, and an Aries Full Moon lit up by a five-planet T-Square! We also have two new Grand Trines and a peaking T-Square.
This forecast covers this half-month's most important astrological events. Also check out my award-winning This Week in Astrology audio podcast and YouTube video forecasts!
Click astrology graphics to see larger images. Some resource links may occur more than once. This is because many people link to a specific day's forecast from social media, and might not see an important resource link elsewhere on this page.
As of October 1 …
10/1 (Sat)
Saturn Square Uranus: Closest 2022 Approach
I can't exaggerate the importance of the mighty Saturn-Uranus square. It's the most important aspect of 2021 and 2022. Its influence lasts 26 months, 11/23/20 thru 1/24/23. And this square makes its closest approach of the year today, when it's less than one degree from exact!
Recent events influenced by the Saturn-Uranus square include:
Hurricane Ian reportedly becomes the most destructive hurricane ever to hit Florida.
Ukraine's successful counteroffensive against Russia, followed by Putin's illegal annexation of Ukrainian territory.
Italy elects its first far-right-led government and most right-wing government since 1945.
The death of Queen Elizabeth II.
Major protests in Iran following the death of Mahsa Amini in the custody of the country's "morality police."
Pakistan experiences the world's deadliest flood since 2017.
At least 12,000 people are killed due to extreme heat waves hitting much of Europe, additionally causing major wildfires, travel disruption, and record high temperatures in many countries.
The most detailed images from space ever created start being transmitted from the new James Webb Space Telescope.
I've previously done a deep dive forecast on the Saturn-Uranus square, and don't want to repeat that extensive material here. Click here to learn more about it!
Awaken, Heal and Thrive!
Kick your personal evolution into high gear! Awakening Plus offers you online spiritual and shamanic experiences … 500+ consciousness-shifting recordings … and life-transforming courses. This extraordinary membership also gives you community connection and personal support.
Ready to awaken, heal and thrive like never before? Click to learn more!
10/2 (Sun)
Mercury Direct
Mercury turns direct at 5:07 am EDT (24°11′ Virgo). The planet of communication has been retrograde since 9/9 (8°55′ Libra). If you've been putting off a major new venture or big purchase, the Mercurial coast is clear.
This is also a good time to take action on your Mercury retrograde reflections. To review:
Mercury was retrograde in Libra 9/9 thru part of 9/23. This was a great time to reflect on your relationships and artistic output, as well as the creative content you're taking in.
Mercury spent the rest of its retrograde in Virgo. What wisdom did you gain about your health and how you're serving others? Are you paying attention to the most important details and subtleties, without getting caught in excessive perfectionism or criticism?
How could you improve your life now by acting on these insights?
10/4 (Tue)
Grand Trine Begins
"Steady Eddie" energy is available for your vitality, relationships, and creativity thanks to an air sign Grand Trine that includes the Sun in Libra. This flowing and harmonious aspect pattern also has Mars in Gemini and Saturn in Aquarius. It starts today, peaks on 10/14, and ends on 10/21.
Mars in Gemini can fire up your learning, writing, and teaching, while Saturn in Aquarius can help you bring positive innovations to your existing structures. The "Steady Eddie" energy comes from the Mars-Saturn trine.
T Square Peaks: Inspiration or Confusion?
A T-Square with Mercury, Mars, and Neptune peaks today. It started on 9/25, peaks today (10/4), and ends on 10/13.
Depending on how skillfully you work with this hard aspect pattern, it could generate inspiration or confusion (Neptune) in your thoughts (Mercury) or actions (Mars).
The deeper your spiritual awakening, the more you can receive a consistent flow of trustworthy information and guidance from your higher self. The less connected you are, the more susceptible you are to manipulative propaganda and misinformation.
The #1 Astrology Software for Windows — at an Unbeatable Price!
SOLAR FIRE 9 is the world's leading astrology software for Windows. Earlier versions brought an unprecedented level of ease to casting and working with astrological charts. The current version adds many more calculations, extra convenience features, more interpretive text, and exciting new graphic displays.
SOLAR FIRE 9 contains something for everyone!
For advanced astrologers and professionals, it has a great variety of high-precision astrological calculations and an exceptional degree of user-customization.
For novices, its innovative point-and-click chart interpretations provide an enjoyable way to learn. Many easily explored options will encourage you to experiment with new techniques.
No one sells Solar Fire for less than AstroShaman.
Click here to learn how Solar Fire can supercharge your astrology!
10/8 (Sat)
Pluto Direct
Pluto turns direct at 5:56 p.m. EDT (26°6′ Capricorn). He's been retrograde since 4/29 (28°35′ Capricorn). Did you reflect on the Pluto themes in your life while he was retrograde? If so, this is a great time to start acting on the insights you gained.
In my 4/29 Pluto retrograde forecast, I discussed his main themes: wealth and power. Wealth can be money, but it can also be anything you value. What kind of wealth is most important to you?
Power has two basic flavors: power over and shared power. "Power over" controls, manipulates, and forces others to do its bidding. Shared power distributes opportunity and responsibility more equally, and aims for win-win outcomes. When done well, it's like a rising tide that lifts all boats.
What kind of power are you cultivating? What power themes would it serve highest good to act on now that Pluto is direct?
Pluto also rules occult practices and sacred sex. He's the lord of shamanism, shadow work, and soul-deep transformation.
Are you interested in exploring any of these for the first time, or changing how you're working with them now? (If you'd like a fast and effective tool for healing old emotional traumas, check out my free Healing Invocation.
Pluto also rules taxes, insurance and inheritance. Do any of these themes need your attention now?
Finally, planets are most powerful when they change directions. Do you have sensitive points in your natal chart between 23° and 29° in a cardinal sign (Aries, Cancer, Libra or Capricorn)? If so, Pluto's direct station will stimulate them powerfully. Work skillfully with any challenges that arise, so that you can milk the maximum wealth and power from the situation!
10/9 (Sun)
Aries Full Moon
A Full Moon lines up at 4:55 p.m. EDT (16°32′ Aries). Any Aries Full Moon is great for release or adjustment in your roles as a warrior, pioneer, entrepreneur, or sexual being. Just be careful not to be too impulsive or violent, two of Aries' darker expressions.
Aspects
T-Square
This Full Moon is strongly influenced by a five-planet T-Square. It includes the Sun, Moon, Venus, Pallas Athena, and Chiron.
If you're in a relationship with unresolved issues – or if you have your own unresolved issues and are in a relationship – This T-Square could trigger them. Relationships are represented by the Sun and Venus in Libra. The wounding comes courtesy of Chiron, closely conjunct the Moon in Aries.
The good news is that triggering can set the stage for healing! My favorite relationship healing guide is Nonviolent Communication by Marshall Rosenberg. To heal your own unresolved trauma quickly and easily, try my free Healing Invocation.
Pallas Athena in Cancer squares the other four planets. Pallas is best known as a warrior goddess, but she also holds the keys to strategy and mediation. You can partner with her energy to negotiate a win-win solution.
If not managed consciously, the Moon and Chiron in Aries could lead to anger, impulsiveness, or even violence. Instead, use this Aries energy mindfully to initiate and energize relationship healing.
Even if no one gets triggered, you can use this T-Square proactively to make a good relationship even better! The two of you can do this on your own if you're sufficiently evolved and skillful. Or you can call on the wisdom of others to support you. This takes advantage of Chiron's high side potential as a healer and wisdom-giver.
Viewed another way, this T-Square can positively energize your creativity or finances, represented by Venus. Chiron can help heal any psychological blocks in these areas, while Pallas Athena invites you to be strategic in how you deal with them.
Saturn-Uranus Square
There are also aspects from two slower planets to this Full Moon: a Saturn sextile and a Uranus semi-sextile. (Saturn and Uranus are also tightly square each other, as noted in the 10/1 forecast above.) This can help you revolutionize (Uranus) structures (Saturn) that would benefit from change. This also put some unpredictability into the mix, so stay light on your feet and be ready to improvise. Stay tuned to Uranus, the giver of intuitive hits, for guidance.
Make that amazing life you've been dreaming about real!
My unique combination of modalities, refined through more than 10,000 AstroShaman client sessions, can help you thrive in all areas of your life. And my unusual approach could help you do this faster than you might have thought possible.
Venus Grand Trine Begins
A second Grand Trine begins today, five days after the first one in October. Both Grand Trines contain Mars and Saturn, but this new one replaces the Sun with Venus in the Libra corner.
Since both aspect patterns have so much in common, there's plenty of similarity in their interpretations. To wit:
With this Venus Grand Trine, "Steady Eddie" energy is available for your relationships, finances, and creativity. This flowing and harmonious aspect pattern also has Mars in Gemini and Saturn in Aquarius. It starts today (10/9), peaks on 10/16, and ends on 10/22. (This end date is just one day after the Grand Trine with the Sun wraps up.)
Mars in Gemini can fire up your creative expression, while Saturn in Aquarius can help you bring positive innovations to your relationships, finances, and creativity. The "Steady Eddie" energy comes from the Mars-Saturn trine.
10/14 (Fri)
Sun Grand Trine Peaks
The Sun-Mars-Saturn Grand Trine that started on 10/4 peaks today (10/14) and ends on 10/21.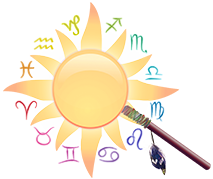 Deepen Your
Insight, Healing & Awakening
Your astrology chart reveals powerful insights into your relationships, career, soul purpose, and much more. Getting a yearly Astrology+ update can show you what's important now!
I also offer Shamanic Healing / IFS, one-of-a-kind Life Coaching, and more. All my services are equally effective in person or long distance.
Whatever your Sun Sign, my forecasts can help you make the best use of the current astrological energies.
All dates and times are in the U.S. eastern time zone. Events are most powerful on the dates listed, but their influence will be active for at least a week before and after.
Everyone is affected by these global transits. However, you'll be most powerfully impacted when moving planets activate sensitive points in your natal chart. Discover how these transits will personally affect you by booking a session with me.
Learn more about my Astrology+ sessions.
Recent Forecasts
Check back around the 1st and 16th for updated forecasts.