A coronaviral Spring Equinox Chart highlights the second half of March. It includes a Capricorn Grand Stellium featuring the titanic Jupiter-Saturn-Pluto triple conjunction, as well as an intense Chironic T-square. We also have one of 2020's biggest events – Saturn's entry into Aquarius – along with an Aries New Moon and harmonious energy from some soft aspects.
Click astrology graphics to see larger images. Some resource links may occur more than once. This is because many people link to a specific day's forecast from social media, and might not see an important resource link elsewhere on this page.
3/16 (Mon)
Yod Begins
Committed partnerships of all kinds are highlighted by a Yod that begins today (3/16), peaks on 3/21 and ends on 3/24. This "Finger of God" features Venus, Juno and Neptune.
Is a particular committed partnership (Juno) firing on all cylinders? Then this Yod can reinforce its harmony and stability (Venus in Taurus), and ease your relationship's energetic blending (Neptune in Pisces).
If a committed partnership isn't in such good shape, Neptune can throw in confusion and start washing away its foundations. In this case, two possible adjustments are suggested by this Yod's pair of 150° quincunxes: heal the relationship or let it go.
3/19 (Thu)
Spring Equinox
The coronaviral Spring Equinox chart includes a Capricorn Grand Stellium featuring the titanic Jupiter-Saturn-Pluto triple conjunction, as well as an intense Chironic T-square!
For starters, the Sun enters Aries at 1:49 pm EDT, marking the Spring Equinox. For the next month, this can energize your roles as a warrior, entrepreneur, and leader … as well as athlete, initiator and sexual being.
Spring Equinox Chart
The planets' positions when the seasons change say a lot about the energy of the next three months. Let's see what this chart, interpreted for everyone on earth without reference to astrological houses, tells us about Spring 2020.
The big news as spring begins, of course, is the COVID-19 coronavirus and its globally challenging effects. Two planets are primarily associated with illness. Chiron, the "wounded healer," is the planet most associated with sickness. And Pluto rules viruses and contagions.
T-square with Chiron
Let's start with Chiron. The Sun and Chiron, both in Aries, form a challenging T-square with the lunar nodes. Aries is associated with attack, which accurately describes COVID-19's aggressive style.
The South Node is in Capricorn, while the North Node is in Cancer. The general idea with the nodes is movement from south to north. In this case, that's away from business and worldly accomplishment (Capricorn) and toward the greater safety and security of home.
As I write this, the Centers for Disease Control is recommending that anyone who's over 60 (my age), or who has a challenged immune system, stock up on essentials and shelter at home until the crisis passes. It also appears that the more social distancing you can do, whatever your age or healthiness, the less chance of viral transmission there will be.
This T-square also opens the door to service opportunities. Does it align with your life purpose to step up in this time of crisis and act as a healer, or share helpful wisdom? And perhaps to do so on your own initiative, without waiting to be asked?
This would be a positive embodiment of this T-square, especially the higher side of Chiron in Aries. This is true as long as you don't do so impulsively and rashly – destructive Aries expressions – in ways that cause more harm than good. I've already witnessed well-meaning friends "helping" by sharing misleading and dangerous advice about the coronavirus.
Grand Stellium with Pluto
The Spring Equinox chart also contains a Grand Stellium: five planets close together in Capricorn, including Pluto. The other planets are Saturn, Jupiter, Mars and Pallas Athena. And they're all within 8°8′ of each other.
The presence of these two 8's got my attention, so I did some numerology research. The "8" post on TheSecretOfTheTarot.com says that 8 is "the karmic equalizer, both destroyer and creator, the force that regulates cycles of life, death, and rebirth." On numerology.com's "8" post, Hans Decoz adds, "When the 8 comes knocking, you can be assured that you will reap what you've sown." This can apply both individually and collectively. (8 also has other meanings, but this one seems most relevant here.)
This kind of heavy-duty language relates to Pluto and/or Saturn in astrology. These are the two most powerful planets in this Grand Stellium. In fact, the all-year Saturn-Pluto conjunction set the stage for COVID-19 and its titanic global effects. Pandemics, global financial downturns and widespread fear are all associated with hard aspects between these two challenging planets.
For a deep dive into these Saturn-Pluto effects, read my January 12 forecast for the Saturn-Pluto conjunction. And listen to the free MP3 from my 2020 forecast lecture, linked from that post, for an in-depth historical overview of Saturn-Pluto hard aspects.
This Grand Stellium also includes Jupiter. The triple conjunction of Jupiter, Saturn and Pluto – which criss-cross each other all year – is the signature event of 2020. One effect Jupiter has on Saturn-Pluto is to further amplify their challenging effects.
But all is not gloom and doom, Jupiter also represents hope, joy, luck and celebration. If these energies don't seem strong right now, they await your discovery when the time is right.
You can always find rays of hope, even in the darkest times, if you make a point to look for them. For example, this post from Scientific American and this detailed government PDF can help you maximize your mental, emotional and physical health as you practice social distancing.
What about the other two planets in this Grand Stellium? Mars carries the same Aries energies I described in the T-square interpretation above: attack and aggression, as well as life-affirming assertiveness.
Finally, the asteroid goddess Pallas Athena can also be associated with battle. After all, she sprang fully armored from the head of Zeus!
But Pallas is also known for her skills in strategy, diplomacy and politics. All of these can prove crucial, on the personal and societal levels, in dealing with COVID-19 and its effects. This is a time to act intelligently, and to set appropriate boundaries with both kindness and firmness.
Juno
Juno, the asteroid goddess of committed partnership, also rises to prominence in the Spring Equinox chart. While I don't show her aspects in the graphic, she connects with every personal planet except the Sun! And most of these aspects are challenging.
So don't be surprised if your closest relationships experience more stress than normal this spring. Given the challenges we'll all be experiencing from the coronavirus pandemic, this is an easy prediction to make anyway.
We find ourselves in an unwelcome new reality that's unknown and frightening. We'll all be doing our best under difficult circumstances. Be gentle with those you're close to … as well as yourself!
The #1 Astrology Software for Windows — at an Unbeatable Price!
SOLAR FIRE 9 is the world's leading astrology software for Windows. Earlier versions brought an unprecedented level of ease to casting and working with astrological charts. The current version adds many more calculations, extra convenience features, more interpretive text, and exciting new graphic displays.
SOLAR FIRE 9 contains something for everyone!
For advanced astrologers and professionals, it has a great variety of high-precision astrological calculations and an exceptional degree of user-customization.
For novices, its innovative point-and-click chart interpretations provide an enjoyable way to learn. Many easily explored options will encourage you to experiment with new techniques.
No one sells Solar Fire for less than AstroShaman.
Click here to learn how Solar Fire can supercharge your astrology!
3/20 (Fri)
By itself, today's Mars-Jupiter conjunction (22°48′ Capricorn) amplifies all the effects of the Sun entering Aries, which I interpreted yesterday. Once again, those include your roles as a warrior, entrepreneur, and leader … as well as athlete, initiator and sexual being.
That interpretation is based on Jupiter affecting Mars. But we can also think of Mars energizing Jupiter! This can energize hope, joy and optimism. It can also get you fired up about a quest or adventure, or get you stoked about philosophy, religion and the meaning of life.
This conjunction can also energize you to learn or teach helpful information. With both planets in Capricorn, this conjunction also offers tremendous perseverance and endurance.
Mars and Jupiter are also part of the Capricorn Grand Stellium I discuss in my 3/19 Spring Equinox interpretation.
3/21 (Sat)
Saturn Enters Aquarius
Saturn enters Aquarius today for over three months, then retrogrades back into Capricorn on 7/1. He'll reenter Aquarius on 12/17 and remain there through 3/7/23. (Saturn spends about 2-1/2 years in each sign)
Most people associate Saturn with Capricorn. Indeed, the planet and sign have identical keywords. But Saturn is also the ancient ruler of Aquarius.
At first blush, it might seem difficult to reconcile conservative Saturn with radical Aquarius! But there are ways to make them play well together.
Saturn can masterfully structure physical reality, but can't see beyond it. However, Aquarius is a transpersonal energy that includes intuitive flashes. So a great way to marry these energies is to let your intuitive flashes set the agenda. You can then use Saturn's gifts – including management, organization, planning and implementation – to bring your Uranian visions into 3D reality.
Why lead with Uranian intuition? Because it comes direct from your higher self. It created your human self, and always knows your optimal course of action. It's like getting a text message from God!
In my experience, going with your gut – that bone-deep certainty beyond anything logical or rational – always gives the best outcomes. And every client I've ever asked – and I've queried hundreds over the years – has confirmed that intuitive guidance has given them much better results than mental decision-making.
Lesser-known meanings of Aquarius include "outcast" and "exile". As long as the coronavirus makes social distancing a prudent choice, we can use Saturn in Aquarius to voluntarily create an optimal "structured exile." Hopefully, the greatest need for this will have passed by the time Saturn reenters Capricorn on 7/1.
Finally, I found lots of juicy Saturn in Aquarius themes in Renn Butler's awesome book The Archetypal Universe: Astrological Patterns in Human Culture, Thought, Emotion and Dreams. The following phrases are actually from his section on Saturn-Uranus aspects. But Uranus and Aquarius share the same keywords, and I chose the phrases that felt relevant for Saturn's transit through Aquarius. As always, I draw from Renn's work with his permission.
Responsible and balanced freedom
careful change and innovation
cautious experimentation
freedom through structure
liberating routine
hard-won liberation
liberation in increments
conscious and deliberate freeing of oneself
the inability to hold rigid positions or stay stuck permanently
remaining unfazed by any extreme
limitations on freedom
fear of change
giving form to new ideas
a change of direction by those in authority
old things resurface in a new way, or with new impact
attempts to stop progress
Themes
tradition and progress
authority and rebellion
conservatism and change
age and youth
security and adventure
the classical and romantic impulses
materialism and idealism
Yod Peaks
The Venus-Juno-Neptune Yod that started on 3/16 peaks today (3/21) and ends on 3/24.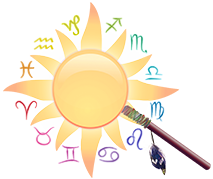 Deepen Your
Insight, Healing & Awakening
Your astrology chart reveals powerful insights into your relationships, career, soul purpose and much more. Getting a yearly Astrology+ update can show you what's important now!
I also offer Shamanic Healing / IFS, one-of-a-kind Life Coaching, and more. All my services are equally effective in person or long distance.
3/22 (Sun)
Cradle Peaks
It's extra-easy to catch intuitive flashes aligned with your soul purpose, thanks to a Cradle that started on 3/10, peaks today (3/22) and ends on 3/29. It includes Mercury, Uranus and the Lunar Nodes.
Mercury represents human mind, while Uranus represents divine mind. Their sextile helps them connect smoothly and enthusiastically! With both planets making soft aspects to the Lunar Nodes, "gut feelings" that line up with the reasons you incarnated can pop down more easily than ever.
Mercury's Piscean placement adds another layer of intuition: a continuous flow like a waterfall. Combined with Uranus' "Eureka!" lightning strikes, it's prime time to receive guidance from your inner wisdom!
---
Two sextiles contribute to this day's positive energy. A Mercury-Uranus sextile (4°40′ Pisces-Taurus) is part of today's Cradle, and its meaning is included in that interpretation.
We also have a Venus-Neptune sextile (18°56′ Taurus-Pisces). This provides harmonious and dynamic support for inspired creativity, relating with your own divine essence, and perceiving the divine in everyone and everything around you. It can also give a boost to your Law of Attraction programs!
3/23 (Mon)
Unto itself, a Mars-Pluto conjunction (24°43′ Capricorn) can potently energize your accomplishments. You can merge the assertiveness of Mars, the massive power of Pluto, and the relentless work ethic of Capricorn.
This conjunction can also supercharge your work as a warrior, leader, athlete and entrepreneur. It also supports a down-to-earth approach to sacred sex.
But watch out for this Mars-Pluto conjunction's low side. These expressions could include violence, sexual assault, and other destructive acts.
This Mars-Pluto conjunction is part of the Capricorn Grand Stellium that I interpret in my Spring Equinox interpretation.
3/24 (Tue)
Aries New Moon
The March New Moon lines up at 5:28 AM EDT (4°12′ Aries). This supports new beginnings in the Aries energies mentioned earlier in this forecast: the warrior, entrepreneur, and leader, and the athlete, initiator and sexual being.
Aspects
In my Spring Equinox interpretation, I describe a T-square involving the Sun, Chiron and the lunar nodes. This T-square is central to this New Moon's interpretation. Here's a link to learn about it or refresh your memory. The addition of the Moon doesn't fundamentally change the interpretation, but does add a stronger emotional component.
Four other planets are symmetrically arranged around the luminaries. Mercury and Uranus make semi-sextiles, highlighting the importance of original thinking and following your intuitive flashes.
Venus and Ceres are semi-square the luminaries on either side. This makes it likely that you'll be given shadow work opportunities in one or more important relationships. These planets could also help you create abundance, financial or otherwise, through some sort of partnership.
Sabian Symbol
This New Moon's Sabian Symbol is, "A white triangle is seen; it has golden wings." An uplifting symbol for trying times!
I imagine an equilateral triangle. In astrology, this is an aspect pattern called a Grand Trine. It symbolizes balance and harmony. I also see this triangle with one side resting on the earth. This makes the triangle grounded while pointing to the heavens. "Golden wings", of course, have a divine or angelic feel to them.
Why would this symbol show up during the coronavirus pandemic? Could it be to remind us that embodied awakening is available, no matter how crazy things might be in the world around us?
I would never trivialize the monumental challenges we're all facing right now. But let's take a moment to also contemplate our new opportunities. Many of us will be spending a lot more time at home. We could choose to spend our extra free time endlessly distracting ourselves with games, music, TV and movies.
Or we could take some of that newly available time to awaken more deeply to our divinity. We could feel the groundedness of that triangle. We could actually experience those golden wings blossoming from our shoulder blades.
Many of us have lost a feeling of genuine connection with the earth, and don't have a conscious relationship with our higher self. Like magic, the coronavirus pandemic is removing a huge number of nonessential distractions from our lives.
Many of us will be receiving the gift of extra time. Instead of "killing time", why not cultivate a deeper divine consciousness that, long after this pandemic is a distant memory, will continue to make your life more wonderful?
Awaken, Heal and Thrive!
Kick your personal evolution into high gear! Awakening Plus offers you online spiritual and shamanic experiences … 450+ consciousness-shifting recordings … and life-transforming courses. This extraordinary membership also gives you community connection and personal support.
Ready to awaken, heal and thrive like never before? Click to learn more!
T-Square Peaks
The Sun-Chiron-Lunar Nodes T-square that started on 3/14 peaks today (3/24) and ends on 4/1. I give a complete interpretation of this T-square within my Spring Equinox post.
3/28 (Sat)
Astrology's two classic benefics enjoy a harmonious connection as Venus trines Jupiter (23°54′ Taurus-Capricorn). This can support general good luck, positive relating, expansive creativity and enhanced wealth.
Speaking of enhanced wealth, Venus also trines Pluto today (24°48′ Taurus-Capricorn). Both Venus and Taurus, the sign she's in, represent money, while Pluto stands for wealth and power. Pluto can also supercharge everything represented by the Venus-Jupiter trine!
Jupiter also conjoins Pallas Athena (23°56′ Capricorn). This highlights the current importance of strategy, diplomacy and politics, as described in the Pallas Athena section of my Spring Equinox interpretation. (Jupiter and Pallas are part of the Grand Stellium I describe there.)
Make that amazing life you've been dreaming about real!
My unique combination of modalities, refined through more than 10,000 AstroShaman client sessions, can help you thrive in all areas of your life. And my unusual approach could help you do this faster than you might have thought possible.
Whatever your Sun Sign, my forecasts can help you make the best use of the current astrological energies.
All dates and times are in the U.S. eastern time zone. Events are most powerful on the dates listed, but their influence will be active for at least a week before and after.
Everyone is affected by these global transits. However, you'll be most powerfully impacted when moving planets activate sensitive points in your natal chart. Discover how these transits will personally affect you by booking a session with me.
Learn more about my Astrology+ sessions.
Recent Forecasts
Check back around the 1st and 16th for updated forecasts.